Syracuse Basketball: February Brings Toughest Test for Jim Boeheim's Orange
January 31, 2012

Chris Chambers/Getty Images
A blistering 22-1 start has the Syracuse Orange basketball program at the top of the Big East and near the top of the college basketball world as the calendar turns from January to February.
Jim Boeheim's crew has navigated its way through the Bernie Fine distractions extremely well, and the Orange have proven to be one of the elite squads in the country.
But Syracuse has its most challenging stretch ahead. February is upon us, and the Orange enter the most demanding part of their schedule without center Fab Melo.
There are two showdowns with Louisville on the docket, along with a pair of games against Connecticut, but not before they host the arch-rival Georgetown Hoyas.
How will Syracuse fare against the hot-shooting Hoyas? Will they be sturdy enough to handle Andre Drummond and Alex Oriakhi of Connecticut? Can they handle what Rick Pitino's Louisville Cardinals have up their sleeves?
Life Without Melo
If Fab Melo is out for an extended period of time, everyone will need to step up, and there will be even more pressure on Rakeem Christmas, Baye Moussa Keita and C.J. Fair.
The guards need to help rebound, but in order to win the boards battle every night, the Orange bigs are going to have to work doubly hard and maintain great positioning.
Unfortunately, Christmas, Keita and Fair don't have the bulky frame that Melo has.
They got pushed around in the West Virginia game, as the Orange were out-rebonded 36-20 against the Mountaineers.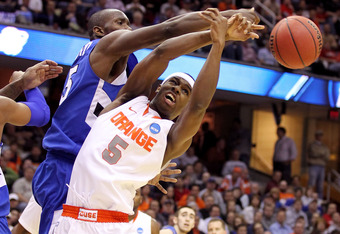 Andy Lyons/Getty Images
The Orange dominated nearly every other statistical category in that game, but West Virginia was able to grab a load offensive boards and get second chances. This equalized things and helped them keep the game too close for comfort.
Syracuse plays such solid defense, but needs to reward its defensive effort with rebounding and limiting teams to one shot per possession.
Sizing up the Competition
Each major competitor that Syracuse faces in February will bring a unique set of challenges.
Georgetown brings versatility inside and out. The Hoyas have a capable center in Henry Sims who's surrounded by a crew of solid guards that are dangerous from distance. The Hoyas shoot a high percentage and will test the mettle of the 2-3 zone.
Connecticut is a squad that has underachieved so far this season, but it shouldn't be taken lightly. The Huskies can match Syracuse's athleticism, and the strength of Andre Drummond and Alex Oriakhi inside will be a handful for the Orange forwards.
Louisville will try to give Syracuse a taste of its own medicine when it comes to shot-blocking and steals. Cardinals center Gorgui Deng leads the Big East in blocks and is third in rebounds, and Russ Smith is a pick-pocket with 2.6 steals per game.
The Orange have the capability to beat all these teams, and maybe even sweep the home-and-home series with them, but it's not going to be easy.
With Melo out, this team has been playing less like a Final Four-caliber team and more like a Sweet 16 team. But February's slate will indicate how tough Syracuse really is.