Chicago Cubs: 10 Reasons Yoenis Cespedes Is a Must-Sign for Theo Epstein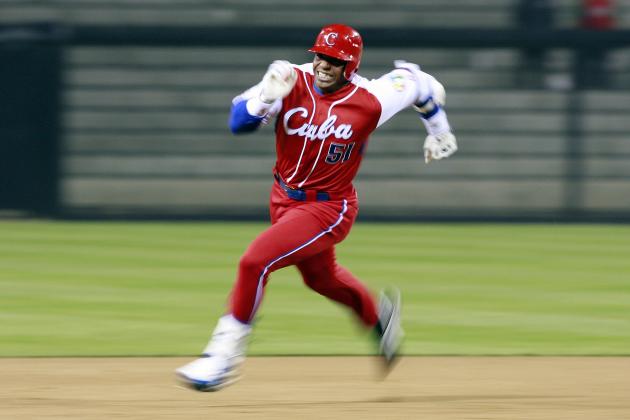 Jeff Bottari/Getty Images

Yoenis Cespedes remains at large.
ESPN.com's Jim Bowden reports that he will travel to the United States soon and begin meeting with teams face to face. So it would seem he is still at least two weeks away from signing.
It is going to take a lot from teams to woo Cespedes. When it comes to international players, the city selection may be more important than the team.
If he is uprooting his family, he will want to go to a city that suits his needs and expectations. Somewhere that is safe with good schools and all that hibbidy-jibbidy.
The Cubs reportedly gave Kosuke Fukudome an extensive tour of the city and and suburbs and discussed the non-baseball related stuff that likely sweetened the pot.
Chicago is the perfect city for someone like Cespedes.
Theo Epstein and the Cubs have been scouting him extensively and are expected to make a substantial offer.
Let's go over once again why Epstein must sign Cespedes.
Begin Slideshow

»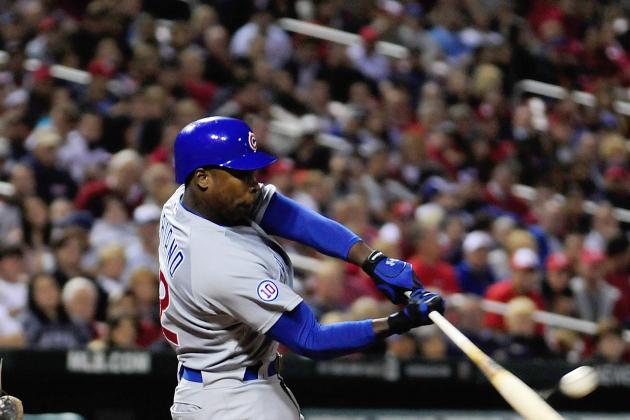 Jeff Curry/Getty Images

The Cubs current outfield consist of players who have all put up good numbers in their respective careers.
They have had All-Star seasons, and they could've done worse in 2012 than the crew they are working with now.
But Alfonso Soriano has reached a point where it does not appear he will ever to return to his 30-homer days, which most of us feared back in 2007 when this deal seemed like it would never end.
Here we are people, and we've still got a few more years.
But the addition of someone like Cespedes would certainly expedite the process of moving him. The Cubs already have a top prospect in Brett Jackson who is just a strong first-half away from being in Chicago.
With Soriano, Marlon Byrd and David DeJesus, the Cubs need offensive and defensive options to provide depth and support. No strong team survives with three outfielders all season. Not one.
The saying goes, if you play well, the spot will open up for you, and I'm pretty sure there is another saying: Competition brings out the best in us.
Maybe I'm making this all up, but we'll find out in spring training when we see Josh Vitters and Ian Stewart fight for third base while Bryan LaHair and Anthony Rizzo duke it out for first.
You see what I am getting at?
Cespedes may not be ready, but if the Cubs get him, he adds another option and it will force all three starting outfielders to earn their pay.
The reasons above are justification enough that Cespedes is the kind of player the Cubs need, and were going to go more in depth with that now.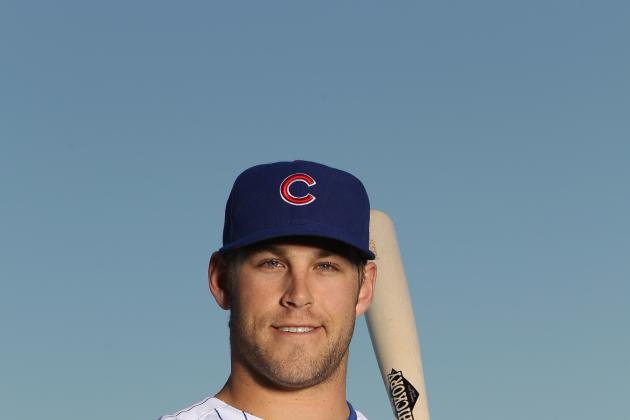 Ezra Shaw/Getty Images

The Cubs nabbed Brett Jackson with the 31st overall pick in the 2009 draft.
The 2009 draft was an all right year for the Cubs. I mean they drafted DJ LeMahieu in the second round who went with Tyler Colvin to the Rockies for Ian Stewart and Casey Weathers.
Don't forget about Casey Weathers. The guy was drafted in the first round with the eighth overall pick back in '07.
He struggled in Double-A and will most likely begin his journey there with the Cubs.
He is the type of pitcher who could move quickly given the Cubs current pitching situation.
Weathers' future is certainly in relief, but he is durable so if he finds his form he will be tested in Iowa and could receive a call sooner than expected.
There's no guarantees, but the change of scenery should certainly give him an ounce more motivation.
Ok, off the Weathers rant...
Cespedes and Jackson give the Cubs two pretty feisty options going forward.
Jackson has not been given the chance to prove himself in Chicago.
He is more than ready, and hopefully gets off to a hot start because the Cubs are going young and another successful prospect would only help the cause.
Cespedes would be on the same track, at a slightly different speed, but with the same amount of potential and impact that Jackson could bring.
For what the Cubs are going for, pull the trigger.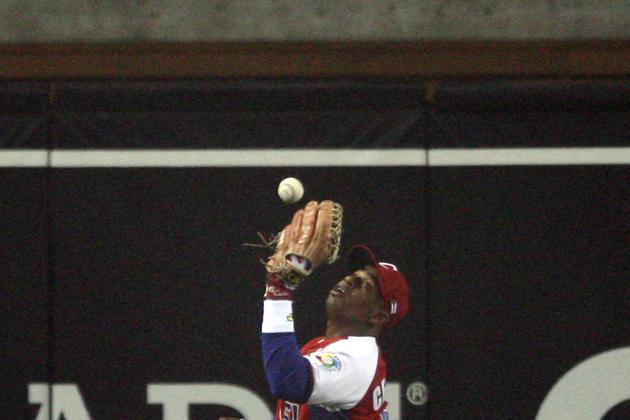 Donald Miralle/Getty Images

If there is one thing that is consistent from Cespedes' stats in Cuba, it is that he gets on base.
In Cuba's Serie Nacional, he hit .333 with a .424 OBP, .667 slugging percentage and a league record 33 home runs in 99 games in the 2010-11 season.
Cespedes also has a .321 batting average over seven seasons in Cuba, and has averaged 84 runs per season since 2005.
The Cubs need some middle of the order beef to drive in runs and provide opportunities for guys behind him to hit.
Some guys are going to need to step up this season, and with Cespedes in the fold, it certainly changes things.
Scott Boehm/Getty Images

According to Cot's Baseball Contracts, the Cubs 2011 Opening Day payroll was $134 million.
I checked around and the Cubs payroll is going to drop significantly this year. Not under the $100 million mark but a little above there.
They have room to work with but they are not bent on spending it.
Cespedes' bidding could fall anywhere between $40-60 million; anywhere beyond that is just a ridiculous investment.
Everyone's hoping it settles nicely in the $35-40 million range, a modest boost from Chapman's $30 million. But bidding appears fierce and could be aggressive.
Unless the Cubs get blown out by the Marlins or Tigers, or a mystery team, they can definitely fight to woo him to the North Side.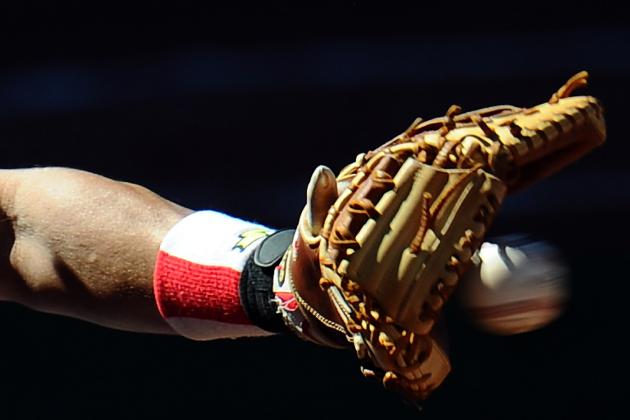 Dennis Grombkowski/Getty Images

If you were able to sit through Cespedes' training video, you would see he is freakishly athletic.
As Peter Gammons pointed out, Cespedes has a 37-inch vertical and a 6.35-second time in the 60-yard dash.
He has a good work ethic and tools that project well in the big leagues.
He could be a small piece in the puzzle, but he could also be a big piece, and most teams are betting on him being that big piece.
That's the way negotiations appear at least.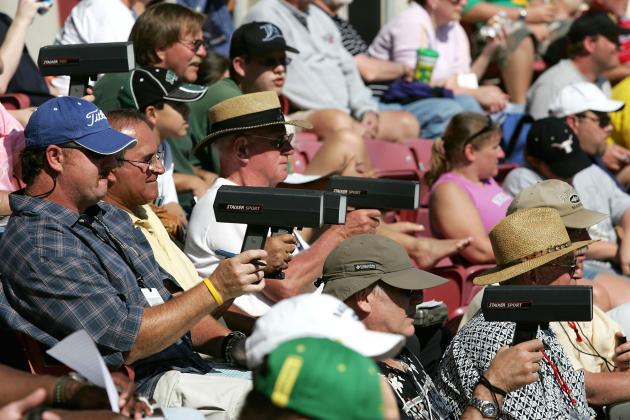 Doug Pensinger/Getty Images

If a proven track record doesn't get you to the big leagues, then what does?
Cespedes has performed in the Cuban national league year after year and has stepped up in big ways on the international stage.
He is a talented ballplayer with a high IQ that is capable of adjusting quickly.
He could have a bright future here, but I think he is lucky, or as special as everyone says he is, if he gets another big contract like he is about to receive.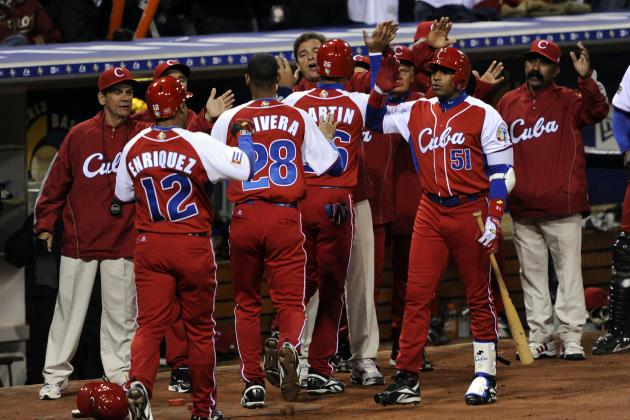 Kevork Djansezian/Getty Images

Now, MLB-ready has different meanings to a lot of people.
To me, "MLB-ready" means a year at most away from playing in the big leagues. Josh Vitters is not MLB-ready even if he makes it to Chicago in 2012, but it is more someone on a specific track and timetable.
Cespedes would be one of those guys.
He may start in Double-A and get loose playing in the warm weather in Tennessee for a few extra weeks, but then move quickly to Triple-A and get a taste of a combination of veteran minor league pitchers as well as guys with big league time.
He will also bear the Midwest weather, which is definitely a factor at Wrigley in the spring.
What the Cubs need to do is convey to Cespedes why it is in his best interest to follow that track, unless he surprises everyone in spring training, which he may do and crack the major league squad.
Whichever team signs him wants all that and more.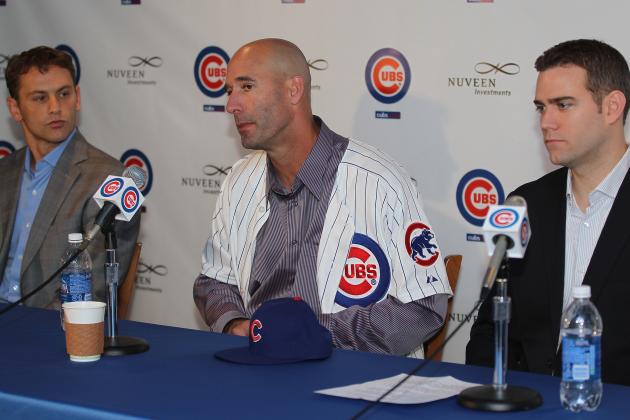 Jonathan Daniel/Getty Images

The Cubs want Cespedes and it is pretty obvious.
The good thing for the Cubs is this is not a make-or-break deal for the new regime.
This is not their "Alfonso Soriano deal," if you will.
It is a big investment for the Cubs especially in the international pool but it could pay dividends almost immediately.
I'm not saying they won't be held accountable for the deal if it goes south, but by the time we know Cespedes is not working - if thats the case - we will also know more about all the Cubs players we just acquired, so isn't he in the same boat as all of them?
Ian Stewart. Darwin Barney. Chris Volstad. Travis Wood. Geovany Soto. Anthony Rizzo.
These are all guys who are the wait-and-see type players. They are talented, and who knows who will emerge and who will come out of no where and surprise us all.
David Sappelt could be that guy in the outfield. Josh Vitters in the infield?
Wouldn't that be nice.
Cespedes' risk is inflated because of the price, but it shouldn't make a difference considering the situation.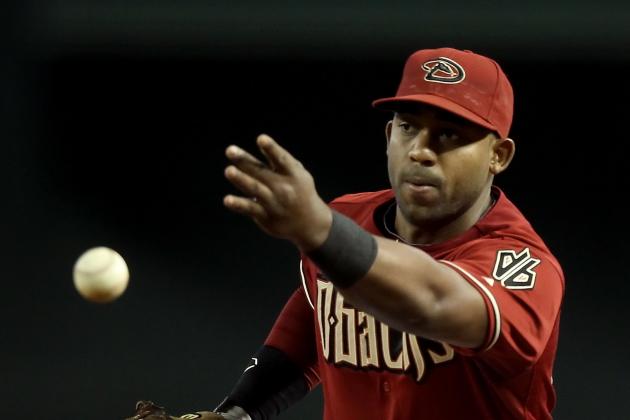 Christian Petersen/Getty Images

This guy was supposed to be good.
The Yankees signed Juan Miranda on the cheap after putting up pretty good numbers in Cuba.
He never found a spot, mostly because the Yankees have Mark Teixeira and Alex Rodriguez locked up for some time.
But seriously, the White Sox are investing huge in Dayan Viciedo this year. They signed him right out of Cuba and played the long game with him.
They hope this is his breakout year.
He was good in Cuba, but has been fighting to be successful in Triple-A along with brief stints in the majors.
Fortunately, the Cubs are not adding Cespedes to fill a void. There is no void, but he would give the Cubs options and hopefully take time away from an outfielder who needs a break or is in a slump.
There are always other options if things go better than planned.
But as I said before, tread carefully, this could go good just as much as it could go bad.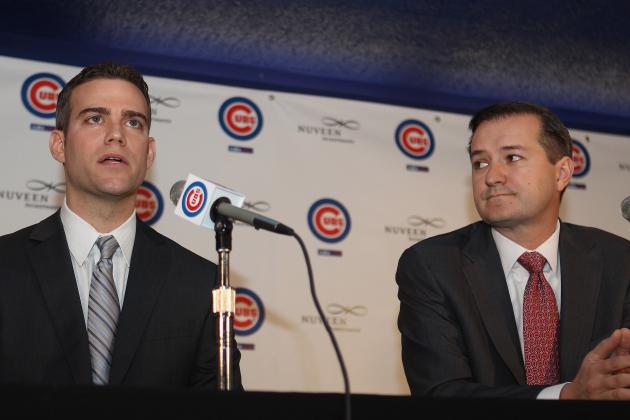 Jonathan Daniel/Getty Images

Theo Epstein is under no pressure to get this deal done.
He may be very interested and all that rumor jargon, but it is up to him to convince the fairly new Cubs owners that a deal with the Cuban star is a worthy investment.
It appears he already has that blessing.