Michigan Basketball: Why the 2012 Recruiting Class Will Be the Best in Years
via ESPN.com
According to the updated ESPN rankings, the Michigan Wolverines have the 10th-best recruiting class in the country for the 2012-2013 season, which is excellent for a team that has struggled to attract top players ever since the Fab Five debacle.
This ranking can be attributed to three 4-star recruits in ESPN's top 100 who have signed letters of intent to play for Michigan: Mitch McGary, Glenn Robinson III and Nik Stauskas.
Here is an updated scouting report on these three players.
Mitch McGary: 96 (ESPN)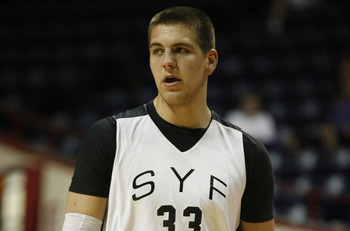 via AnnArbor.com
Mitch McGary is a 6'10" 260-pound power forward from Chesterton, Indiana. He was also offered a scholarship to play for Duke, UNC, Kentucky, Maryland and Florida. The fact that he chose Michigan over these basketball powerhouses proves that the Wolverines are definitely on the rise.
McGary has tremendous strength. He is extremely physical down on the block, and is a force in the paint both offensively and defensively. McGary finishes strong at the rim, and is a tenacious rebounder on both sides of the floor. The energy he plays with is infectious, diving for loose balls and hustling on every play.
McGary needs to work on his overall offensive game. His footwork appears raw, and he must develop his back-to-the-basket moves. His mid-range shot can be deadly, but it is inconsistent at the moment.
The good news: With some work, Coach John Beilein can turn McGary into a dominant force down low.
Originally, McGary was a 5-star recruit. He was ranked No. 2 overall (ESPN), and the No. 1 power forward in the country. However, in addition to losing a star (he is now a 4-star recruit), his rankings have dropped to No. 21 overall and the No. 5 power forward.
This descent is based on a few rough games of late, but fans should not read too much into this. McGary has tremendous potential, and he will be a major piece of what should be a very talented Michigan team next season.
Glenn Robinson III: 96 (ESPN)

Check out Robinson III wearing #23 in Blue

Glenn Robinson III has some serious size for a collegiate small forward (he stands at 6'6" and weighs 200 pounds). He is the son of NBA great Glenn "Big Dog" Robinson, and it's obvious that he received the athletic genes in the family.
Robinson III is the 26th-best player in the country (ESPN), and the sixth-best small forward. He added some muscle during his senior year, and will be an immediate scoring threat as a freshman.
This kid is an absolute athletic freak; he measured a 36-inch vertical. Robinson III can finish strong at the basket and is a dangerous shooter from anywhere on the court.
Robinson III is a fantastic addition to this already-talented Michigan squad. He has immeasurable talent and tremendous potential. Coach Beilein is about to have another dynamic scoring option on this young Wolverine team.
Nik Stauskas: 92 (ESPN)

Stauskas is #21

Nik Stauskas is a 6'6" 205-pound shooting guard/small forward from Ontario, Canada. He is the 78th-ranked player in the nation (ESPN), and the No. 22-ranked small forward.
Stauskas, like Robinson III, has great size for a SG/SF. He is a fantastic jump shooter and cannot be left open anywhere within 26 feet of the basket. Stauskas has also become dangerous off the dribble, and takes the ball to the basket with ferocity.
Stauskas has been working on his strength, and is certainly beginning to fill out his 6'6" frame. He will be an exciting option for Beilein off the bench, or could even be featured in the starting lineup if Tim Hardaway Jr. decides to leave.
The Wolverines have a lot to be excited about in 2012-2013. These three top-100 recruits will be great additions to an already-solid, young nucleus of Trey Burke, Hardaway Jr., Jordan Morgan and Evan Smotrycz.
Look for these guys to have an immediate impact next season, as Coach Beilein loves to rely on young players to get the job done.
Keep Reading

Michigan Wolverines Basketball: Like this team?