Olympic Dreams: Brianne Theisen Will Get Her Toughest Test on Canadian Soil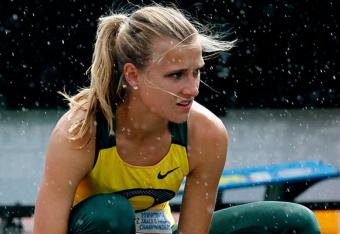 University of Oregon track and field fans are accustomed to great performances from Canadian-born multi-eventer Brianne Theisen.
So much so, that a fourth straight NCAA indoor pentathlon title and a third NCAA outdoor heptathlon title are practically foregone conclusions in 2012.
With all due respect to Theisen's collegiate rivals, she has fairly dominated the multi-events at the NCAA Division I level, much like her male predecessor (and fiancee) at Oregon, Ashton Eaton.
Last week, Theisen set her third successive NCAA indoor pentathlon points-total record (4555)—which also broke a 30-year-old Canadian national record. This, coming in her debut competition after forfeiting the entire 2011 outdoor season with a back injury.
So who could blame a girl for wanting to get down to some "unfinished business" in pursuit of one last season of individual—and possibly even multiple team titles—in this year's NCAA indoor and outdoor championships?
Yet even with that lofty goal on Theisen's 2012 to-do list, there looms a larger, Olympic-sized quest on the distant horizon.
And that task will require Theisen, 23, to return to Canada to face some pretty good competition from two compatriots the American press frequently overlooks—Jessica Zelinka and Ruky Abdulai.
Zelinka, 30, is a multiple Canadian national champion and Pan American Games winner (2007) who took some time off in 2009 for the birth of her daughter. She then came back to claim a silver medal in the 2010 Commonwealth Games.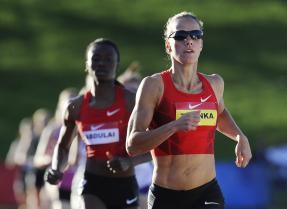 Zelinka (front) and Abdulai
Abdulai, 27, is an Olympic long jumper (Beijing 2008) who only recently took up the grueling seven-event heptathlon. She became the Canadian national champion in 2011 in a narrow win over Zelinka.
Both women are experienced international athletes who have competed against the best in the world.
Following is a chart showing each woman's outdoor best in the heptathlon:

Jess Zelinka Ruky Abdulai Brianne Theisen

100m hurdles 12.97 13.60 13.39
High jump 5' - 10.5" 6' - .75" 6' - .50"
Shot put 49' - 1.5" 38' - 5.5" 41' - 1.75"
200m 23.64 24.15 24.10
Long jump 20' - 3.5" 22' - 1.5" 19' - 9.5"
Javelin 145' - 2" 163' - 5.5" 148' - 0
800m 2:07.95 2:13.11 2:12.62
Best score 6490 6212 6094

While it may seem a bit premature to speculate on Olympic matters in early February, make no mistake, London is the pre-eminent thought in the back of every athlete's mind this year.
Expect Theisen to compete sparingly as a multi-eventer this collegiate season—except in the indoor and outdoor NCAA Championships.
Her primary function will be to contribute in individual open events. Then, as Olympic qualifying commences across the globe in June, sparks will begin to fly in earnest.
And even as America's eyes are turned toward Eugene, Ore., for the US Olympic Track and Field Trials from June 22 to July 1, more than a few interested eyes on the University of Oregon campus will be gazing north of the border.
This article is
What is the duplicate article?
Why is this article offensive?
Where is this article plagiarized from?
Why is this article poorly edited?