St. Louis Blues: Why They Might Be the Team to Beat in the West This Year
January 31, 2012

Dave Sandford/Getty Images
A day after the All Star Game, some may argue that this is when the real season starts.
Teams begin to realize where they belong in the standings, and as the Trade Deadline nears, these teams act accordingly. At this point, it is either time to accept incompetency and start preparing for next season, or it is time to push to accomplish certain positions in the standings.
Unfortunately, very few teams will experience the realization that they are going to be championship contenders this Spring.
The St. Louis Blues have been performing against all odds so far this season, and are making a very good case to not only achieve playoff home ice advantage, but even win the conference.
However, as it has been witnessed throughout the years, finishing first or near the top of the standings does not give a team a direct ticket to a championship. It takes a very resilient group of individuals who are willing to endure anything and make necessary adjustments to overcome any obstacle that stands in their path.
Over the past decade or so the West has been seen by many hockey followers to be the superior conference in hockey. This concept is mainly a result of the fact that the Western Conference teams hold traits of physicality and toughness, and these traits are usually seen to be the dominant assets that lead to a successful playoff run.
Lately however, it appears that the levels of toughness between the East and the West are a lot closer than it has been in a long time. The Boston Bruins demonstrated this when they won the Stanley Cup last season strictly through their willingness to engage in the physical aspect of the game as they played against more skilled opponents.
Likewise, the New York Rangers have also developed around structure and defensive fortitude, and the Washington Capitals, New Jersey Devils and Pittsburgh Penguins have all established recent statuses as gritty and physical teams as well.
Things in the west, however, have taken a bit of a turn. If one were to observe the standings today, they would see that four of the top six Western Conference teams are at the top mainly as a result of offensive finesse and talent more so than determination and defensive structure.
So the truth is, it takes a balance of skill and toughness to win the Stanley Cup. The St. Louis Blues look to be that exact balance of both right now, plus they have the experience and determination to further justify it.
To begin an overview, just taking a brief look down the Blues lineup, you will not see an Art Ross or Rocket Richard contender on that team, nor will you see a single skater who made it to the All Star weekend. You will not see a pair of telepathic twins who will finish in the top five in scoring. You will not see a Russian 50 goal sniper or an elite playmaker. Heck, you will not even see a player score close to a point per game this year.
You will not see a team full of superstars who compete to dominate individual statistics and awards.
However, when you look at this St. Louis team you will see a few things.
You will see three veteran players who played essential roles in their achievements of Stanley Cup Rings. You will see a Captain who was built for the playoffs, is probably the most underrated defensive forward in the league, and will still score 65 points. You will see nine players with double digit ratings in plus/minus. You will see a solid defensive core who can collectively do everything from shutting top end forwards down to moving the puck with awareness and precision, and quarterbacking powerplays. You will see four balanced offensive lines of skill, power, size, and experience. You will see the best goaltending tandem in the league this season, who combined, are giving up less than two goals per game.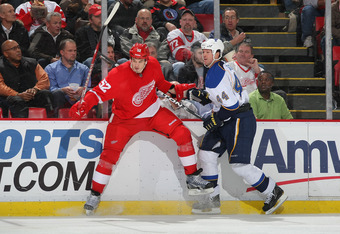 Dave Sandford/Getty Images
Last but not least, you will see a team who is sitting one win away from being the conference leader, with a game in hand.
Hmm...Do certain features of this Blues team seem strikingly similar to that of last year's Boston Bruins team? Or do they sound more like the 2007 Anaheim Ducks? Take your pick, but they are both teams who practiced the exact same methods and ended up winning Stanley Cups in their respective years.
The Blues have one of the most persistent offenses in the NHL, with a combination of young talent and grit in players such as: Patrik Berglund, David Backes, T.J. Oshie, Vlad Sobotka, Alex Steen, Chris Stewart, and David Perron. These young guys are not only skilled, but hold agitating qualities , size, and strength, and are among the most frustrating to contain in the entire league. Then they have Stanley Cup veterans who provide leadership in Jason Arnott and Jamie Langenbrunner. When Jason Arnott can be the fourth line center, that is evidence that the team is deep enough on offense.
The scary thing is, they have achieved all they have this season without the services of Stanley Cup Veteran and anticipated team scoring leader, Andy McDonald, who has been out practically the entire season with a concussion, and is still expected to sit out for a couple more weeks.
On defense, they have two fantastic puck movers in Kevin Shattenkirk and Alex Pietrangelo, and an underrated shutdown superstar in Barret Jackman. The rest have been playing the supporting cast very effectively.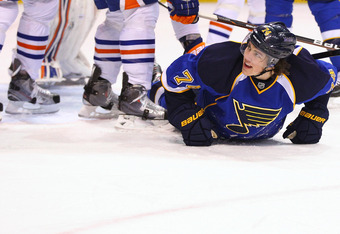 Dilip Vishwanat/Getty Images
In Goal, they have the best combined Goals Against tandem in the league. Brian Elliot has really followed in the footsteps of his other goalie teammate, and decided to perform in his breakout year with the same authority that Halak did. Halak also certainly has the playoff experience to give his team a chance if they make it deep.
In conclusion, the main reason why the Blues have an advantage over their western rivals is because they have exercised the concepts of physicality and defensive structure better than the Canucks, Blackhawks, Red Wings, and Sharks, but are doing so without an abdication of the concept of scoring importance.
By not having a single player in the scoring list, yet still being able to maintain a top position in the west, St. Louis has demonstrated that they are not just a physical team of goons, but they are also using a winning style and structure, as well as making necessary adjustments with an absence of over-the-top talent, to ensure continuous success.
Because of this, this team has really had to display distinct resiliency, and this alone will give them the upper hand to propel to a Campbell Conference Championship when the going gets tough.