Fernando Torres, Arsenal and the Wisdom of January Transfer
January 30, 2012

Ian Walton/Getty Images
Fernando Torres' two goals for Liverpool sank Chelsea last season (2010-11) when the two clubs met in November. BBC Sport called it "two moments of brilliance from Fernando Torres," and went on to describe Torres and Liverpool in the following words:
Torres, who has struggled for form and fitness since the 2010 World Cup finals, was back to his best to torment Chelsea once more, ensuring the champions' lead at the top of the table remained at two points and Liverpool rose into the top 10 with a third successive league victory.

The Spain striker opened the scoring early on with a finish of rare finesse and added his second a minute before the break with a magnificent curling effort past Chelsea keeper Petr Cech to make it seven goals in eight games against the west Londoners.
Roy Hogson, the then-Liverpool manager thought the goals proved that Fernando Torres was back to his best.
People will say he's back to his best and certainly today he was. He's a vital player for Liverpool, as he would be for any club. Hopefully he will end up looking back at this season, like the team, saying, 'OK, so I didn't have the brightest of starts, but it ended up as a great season.'
The Telegraph described the atmosphere at Anfield as "rocking" after Liverpool's Torres-inspired victory. They thought a moral was in hand.
This great old stadium was certainly rocking on Sunday, revelling in the sight of Torres back in goalscoring business, taking his league tally to 60 in 90 appearances, a ratio that speaks eloquently of the Spaniard's heavyweight quality. Torres's brace also provides a timely reminder of the sporting adage that form is temporary, class permanent, and he is a class act.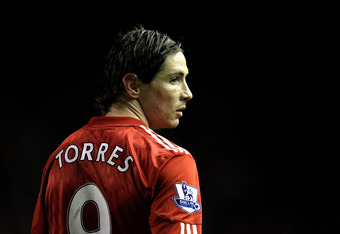 Alex Livesey/Getty Images
Fast-forward to January and Roman Abramovich, the Chelsea billionaire owner had taken The Telegraph's moral to heart. He must have thought, "if Torres can sink us with two magnificent goals, surely he can sink other clubs, too," and pronto, he dishes out £50 million to sign the Liverpool forward on a salary of £175,000 a week.
Torres described the move as a "step-forward," Chelsea as one of football's top clubs.
So, after this, there are no more steps forward. This is the top level. The target for every footballer is to try and play at one of the top-level clubs in the world, and I can do it now. I have to be very, very happy as I am. The last three or four days have been very hard for me, especially after everything I have lived in Liverpool.

But, as I said before, I can say I'm a Chelsea player now. I'm really happy and I'm sure I am doing one big step forward in my career joining a club like Chelsea. This is a great club, a real responsibility and everyone is expecting great things about me and I'm prepared and ready for the challenge.
Now take a fast-forward into the future and Fernando Torres is a flop at Chelsea. And he is not alone.
The story of Liverpool's Andy Caroll adds dimension to the tale. Before the move to Liverpool, Andy Caroll's form was red hot at Newcastle United. His goal-scoring ratio for the Magpies was steady and worthy of a center-forward.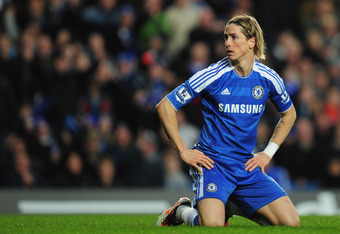 Jamie McDonald/Getty Images
He was hailed as the successor to Alan Shearer, a worthy inheritor to Newcastle's famous No. 9 jersey. Some thought England at last had found the dreaded center-forward.
These sentiments were enough to convince Liverpool to use a considerable portion of her gold-haul from the Torres sale to buy Caroll.
Alan Shearer reacted angrily to the news of his successor's move from his beloved Newcastle to Liverpool.
It's an incredible amount of money, you have to say that, for a guy who's scored - what is it? - 14 goals and had half a season in the Premier League, albeit having done very well and the potential is there.

He's a very young guy, he's been in trouble once or twice before and that would be the major concern.

It's all right selling your best player, but not getting anyone in to replace him is staggering.

People are saying that Liverpool have sold Torres, but they have got two guys in [Luis Suarez and Carroll] for over £50m to replace him. I just hope Newcastle invest some of the £35m in new players at the end of the season.

He is a huge loss, he has carried Newcastle at times this season. There are not many players like him.
Shearer thought the move was a huge gamble for Liverpool. Phil McNulty of BBC Sport wasn't sure what to make of Liverpool's and Chelsea's spending spree.
So what are we to make of the deals for Torres and Carroll? Value for money or wild gambles at odds with the stated recent transfer policies of both Chelsea and Liverpool?

The gamble for Chelsea is whether their money buys them that player or the disaffected, injury-prone figure that has hovered over Liverpool like a dark cloud this season, flickering briefly and only rarely brilliantly, ironically when scoring twice against Carlo Ancelotti's side at Anfield.
On sizing up the Caroll move, McNulty offered the following:
In the real world, if such a phrase can even come within a million miles of the Premier League after Monday, £35m is an almost ludicrous figure for Carroll given his lack of experience at elite level. When passions cool among the Toon Army, most realists will surely realise this was an offer owner Mike Ashley could not refuse.
Newcastle, as we all know, happily took their £35 million to the bank and waited until summer to sign Demba Ba for nothing. A striker that has proven a more worthy signing than both Torres and Caroll. 
Fast-forward back to now and Kevin McCarra of The Guardian writes:
The transfer market can give wealth a bad name. 31 January 2012 must bring a shudder to a pair of clubs. They have to note the first anniversary of spectacular spending that has mostly bought them not only disappointment but anxiety about their own powers of judgment. A year ago Chelsea paid Liverpool £50m for Fernando Torres while Andy Carroll arrived from Newcastle United to fill the vacancy at Anfield at a cost of £35m.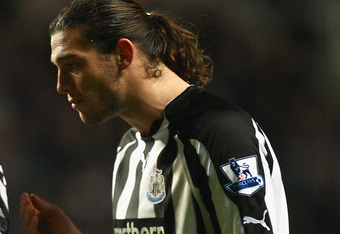 Matthew Lewis/Getty Images
Even before the Torres-Caroll debacle, research had shown that January transfer is rarely a good time to sign players.
Simon Kuper and Stefan Szymanski note the following in their best selling book Soccernomics. It is about adjustment in general but applies aptly to the January transfer situation:
Moving to a job in another city is always stressful; moving to another country is even more so. The challenge of moving from Rio de Janeiro to Manchester involves cultural adjustments that just don't compare with moving from Springfield, Missouri, to Springfield, Ohio. Yet European clubs that pay millions of dollars for foreign players are often unwilling to spend a few thousand more to help the players settle in their new homes. Instead, the clubs typically tell them: "Here's a plane ticket, come over, play brilliantly from day 1." The player fails to adjust to the new country, underperforms, and his transfer fee is wasted. "Relocation," as the industry of relocation consultant calls it, is one of the biggest inefficiencies in the transfer market. (See the American edition, page 59).
Now, a hasty reaction would want to point to the fact that in neither of the two cases under study was relocation transnational. True, but what is relevant and of utmost importance is adjustment in general.
Every club has its tradition and mores. Moreover, when a player moves, he is constrained to confront a new family of a least 25 players already in place.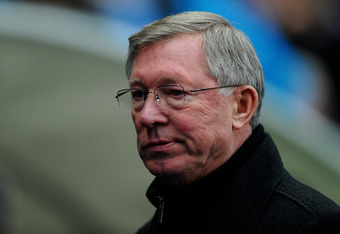 Laurence Griffiths/Getty Images
By all intents and purposes, this player is a stranger who must break into the family and its sub-affiliations, and there's no guarantee that everyone will welcome this new person, who is practically an intruder.
It doesn't therefore require deep thought to realize that adjustment time is required for every transfer, and that the January window just isn't sufficient enough a time for this to happen, hence the greater risk for players who move at this time to flop.
With this in mind, one can see the wisdom of players like Lukas Podolski who was unwilling to move to Arsenal in January for fear of flopping and missing his place in Germany's EURO 2012 squad.
But there are other reasons why the January transfer window isn't a good time to try to sign players. I have stated them elsewhere. I recall them below. Please see the original article here.
First, players are overpriced in January. Possessing clubs know that any team seeking to buy a player at this time must be seeking to address a particular problem, so of course they inflate the price. Financially, a club seldom is making a prudent transaction when it buys in January.
Second, good players or right players are difficult to find in January. The good ones won't be parted with by their clubs. Even when you get a good one and agree to pay the exorbitant price for the player, there's no guarantee he'd be the right one for you.  Here's what Wenger says about it:
What can you get in January? I've said this many times now. The players we'd like we can't get.

If the alternative is to sign a second-rate player, we don't want to do that.

Our injuries have led to fans wanting us to sign someone, but I don't want to sign a player who won't get a game when everyone's fit because he's not good enough.
In truth, this is not Wenger speaking even though the person sounds like Wenger. It is Sir Alex Ferguson.
Third, the question regarding the right player is the very reason why January transfer window is not the best time to buy players. The chances of the player settling immediately are very slim. The adjustment time is too short, and the pressure to perform too intense.
In the latter case, the player is put in a "messiah" situation of sorts, the one to solve the particular problem the team aims to fix. If this is not a strong recipe for failure, I don't know what is.
Fourth, concomitant to the preceding point, and in the case of Arsenal, one can't guarantee that buying a full-back or two would have been a better option than using centre-backs as cover.
Luck would play a strong part in this. If you are lucky, the player may settle quickly, if you are not, you'd have wasted your money. Research has shown that players don't tend to settle quickly in pressure situations like this.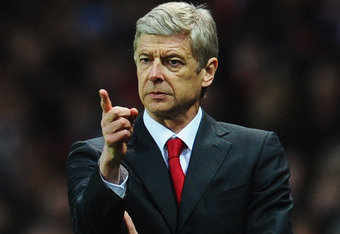 Mike Hewitt/Getty Images
Fifth, still building on the preceding points, the best option for a club then, is to look for a loan option. But here's the truth about loans. The good players are not available, which is not to say a few good players may not be warming the substitute bench somewhere for one reason or the other.
The trick, then, is to determine why a potentially good player is not getting games at his club. Moreover, you have to find the potentially good player first. Here on B/R and on many other sites, writers list players which a team should or must buy.
That's well and good, only that the list almost always is made up of good players, whom their clubs would not part with except at inflated prices.
I understand that the only thing many fans care about is that players be signed. However, if they asked the simple question, "where will the money come from to cover both the transfer fee and the subsequent wages,"  they'd see that signing players is not as easy and as simple as going to their clubs and fetching them.
Sixth, bearing in mind, then, that the players available during the January transfer window are second-rate players (see point No. 2 above), it is apparent why prudent managers are reluctant to buy or loan players in January.
Would you buy a second-rate player at an exorbitant price—who may or may not meet your immediate need—only to bench him when your good player returns from injury?
Bear in mind that you'd still be saddled with the player's wages even when he becomes useless to you.
Seventh, viable option is a key phrase. It addresses the example of Wayne Bridge who was linked with Arsenal late in December of last year and early this year.
Wayne Bridge hasn't been playing. This calls into question his fitness. If he has fitness issues then you can't play him immediately. He, of course, can work hard to regain fitness. But again, you may not be able to call on him immediately since he'd need to adjust to the team and its way of playing.
Moreover, in this particular case, you have to consider the wages. Manchester City's salary scale is much higher than Arsenal's. Are you going to pay a player an exorbitant salary, who in all likelihood may not solve your immediate problem? Understand that if this player were so good, he would not be a discarded entity at City.
Emmanuel Adebayor's wages are being subsidized by City, that's why Tottenham Hotspur are able to pay his wages. Would City be willing to do the same in the case of Wayne Bridge? I doubt that City would have agreed to do so in the case of Adebayor had they known that Spurs would be challenging them for the title.
If you agree to pay a second-rate player high wages (even in a loan situation), isn't that going to cause unrest in the squad? Why should your established players be paid less than a player who really isn't good enough?
Here's Wenger's own take on the above problem.
All over the world we have our eyes and we look for good [players].. 

It is very simple in a situation like that. You might take a player who doesn't play at all somewhere, who is not necessarily fit quicker than a player who is injured. Or you take a young, potential player who has not made it somewhere. 

A player who plays anywhere in the world at the moment will not be available on loan, it doesn't exist. It can only be a guy who doesn't play or a promising player who has not yet made it completely who you could take advantage of. 

That is why it is not an easy situation. You have to consider that a guy who has not played for two months is not necessarily back quicker than Bacary Sagna or another player who is just coming back from injury.
Will Tidey, a B/R columnist has an excellent article on the January transfer window. His conclusion is that January signings do not help clubs win titles. Please read his article here.
The Sir Alex Ferguson quote above summarizes the situation quite intelligently.
Good players just aren't available in January. To prise them away from their clubs—who by the way are also trying to survive or to win titles themselves and thus hardly inclined to sell—the desiring club must be willing to pay exorbitant prices for them, hence the Torres-Caroll situation.
But as the Torres-Caroll example shows, it isn't really wise to do so. It is the reason why the prudent Wenger refuses to rush headlong into the market in January or in the summer. 
I could make a further defense of the basic thesis here, but I have found out that for a few fans, who by the way argue that they are the real fans, the only argument they can understand is buy, buy, buy. If you push them they'd say that concomitantly coaches such as Wenger should sell, sell, sell, in order to buy, buy, buy, as though sell, sell, sell, is as easy as saying the words.
These so-called fans would tell you that nothing matters in football but win: not principle, not prudence, not rational consideration of situations. If you do not win as a manager, you should be sacked, as though the new manager would guarantee win, win, win, every time. 
If you attempt to reason with them, they'd say you lack passion. For them goose bumps equal fanhood. One recalled how wonderful it felt when Arsenal won trophies and would not hear that the current fiscal concern at Arsenal is so the club can be better positioned in the coming decade.
If success is not now, any argument is simply garbage. These fans will begrudge Wenger for not buying this January and will pray the team fails this season so they can tune their traditional hymn: buy, buy, buy; sack, sack, sack.
The raving of a mad man will be their verdict on this article. For others, this article is an opportunity for conversation. It is why I wrote it.