2012 NHL All-Star Game: Hockey's Midseason Clash Far Superior to Other Leagues
January 30, 2012

Bruce Bennett/Getty Images
As a league, the NHL hasn't always "gotten it."
But, when it comes to how the league runs the All-Star Game, the NHL most certainly does get it, providing a far more compelling All-Star Weekend than any other sport can boast.
Major League Baseball has the (almost unfathomably) dumb rule that the All-Star Game-winning league gets home field advantage in the World Series. After all, what could make more sense than having an exhibition game determine a vital aspect of your league's championship series?
Morons.
The NHL, on the other hand, has two team captains pick their respective sides in a televised All-Star draft. It's a unique and fun way to split up the All-Stars without adding extra and unnecessary import to the game itself, while still interesting people in the outcome.
Winner: NHL.
The NFL allowed its players to tweet during the Pro Bowl, in a desperate effort to make the Pro Bowl less boring than watching your dad's friends moan and groan through a game of flag football on Thanksgiving morning.
As expected, it was a lame experiment.
Meanwhile, the NHL announcing crew was allowed to talk with various players while they were actually playing the game, which was especially entertaining when the goalies were given the mic. Goalies, you see, are eccentric and entertaining individuals.
Winner: NHL.
The NBA is the only league that even holds a candle to what the NHL does over its All-Star Weekend. Admittedly, the NBA's dunk contest is the coolest All-Star event in any sport.
Nevertheless, beyond the dunk contest, there is nothing that is overly impressive about the NBA All-Star events (including the game). I have already seen most of the highlight-reel worthy things the players do during the game—sometimes within meaningful games and not just in exhibitions.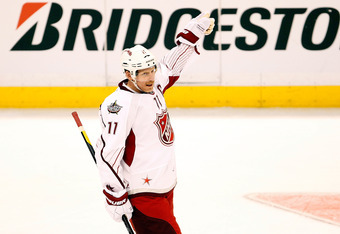 Gregory Shamus/Getty Images
But, in the NHL All-Star Game, I always come away amazed at how skilled the players are. In a regular NHL game, the defensemen are generally solid enough that they don't allow many crazy moves or dekes to consistently work.
But with the lax defense in the All-Star Game, you get an array of stick-handling, passing and skating that often leaves you breathless. Until you see some of the NHL's finest in that environment, I think it's easy to forget just how ridiculously skilled they are.
Winner: NHL.
So, there you have it. The NHL All-Star Game truly stands above the rest.
You've always got that going for you, Gary Bettman.
Hit me up on Twitter—my tweets are chicken soup for the Internet soul.