Detroit Red Wings: 10 Bold Predictions Following the All-Star Break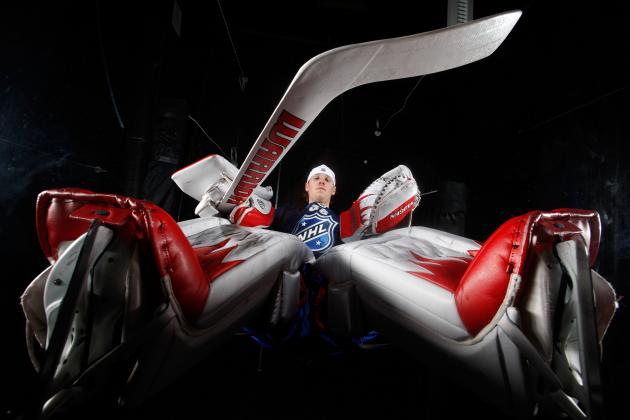 Gregory Shamus/Getty Images

The Detroit Red Wings are currently at the top of the Western Conference and their Central Division. They look poised and ready for the playoffs.
Coming off the All-Star Break after some much needed rest, Detroit is facing a tough road to the Cup and they are in it for the long haul.
Here are 10 bold predictions for the Red Wings following the All-Star Break.
Begin Slideshow

»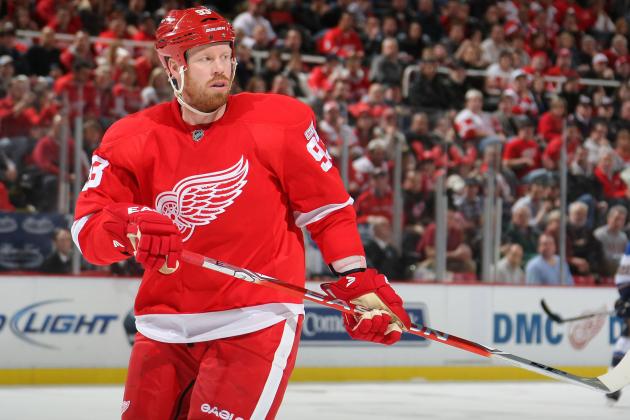 Dave Sandford/Getty Images

The Wings have yet to lose at home since November 3rd.
They have six straight games at home in February, and some of them won't be easy. The Wings have shown that they perform better under pressure at the Joe Louis Arena.
They will extend their team-best 17-game home-winning streak and break the NHL record, which is tied at 20 games by the 1929-30 Boston Bruins and the 1975-76 Philadelphia Flyers. Coincidentally, the Red Wings will have their potentially 20th consecutive win on the line against the Flyers.
It'll be a hard fought battle, but the Red Wings will win No. 21.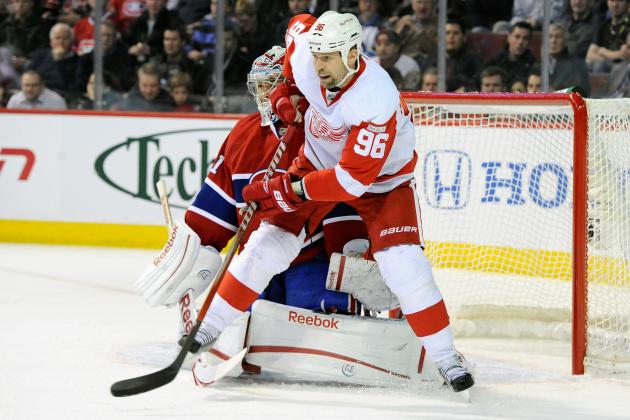 Richard Wolowicz/Getty Images

Right now, the Wings are leading the Western Conference by four points.
They still have a long way to go, and could lose that spot if they begin slacking off. Detroit has been on a roll lately. Apart from the heavy loss against Montreal which snapped a seven-game winning streak, the Wings have been on fire in January losing only three times in the entire month.
Detroit has shown how good they can be and how well they can handle the puck. There's no doubt if they keep up their skills, they'll finish out on top of the Western Conference.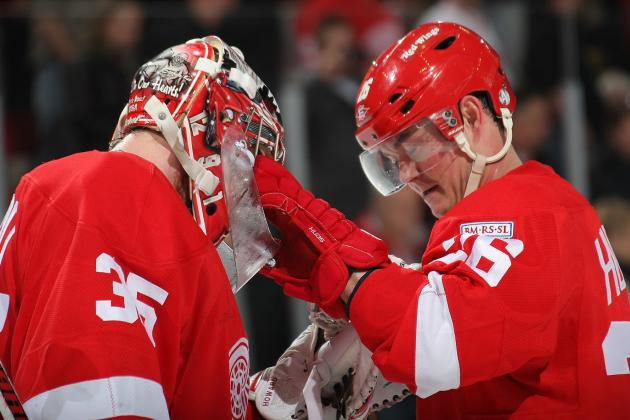 Dave Sandford/Getty Images

Many have been speculating that Jiri Hudler will get traded in February since the end of last season. Detroit's front office has always been good in keeping things quiet about trades, but Hudler will be here to stay in Hockeytown.
His slow-rising season might give critics reasons for trade speculation, but his slick work in December and January showed that Detroit will be foolish to get rid of him.
Coach Mike Babcock always had faith in Hudler, and there's a strong chance Detroit will give him another chance.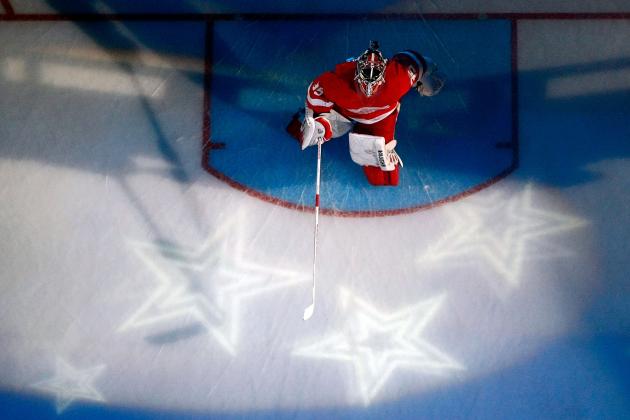 Gregory Shamus/Getty Images

Jimmy Howard is having one of the best seasons ever by a Detroit goalie. At the midway point of the season, Howard leads the NHL in wins and carries a 1.98 goals-against average.
Howard is on pace to pass his career high in wins (37) this season, and might even finish the year on top of the league.
He has proven he can help keep the lead in games, but he's also shown that he can win.
This goalie will only have more good years to come.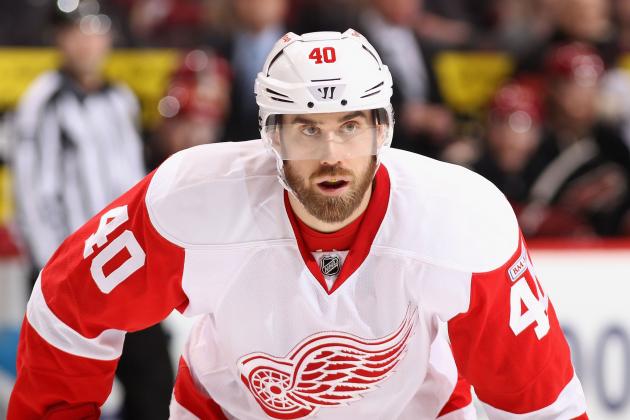 Christian Petersen/Getty Images

Compared to all the years Henrik Zetterberg has played in the NHL with Detroit, this seems to be one of his worst. At the midway point of the season, Zetterberg has nine goals and 26 assists. While he is showing that he is still one of the most unselfish player in hockey—along with Pavel Datsyuk—his lack of production this season is almost jaw-dropping for most fans.
February appears to be one of his strongest months as shown throughout his career and it's likely he will find his rhythm again. While he may finish the season with a career low in goals, his assists will continue to grow.
He'll be rising up in the upcoming months, especially in the playoffs.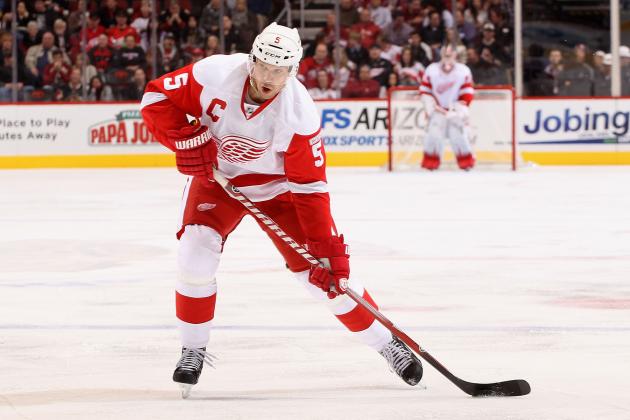 Christian Petersen/Getty Images

It's no secret that there are times when Detroit doesn't put up big offensive numbers.
At those times, it's the defenders that contribute to most of the scoring. The Wings' defensemen currently lead the league with 33 goals. While Niklas Kronwall has been struggling on defense, he's been making it up for it on offense scoring 11 goals, while Captain Nicklas Lidstrom has scored 10.
Ian White is behind them with six goals. The defenders already have a combination of seven multi-goal games this season.
When the offense slacks, the defense is there to pick it up. They are going to be the ones who will be pulling in all the weight by season's end in the playoffs.
These defensemen are carrying the Wings. There is no doubt they will continue to score and lead the league in goals by defenders.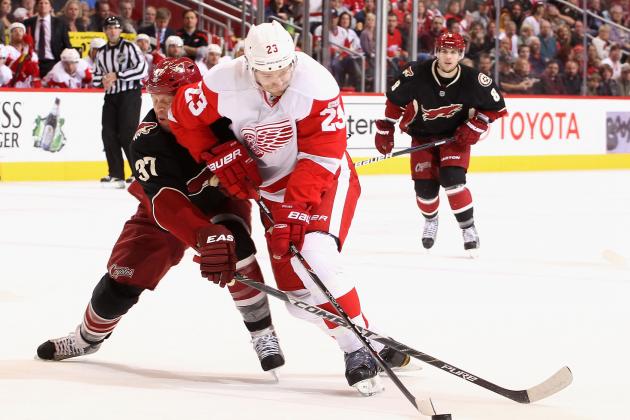 Christian Petersen/Getty Images

Detroit fans of Brad Stuart better enjoy watching him play on the ice with a Wings jersey for now. This is his last and final year with the Wings and it appears as if he will not be returning next season.
As a former Sharks player, Stuart is looking to return back home to San Jose. With his family living there, it seems like a wise decision to return back home to play and eventually retire. Whatever decision he'll be making in the future won't be based on hockey or his career, but on his family.
This will no doubt be Stuart's last year wearing red and white.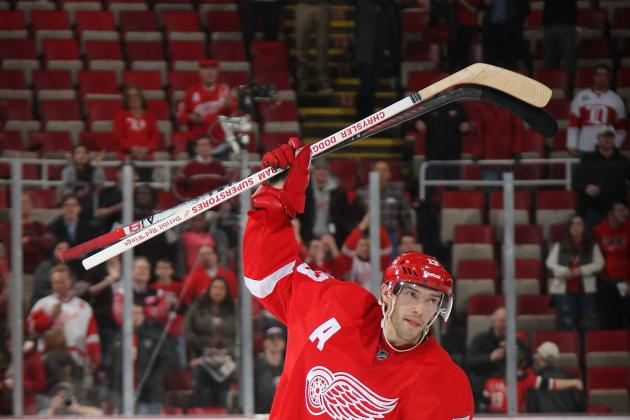 Dave Sandford/Getty Images

Red Wing GM Ken Holland said that Datsyuk "has to be on people's radar screen for the Hart Trophy."
Even though Datsyuk got off to a slow start as usual, there is no doubt that he'll finish strong in style. In the past 33 games, Datsyuk has 43 points due to 12 goals and 31 assists. He's having a MVP season. He performs magic on the ice. He's amazing with the puck, and he does things with it that most players cannot even perform.
The amazing thing is he doesn't stand and absorb the spotlight. He shares it. He doesn't thank himself for the win, he thanks his team. He could have scored more goals this season, but he shares the puck with his teammates. He makes sure others get the glory, too. Datsyuk is a MVP player. Without Datsyuk, Detroit wouldn't be the team they are. He's a well-rounded player. He doesn't focus solely on offense, but all aspects of the game.
There is no doubt that Datsyuk will finish strong this season, he always makes sure of it.
Datsyuk is one of the leading candidates for Hart's Trophy. This should be the year where they stop overlooking Detroit and recognize an MVP player when they see one: Pavel Datsyuk.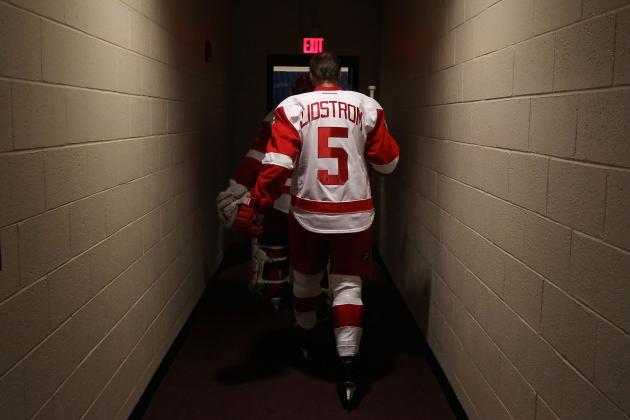 Christian Petersen/Getty Images

Nicklas Lidstrom stated last season that he'll be taking his time with the Red Wings year by year. At the end of this 2012 season, Lidstrom will ask the questions once again that plagued him the past few years. Am I healthy? Should I retire and move back to Sweden? Do I want to continue to play? Am I happy? He will take time to discuss those questions with his family.
Brian Rafalski's retirement came out as a total surprise to most of us, even the captain himself. Being "The Perfect Human"—as nicknamed by his teammates—as he is, Lidstrom won't leave until he feels both he and the organization are prepared and ready for his leave.
This man, like Steve Yzerman was, is the core of the Wings. While Yzerman's retirement was a sad day for most Wings fans, it was a day that we've all seen coming. Lidstrom is a healthy, strong player, even in his forties.
As the time comes, Lidstrom will sign on for one more year. He'll take on the 2012-13 season.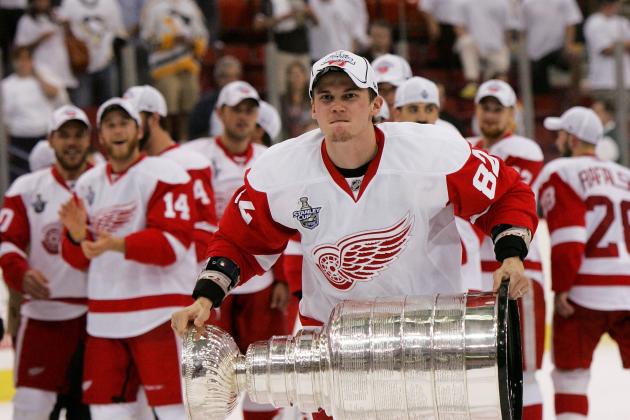 Bruce Bennett/Getty Images

If I may be so bold, I predict the Red Wings will win the Stanley Cup this year.
This year's team is a lot better and a lot stronger than last. They are a puck-possession team that easily beats down their opponent with their constant passing and retrieval. They also have a new style of defense this year.
This is a new team. Many of their players are having the rebound year that have been in the long waiting. They are at the top of the conference. They are unbeatable are home. They fight hard against strong, playoff-contender teams.
They've proved once again why they are still the most dominating hockey team in the West. The Cup will be hoisted above their heads in Hockeytown this year.