UFC on FOX 2: Ranking Rashad Evans and Every Fighter's Performance
January 30, 2012

Last Saturday night we were all treated to the second installment of UFC on FOX. It was the first full card to be broadcast on the flagship network. Many considered the main card's fights to be a bit of a bore. However, there were certainly some highlights to the night, especially when you factor in the thrilling six-fight card featured on FUEL TV. Some fighters performed more impressively than others, but I'll sort it out here by ranking each fighter's performance. A couple quick disclaimers: Only the nine fights included on the FOX and FUEL broadcasts are examined here (No Chris Camozzi or Dustin Jacoby). Also, I have included grades but they are very preliminary and are more of a comparison than a true grade.
18. Eric Wisely (D)

Wisely unfortunately finds himself at the bottom of the list. Wisely actually did a fairly decent job of defending himself, escaping an early heel hook. He just happened to be facing the resourceful, limber and explosive Charles Oliveira. Wisely was finished early and thus ends up at 18.
17. John-Olav Einemo (D+)
Einemo was the loser of the worst fight of the night. This fight was essentially everything I hate about Heavyweight bouts. I would have no problem ranking Einemo last, but he gets points for making it to a decision and throwing some good knees at times. He did a good job of keeping Russow in his guard and played some good defense once the fight was on the ground. Unfortunately, Einemo did not mount much, if any offense of his own. Einemo did just enough to make it to a decision, and in the process I made a decision that John-Olav is not worth keeping around.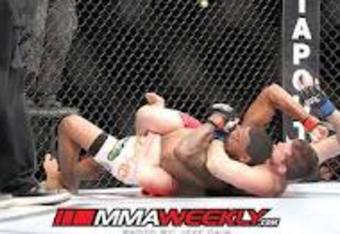 16. Joey Beltran (C-)
Beltran was finished in the Round 1 by Lavar Johnson. Still, he gets points for fighting back and showing some offense, something the two preceding fighters failed to do. Beltran had been touted as a strong chinned heavyweight and proved it, despite being knocked out cold. It took multiple Lavar Johnson uppercuts, landing square on Beltran's chin to knock him out and I applaud Beltran's gutsy effort against the much bigger Johnson. I, like many I have read since Saturday, would like to see Beltran take some time off and get himself down to 205 for his next fight.
15. George Roop (C-)
Roop begins a new tier of performances. The fighters featured above were all treated to one-sided fights, while Roop's battle with Cub Swanson was more hotly contested. Roop came into the fight as the favorite. A few months ago he was a fringe top-ten featherweight, going toe-to-toe with top contender Hatsu Hioki.  
Roop showed some good stand-up in Round 1 last Saturday, keeping the smaller Swanson outside of his reach. He likely lost Round 1 due to Swanson's ability to take him down. In Round 2 however, Swanson took over, finding his range and ending Roop's night. One of the night's best images came when Roop's mouth piece came flying out after he was caught by Swanson's overhand right. Roop's biggest problem in this fight was his inability to defend against Swanson's strikes. Roop is an ideal gatekeeper in the featherweight division, probably ranking between 12 and 15.
14. Demian Maia (C-)
Maia earns a spot over Roop mostly due to his bout lasting till decision. However, he, like Roop, was the favorite coming into the fight and was upset. As someone who was rooting for Maia in this bout, it was incredibly frustrating to watch. Maia's stand-up was lack-luster, losing exchanges with Chris Weidman. Joe Rogan pinned Maia aptly as predictable with his overhand left being his only weapon. Most disappointing was Maia's decision not to take Weidman down and go for a submission, especially early in that fight before he got (prematurely) gassed.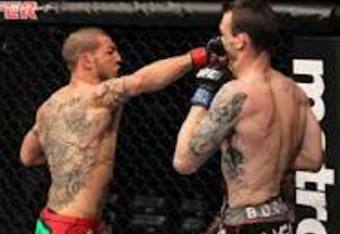 13. Mike Russow (C)
Mike Russow is the first winner to appear on this list, making him the least impressive winner. Russow took Einemo down persistently, however he failed to do much damage or even advance his position much. Russow and Einemo were stood up multiple times. Each time Russow again took Einemo down beginning the process over. Maybe Russow just wanted to be cautious of the submission, although the victor did little to impress me.
12. Shane Roller (C)
Roller put on a pretty good show with Michael Johnson. Roller's stand-up left much to be desired, especially against the much faster Johnson. However, Roller's wrestling in Round 3 scores him some points. I appreciate Roller's persistence and composure in this bout. Losing the first two rounds, Roller changed things up and did not fight timidly. Upon taking the fight to the ground early in Round 3, Roller took Johnson's back and attempted to loosen Johnson up for a choke, even obtaining a body lock on Johnson with his legs. I find it admirable that Roller did not give up and went for the finish when he needed it.
11. Nik Lentz (C)
This was the first fight I had seen of Lentz' and I was impressed. He showed a diverse stand-up, throwing kicks and knees, as well as punches. I thought Lentz got the better of Evan Dunham standing in the first round. Overall it was a very even first round. In the second Dunham was able to get Lentz down and he tore him up from there. Before the round even ended I knew the cut under Lentz' eye would stop the fight. I 100 percent believe Lentz and Dunham earned their Fight of the Night honors.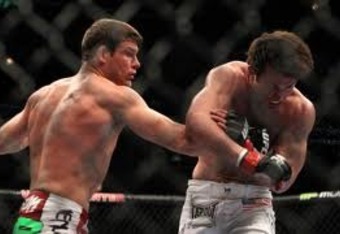 10. Phil Davis (C)
Phil Davis is a very impressive prospect. He will go on to have a very successful career in the UFC. Last Saturday just was not his time. I will admit it, I am a Rashad Evans fan (I began watching MMA during TUF 2), so I was satisfied with the decision. Davis has many qualities similar to LHW champ, Jon Jones. However, Davis still has to become a more complete fighter and that will come with time. I do not believe this was a bad fight for Davis, it was a necessary fight for Davis. He will be back and better for it.
9. Chris Weidman (C+)
Weidman earned a split decision win against Demian Maia, his toughest opponent to date. Weidman won the majority of exchanges standing early during the fight and was able to take Maia down. Later in the fight he tired out, but was able to hang on and pick up the victory. It was not a flashy or overly impressive win for the middleweight prospect. However, he wins points for facing a tough opponent on short notice and showing some good diversity.
8. Cub Swanson (B-)
We begin the top tier of fighters with Swanson, whom I was very impressed with. I could have easily moved Swanson as high as five on this list. Swanson survived an even Round 1, but found his range and striking rhythm in Round 2. That made all the difference. Swanson was able to get inside and out-strike Roop, leading to an impressive knockout. Swanson's stock may have risen more than any other fighter's, as he showed off solid skills both standing and on the ground. 
7. Chael Sonnen (B-)
It was well-documented that Bisping/Sonnen was an outstanding stylistic match up. Sonnen possessing outstanding wrestling and Bisping having good technical striking and impressive take-down defense. For two rounds Sonnen seemingly lost the standing battle. He was able to take Bisping down, but he could not keep Bisping down for very long and was not able to cause any damage from the ground either. Sonnen also seemed to be losing the battle in the clinch as well. Finally, in Round 3 Sonnen was able to keep Bisping down, advancing his position to mount and working on an arm triangle. He did not do much in the way of ground and pound, but still showed off some great grappling acumen on his way to an easy Round 3 victory. Sonnen's third round was very impressive, but he did not show much the remainder of the fight.
6. Michael Bisping (B-)
I believe Bisping was the far more impressive fighter last Saturday. He showed off a very versatile striking attack. He also won many exchanges in the clinch, he was often the one pressing Sonnen up against the cage. Although Sonnen took him down multiple times, Bisping often sprung back to his feet without much effort. He also seemed to be the more composed fighter throughout the first two rounds. I would have scored the bout 29-28 in favor of Bisping. I was completely flabbergasted to see there were judges scoring the bout 30-27 for Sonnen! Despite the outcome, Bisping can not be discouraged by his performance. He is still a top-five middleweight and I would not mind seeing him fight Munoz next with the winner facing the Silva/Sonnen victor. 
5. Michael Johnson (B)
This may seem high for Johnson, however I was very impressed with the TUF alums' performance against Shane Roller. Johnson won the first two rounds with ease. Showing off speed, footwork and some solid striking ability. Most impressive was Johnson's ability to avoid Roller's take-downs for two rounds. Johnson found himself in trouble in Round 3 as Roller took his back and tried to sink in a choke. However, Johnson remained poised and displayed some good defense defending the choke, keeping his belly off the mat and eventually slipping out of the body lock. Good win, although he will need to string a couple more to break into the upper echelon of the Lightweight division.
4. Evan Dunham (B)
Dunham got back on track this past weekend dispatching Nik Lentz with some brutal ground and pound. Dunham was a little shaky in Round 1, as Nik Lentz surprised him with some good stand-up of his own. However, in Round 2 Dunham took over and showed off some explosive striking, dominating Lentz standing and on the ground, eventually opening a wound under Lentz' eye that would eventually stop the fight. Very impressive win, he and Lentz completely earned Fight of the Night.

3. Lavar Johnson (B+) 
Johnson made his UFC debut on Saturday and earned Knockout of the Night honors in impressive fashion. He knocked out hard-chinned heavyweight Joey Beltran with multiple uppercuts in the waning moments of Round 1. Johnson did as well as he could on Saturday, still I have to wonder what would happen if Johnson were to face stiffer competition or if a fight of his goes to the ground.
2. Rashad Evans (A-)
Rashad put on a near flawless performance against Phil Davis, winning the decision 50-45. Evans was able to avoid Phil Davis' range and get inside to win the stand-up battle each round. He was also able to take the All-American wrestler down consistently. There he was able to advance his position and even subjected Davis to the dominating crucifix position on a couple of occasions. The only knock on Evans' performance was his inability to obtain the finish. Evans was able to get Davis into dominating positions, but could not finish the fight from there. He will have to be able to cause more damage if he can even manage to get Jon Jones in a similar situation.
1. Charles Oliveira (A-)
Oliveira made his debut in the Featherweight division, winning in most impressive fashion. Oliveira quickly put Wisely on the defensive, attempting a heel-hook submission. Wisely defended the submission, giving up his back and allowing Oliveira to roll into a creative calf slicer. The pain on Wisely's face looked excruciating. Oliveira clearly has outstanding submissions, but I would like to see a more well-rounded game from him in the future.