New York Knicks: Using Walt Frazier Rhymes to Describe Each New York Knick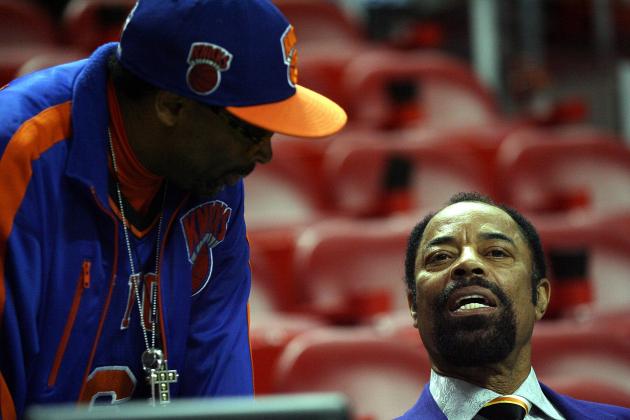 Marc Serota/Getty Images

The New York Knicks' season is off to an inauspicious beginning.
At 7-13, the Knicks have lost their knack, and are on the outside of the playoff picture looking in. Even the normally blunderous Milwaukee Bucks and Cleveland Cavaliers have better records.
New York has been particularly resistant to winning and grinning lately, slopping and dropping nine of their last 10, including a deuce to those very same Bucks and Cavs.
The team's doldrums look to continue in February, a month that starts off with a back-to-back-to-back against Eastern foes Chicago, Boston and New Jersey, and includes contests against the Lakers, Mavericks and Heat. Oh my. And that's the short month.
What happened to the Knicks' dishing and swishing? Their driving and thriving? Their bounding and astounding?!
Truly, this fall from grace is inexplicable and despicable. It has a lot to do with a matador defense, a lack of slicing and dicing and the ghosting of any posting and toasting.
Forget about penetrating and devastating.
All I know is, if the Knicks continue their stumbling and bumbling, doom and gloom definitely loom and they'll be watching the 2012 postseason from the living room.
I wonder what Clyde thinks of this team right now...
Begin Slideshow

»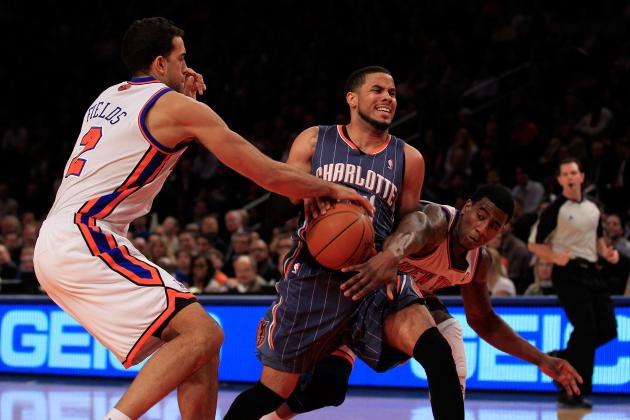 Chris Trotman/Getty Images

While not exactly performing at the same level of Ricky Rubio in Minnesota or Kyrie Irving in Cleveland, Iman Shumpert has been in the conversation for Rookie of the Year from the season's start.
The precocious neophyte out of Georgia Tech is playing a dynamic and erratic 30 minutes a game, arousing the Garden faithful.
He's sixth amongst rookies in points and second amongst them in steals.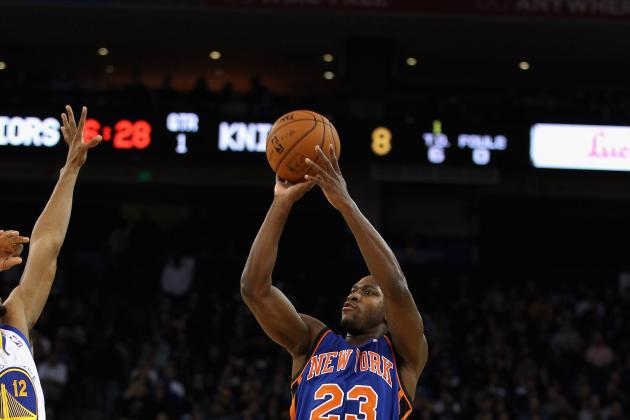 Ezra Shaw/Getty Images

Toney Douglas has failed in his efforts to become the point guard clearly necessary to run Mike D'Antoni's scheme.
Douglas chucks and sucks with gusto, a horrific 32 percent from the floor—worst on the team. His shot selection and team direction are baffling.
No duping and hooping here.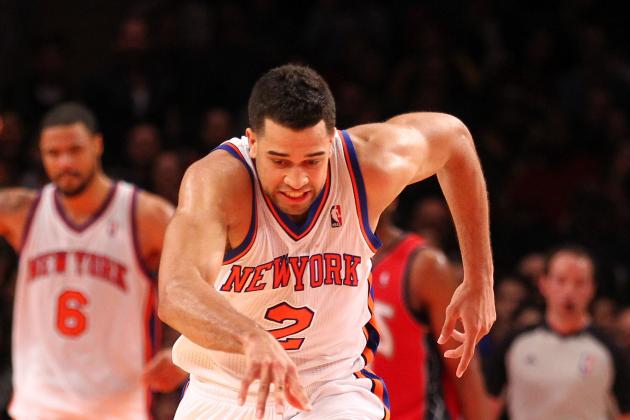 Al Bello/Getty Images

Landry Fields diligently jumped and thumped throughout his breakout rookie season, posting over 500 rebounds and nearly 800 points. He was good from behind the arc too and could steal.
Last year, Fields was omnipresent. This year: a sophomore slump.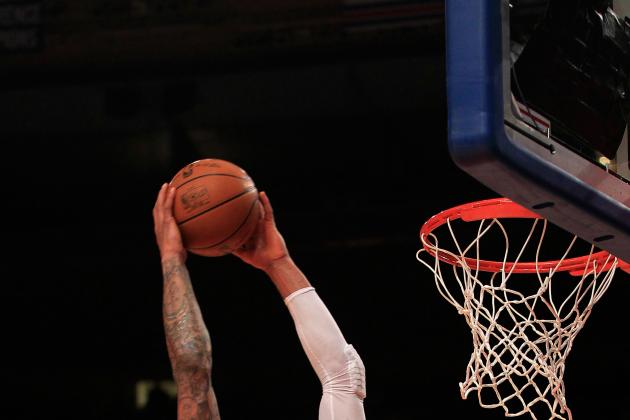 Chris Trotman/Getty Images

Tyson Chandler is off to a prodigious start in New York, having his best season since 2007-08.
He's muscled out double-digits in rebounds and points per game and is recording his best field goal percentage and assists totals ever.
The Knicks made a leap in defense thanks to the addition of Chandler, but it was at the cost of a floor general.
Too bad, with a point guard, this team would be percolating.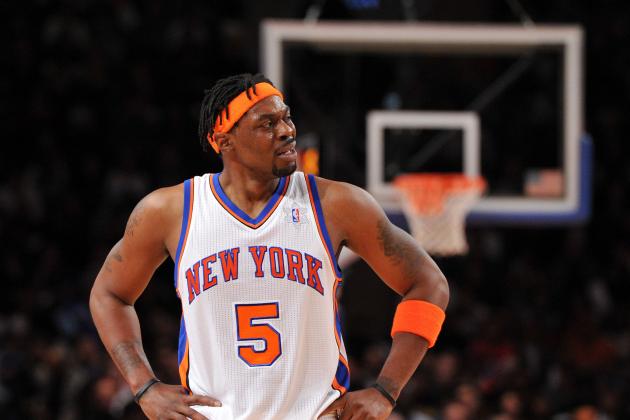 Christopher Pasatieri/Getty Images

Other than finally showing up in Miami the other night, Nil Bill Walker has been atrocious this season. His game stats are peppered with a lot of zeroes and his game tape peppered with mistakes.
This is a big issue for the Knicks who are futilely forced to look elsewhere for bench points.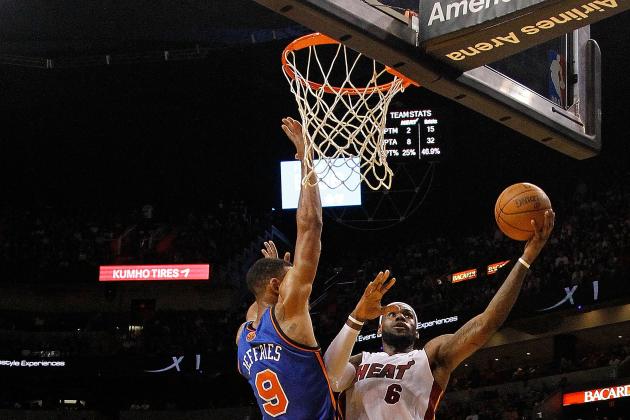 Mike Ehrmann/Getty Images

Jared Jeffries has been hampered by calf and back injuries this season, but you wouldn't really notice.
Jeffries' numbers and play are his norm: diminutive.
He, Bill Walker and Mike Bibby reinforce one of the Knicks' more insidious quandaries—no bench at all.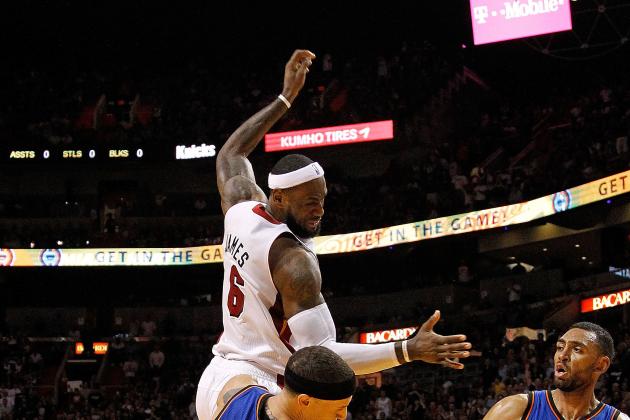 Mike Ehrmann/Getty Images

Mike Bibby's tank is just about out of gas.
With Toney Douglas' issues running the offense, you would think that would be enough impetus for Bibby to step up.
But Bibby's effervescence (and career) went flat for good about three years ago.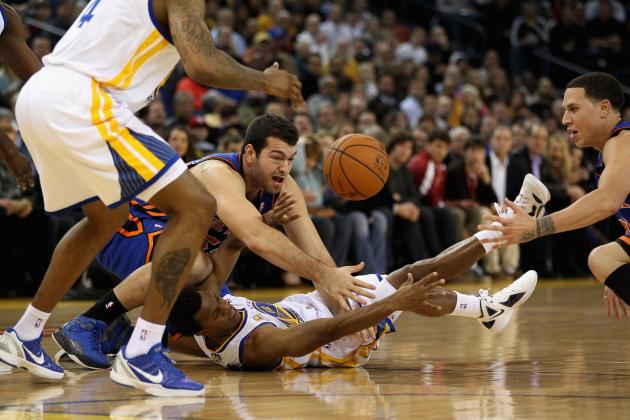 Ezra Shaw/Getty Images

Josh Harrellson has been a pleasant surprise for the Knickerbockers.
It's too bad he'll be out for a while with a broken wrist, because he had a penchant for crashing at the boards and thrashing at the ball.
Harrellson and Shumpert are two bright spots on the Knicks roster this year, enthusiastically trying to pull the team from its stupor.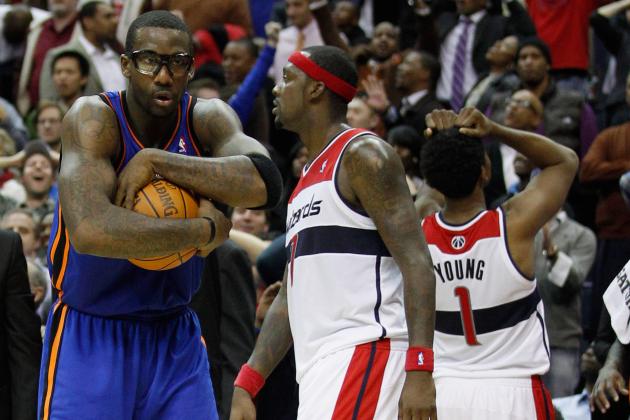 Rob Carr/Getty Images

What happened to bubbly, Mr. New York Amar'e Stoudemire?
He's gone from man-about-town to man-with-a-frown.
Stoudemire has lost his mid-ranger and his zest.
Once, STAT would take over a game himself and win it. Not this year.
He's slipped from his perch as team leader with the acquisition of Carmelo Anthony and the dispatching of feeder Raymond Felton.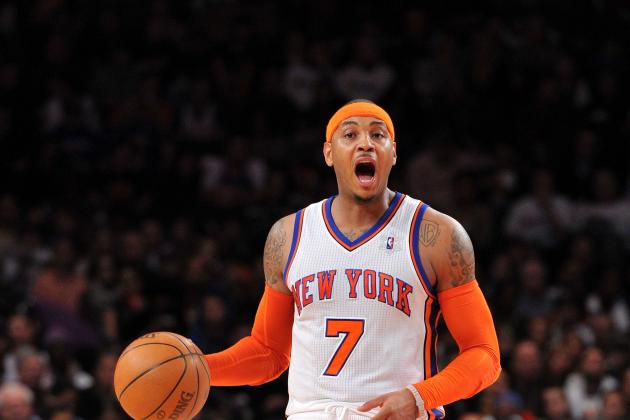 Christopher Pasatieri/Getty Images

Carmelo Anthony has continued his ball-hogging ways, just in a different uniform and again to no avail.
The team's dynamic has changed so much since the Melo trade and not in a good way.
Anthony incorrectly feels he must do everything himself in order to win and that has forced his shots, and his shooting percentage, to drop to the worst of his career.
Following every loss be sure to tune in to the staple Anthony interview where he talks a lot but says nothing and has no idea what's going on.
Bonus Slide -->
Here's a quick look at some of Walt "Clyde" Frazier's best quotes in this fan tribute video.
For more, here are some Clyde quote resources:
Follow me at Sport List of the Day and on Twitter @VinGetz.