MLB Free Agency: 10 Players Who Need Huge Contract Years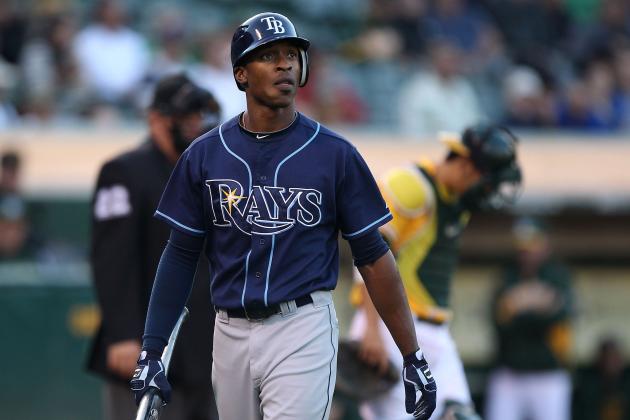 Jed Jacobsohn/Getty Images

The contract year.
Perhaps the greatest motivation that a player has to perform up to his potential. Not winning the championship, or making and breaking records, but putting up attention-grabbing, critic-silencing numbers in the push for the next big payday.
Read on for a look at some players who need a huge contract year to save their jobs or save their careers, or are just looking to build the free-agent pot and cash in.
Begin Slideshow

»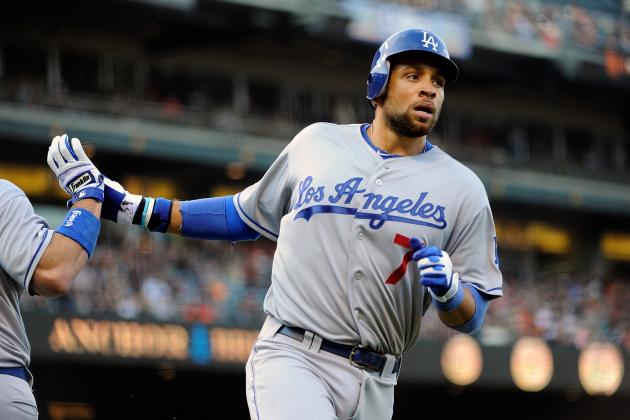 Thearon W. Henderson/Getty Images

Season Stats: .288/.339/.416, 12 HR, 65 RBI, 158 games played
Despite being one of the core players for the Dodgers, Loney is one of those guys who is more or less playing for his job and a new contract.
The glove work on defense has always been there, but the power that was expected to develop on Loney's frame has never appeared.
His 65 runs batted in last season were his lowest total in the last five years and a good example of the power deficiency.
With inconsistent performance and low power numbers for a corner infielder, it's not a given that the Dodgers will re-sign Loney. But it is likely, since L.A has no other proven options to put at first base, and he will probably end up costing relatively little for a player of his talent level.
That being said, Loney has one last chance to squeeze a multi-year contract out of the Dodgers.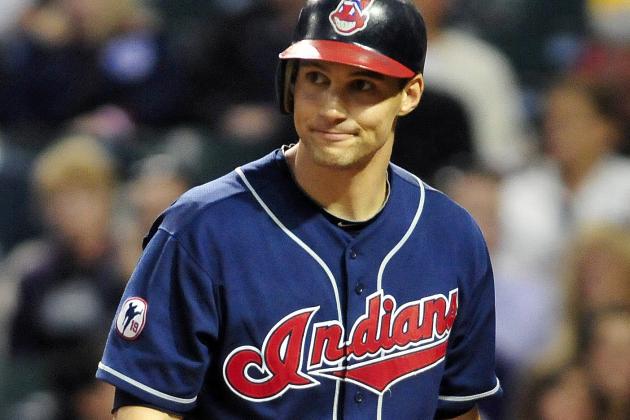 Jason Miller/Getty Images

Season Stats: .224/.285/.422, 10 HR, 32 RBI, 71 games played
After being released and then re-signed by the Indians, it is apparent that Grady Sizemore is on a short leash in Cleveland.
The talented outfielder's once quickly rising career has been derailed by perennial injuries, and teams that otherwise would've taken a chance on him were scared off.
One of the last true five-tool players before he got hurt, it's likely that Sizemore would have achieved 40 home runs and 40 steals if he had stayed healthy, having already reached the 30-30 milestone.
But with significant injuries the last four years, he is lucky that the Indians were willing to take him back.
Anything approaching his first few years in the league would be a boon for Grady. If he can stay healthy and perform, it would probably be enough for at least a two- or three-year deal, and more importantly, save his career.
Norm Hall/Getty Images

Season Stats: .282/.351/.469, 18 HR, 86 RBI, 140 games played
After a season in which he was a division champion, made the National League All-Star team and had career highs in home runs and RBI, Miguel Montero obviously doesn't need a huge contract year.
But apparently, Montero is headed to arbitration after he and the team could not come to an agreement regarding a contract extension.
The Diamondbacks will probably re-sign him—I don't see why they wouldn't.
However, in the case that he does hit free agency, provided he has a strong showing in 2012, good hitting catchers are in demand, and Montero would be in position for a sizable payday on the open market.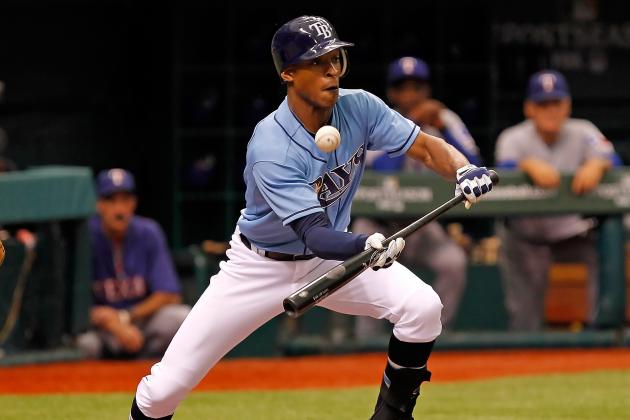 J. Meric/Getty Images

Season Stats: .243/.331/.429, 23 HR, 81 RBI, 153 games played
B.J. Upton has been continually linked to trade rumors the last several years, and that probably will not change this season.
Although .243 is a low average for a player of Upton's caliber, 2011 was a good year for him.
Strong power numbers and 36 stolen bases went a good ways to demonstrating the potential that Upton has, and that younger brother Justin has been showcasing.
The character concerns about lack of hustle are still present, but it would seem that B.J. is maturing, and with Desmond Jennings ready to take over in center field, Upton would do well to impress in 2012, increasing his stock for a multi-year contract in free agency or a potential trade.
Jonathan Daniel/Getty Images

Season Stats: .254/.340/.499, 24 HR, 77 RBI, 118 games played
The former White Sox slugger is headed to a year full of deflating power numbers as he moves to cavernous Petco Park.
Combine the change in scenery with a relative lack of protection in the lineup besides fellow newcomer Yonder Alonso, and you can see why Quentin is perhaps the guy most in need of a contract year before he starts to languish away in San Diego.
Petco is a notoriously pitcher-oriented park, but the saving grace for the 29-year-old Quentin may be that he is a right-handed hitter with power to left, shown by the fact that all of the home runs he hit last year in Chicago were to left field.
Quentin is looking for one last lengthy contract before his power starts to go downhill, but San Diego is the worst place he could have started looking.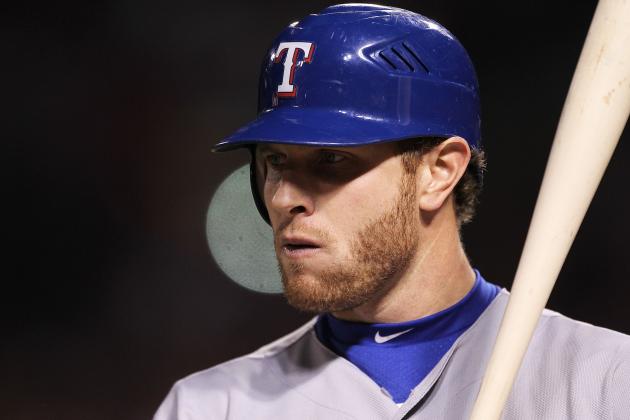 Ezra Shaw/Getty Images

Season Stats: .298/.346/.536, 25 HR, 94 RBI, 121 games played
We could see a contract to rival those of Pujols and Fielder when Josh Hamilton becomes eligible for free agency next offseason.
We could also see a similarity develop between Pujols and Hamilton in terms of their contract situations.
The Texas slugger has said that he will discuss an extension right up to spring training, and this could create difficulties for the Rangers, as they envision a much more conservative deal than Hamilton's camp is said to believe in.
I could see this playing out just like the Pujols situation, with Josh leaving Texas to go to the highest bidder.
Despite the injuries and addiction problems, Hamilton has been a premier player his whole career, and his stat line each season only adds weight to that.
There is no doubt that he will be a $100-million man with his next contract, but a full, healthy year played with comparable stats to last year could push his price closer to $200 million.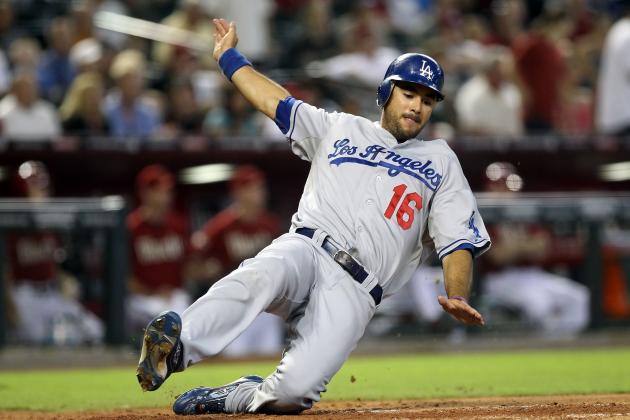 Christian Petersen/Getty Images

Season Stats: .292/.368/.421, 11 HR, 62 RBI, 135 games played
Andre Ethier isn't in the best of situations.
With the McCourt bankruptcy and divorce fiasco and the team in the process of being sold, there isn't a lot of money to go around.
A knee injury, poor second-half performance and what amounts to career lows in home runs and RBI don't help Ethier's case in aiming for a new contract with L.A .
Whoever becomes the new owner of the Dodgers will probably be throwing ample amounts of money around, and Ethier, along with James Loney, are playing for their continued stays in Los Angeles.
Ethier has a long way to rebound after last season, notably hitting only .220 against left-handed pitching.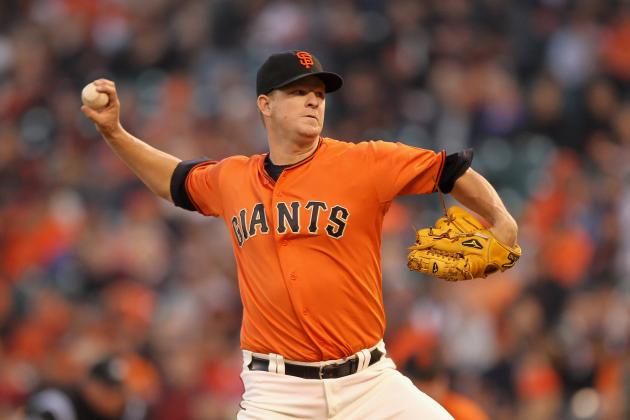 Ezra Shaw/Getty Images

Season Stats: 12-11, 1.08 WHIP, .217 BAA, 2.88 ERA, 221.2 innings pitched
It's shocking that after all the years he has been with the Giants, all the games with no run support and win-worthy gems tossed out the window, Matt Cain wants to come back!
There is a good chance that the Giants will be able to get Cain on a long-term deal and for less than $20 million a year.
It would be wise to lock up the workhorse of a top rotation, especially when Lincecum seems to want to test the waters of free agency.
On the other hand, if Cain were to hit the market, it's expected that he would get much more than the $77.5 million contract of C.J Wilson.
Cain has received Cy Young votes in previous years. An improvement to 15 wins total, which is significant considering the state of the San Francisco offense in the past, would make a big payday virtually assured, regardless of whether Cain chooses an extension or free agency.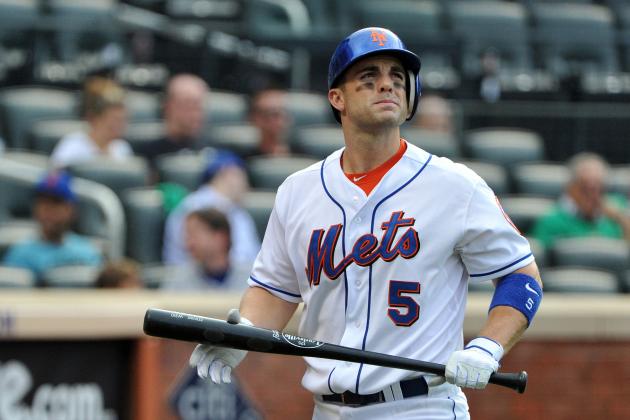 Christopher Pasatieri/Getty Images

Season Stats: .254/.345/.427, 14 HR, 61 RBI, 102 games played
With the Mets in the middle of a historic salary dump and financial disaster like the Dodgers, David Wright has been a hot name mentioned as the next to leave New York.
It remains to be seen whether the club will pick up Wright's option for 2013, but the signs point to him being a Met for the foreseeable future.
After an injury-plagued season and with the Mets in a fire sale, Wright's value is at an all-time low.
Teams don't want to give anything for him in a trade, despite five seasons of 25-plus HR and 100-plus RBI.
New York wants to keep Wright, and he wants to stay in New York. If Wright can produce anywhere near his '06-'08 levels, he will reestablish himself as one of the premier third basemen in the game and prove worthy of a $100 million contract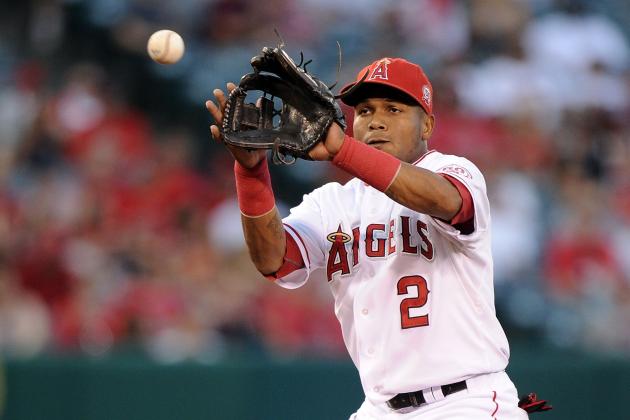 Harry How/Getty Images

Season Stats: .279/.322/.421, 10 HR, 59 RBI, 143 games played
Aybar already had a career year in 2011, but he may need something similar this season.
His job status may be up in the air with the rise of Jean Segura through the Angels' minor league system.
The value is there—the fifth-year shortstop posted career highs in home runs, runs batted in and stolen bases, and he continued a career trend of great contact hitting.
And the addition of Albert Pujols will make the entire lineup better. Up-and-down production throughout Aybar's time in the majors is a significant concern, however, and an encore of his 2011 performance would be just the thing needed to lock up an extension and a starting job.