Big Ten Basketball: 10 Biggest Surprise Stars This Year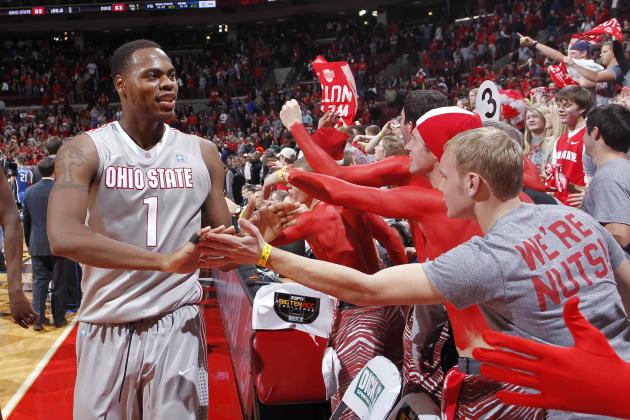 Joe Robbins/Getty Images
The emergence of DeShaun Thomas has Buckeye fans thinking about a 2012 National Championship
From a fan's standpoint, the college basketball season has produced many surprises thus far. Some of the biggest have come with the emergence of several young stars in the Big Ten Conference.
In the past several years, the cycle of dominant teams in the conference has stayed consistent. Michigan State, Ohio State, Purdue and Wisconsin have been the bullies on the block. The same can be said about its star players, who have tended to hail from the "power" schools.
Well, the times seem to be changing. The 2011-2012 season has seen a resurgence of previous conference powerhouse programs such as Indiana and Michigan, as well as a surge of standout players popping up from schools all over Big Ten country.
Here are the 10 most surprising Big Ten stars of the college basketball season.
Begin Slideshow

»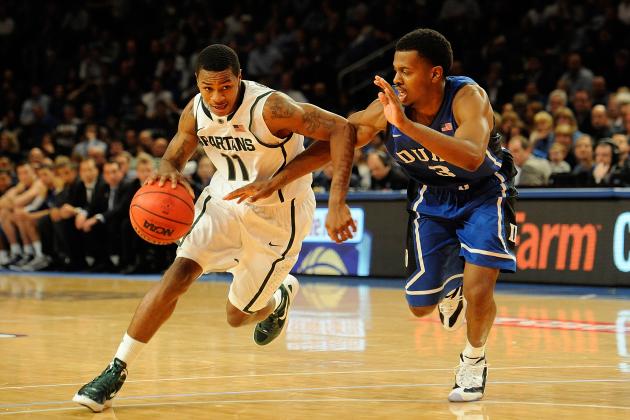 Patrick McDermott/Getty Images

Michigan State point guard Keith Appling is enjoying a stellar sophomore season for the Spartans. The 6'1" point guard arrived in Lansing with extremely high expectations as a 2010 McDonald's All-American, and he is starting to live up to his lofty billing.
At press time, his per-game averages were 12.3 points, 4.0 assists and 3.3 rebounds. More importantly, he has Michigan State out to a 17-4 record. The Spartans are also 6-2 in league play, trailing only Ohio State in the conference standings.
The Detroit native's best statistical game of the season came against the ranked Indiana Hoosiers on December 28th. He scored 25 points for MSU while collecting six rebounds and dishing out seven assists.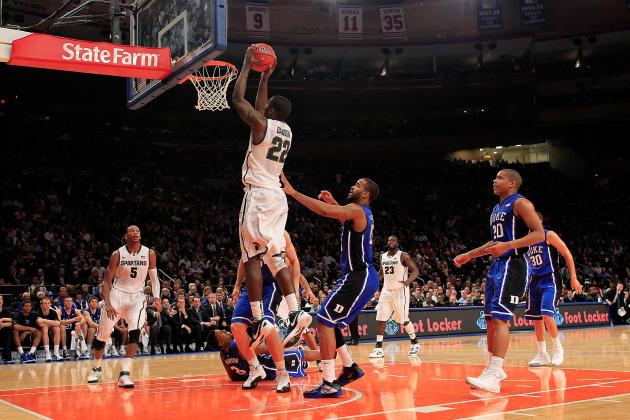 Chris Trotman/Getty Images

Another Spartan on the list, freshman small forward Branden Dawson is also enjoying a breakout season for Tom Izzo. The 6'6" prospect is another McDonald's All-American suiting up in green and white.
To date, he is posting averages of 8.6 points, 4.2 rebounds and 1.2 assists per game. More importantly, he is playing outstanding defense for the Big Ten powerhouse program.
He is steadily improving as the season progresses, which is a very promising sign for Michigan State fans. In his latest game against Minnesota, he posted 16 points while grabbing four rebounds and swatting four shots.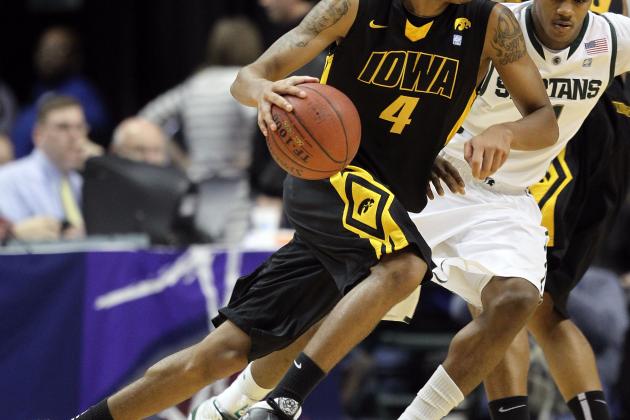 Andy Lyons/Getty Images

Another Michigan native making waves in the Big Ten Conference this season is Hawkeye Devyn Marble. The Iowa point guard is one of the conference's brightest young stars this season.
Being a 6'5" point guard is proving to have several advantages for Marble. He is averaging 11.4 points, 3.6 rebounds and 3.4 assists for head coach Fran McCaffery.
The sophomore displayed his versatility earlier this month in a 75-59 upset victory over the Michigan Wolverines. In that game, he scored 13 points while using his lengthy frame to grab six rebounds and hand out four assists.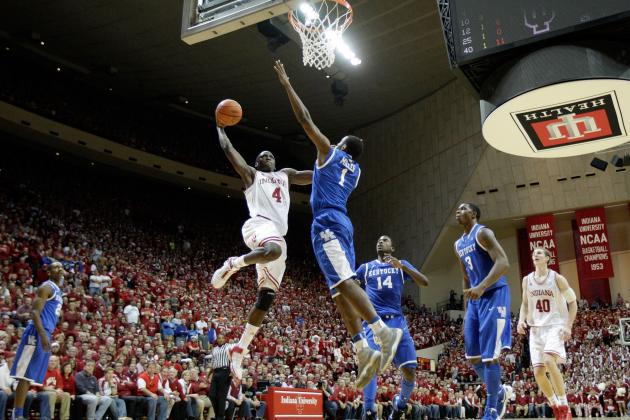 Andy Lyons/Getty Images

The resurgence of the Indiana Hoosiers in becoming one of America's elite programs again has been fueled by several different factors. One of the main factors has been sophomore Victor Oladipo.
The 6'5" explosive athlete has been a remarkably consistent player at the shooting guard position for Indiana head coach Tom Crean.
He is averaging 10.2 points, 5.2 rebounds and 1.7 assists each game and is a highlight waiting to happen on the fast break.
In the Hoosiers' 103-89 win over Iowa on Sunday, he filled the stat sheet with 13 points, six rebounds, three assists, one block and one steal.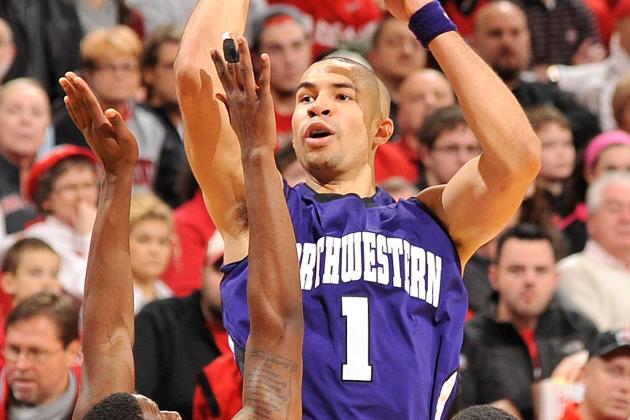 Jamie Sabau/Getty Images

The Northwestern Wildcats are battling to reach the NCAA tournament for the first time in the history of the program. If they don't make it there, they can't blame Drew Crawford.
The 6'5" shooting guard/small forward is enjoying a breakout season in 2011-2012. He is tearing up the conference competition to the tune of 17.2 points per game.
He is also pulling in 4.8 rebounds each game while handing out 2.0 assists. In a heartbreaking 58-56 loss to Purdue last week, he scored 23 points, grabbed eight rebounds and dished out three assists.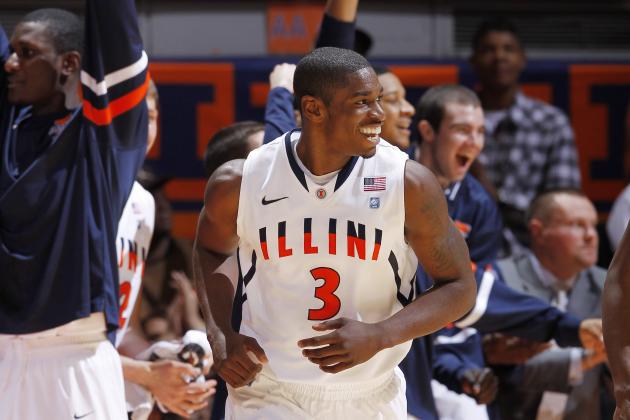 Joe Robbins/Getty Images

Illinois junior Brandon Paul has become the leader in the backcourt for the Fighting Illini. The 6'4" shooting guard has been wildly inconsistent this season but has shown his ability as one of the most explosive scorers in the country.
Earlier this month in an upset of Ohio State, he showed the conference exactly how dangerous of a scorer he is when his shots are falling. He torched the Buckeyes for 43 points, nailing an amazing 8-of-10 shots from behind the three-point line.
However, he didn't stop there. He also grabbed eight rebounds, contributed four blocks and accumulated two assists and two steals.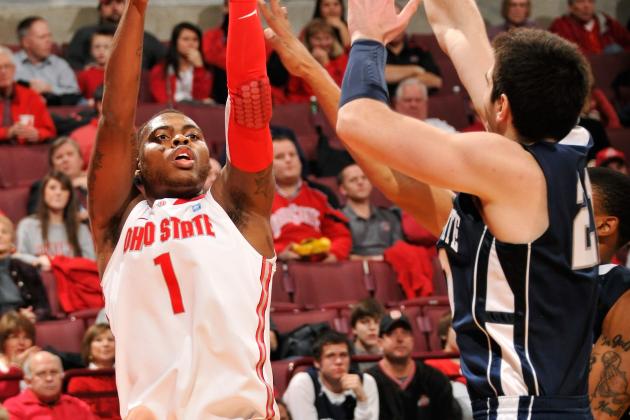 Jamie Sabau/Getty Images

If the Ohio State Buckeyes are going to make a run at a Final Four or a 2012 National Championship, their hopes are going to hinge on their versatile sophomore star, DeShaun Thomas.
The 6'7" small forward was a prized recruit at the high school level, and he hasn't disappointed in his first two seasons in Columbus.
He is averaging 14.6 points a game for Ohio State. He has the ability to dominate a game on the offensive end of the floor, and Thad Matta will need him to do so on a consistent basis for the rest of the season.
His best game this season came against the South Carolina Gamecocks, where he dropped 30 points while grabbing six rebounds.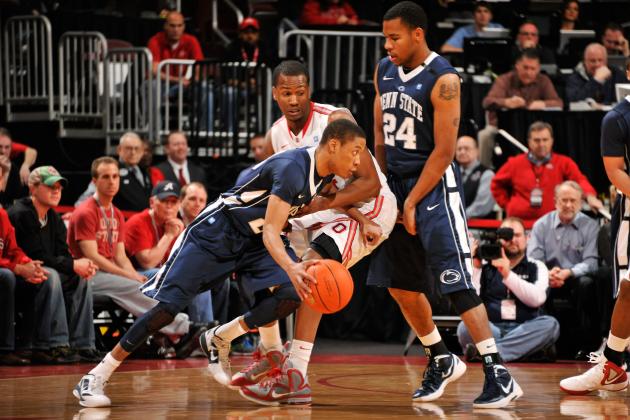 Jamie Sabau/Getty Images

The Penn State Nittany Lions have been a struggling Big Ten team for a long time now. Because of this, they are always looking for a reason to celebrate their basketball program. This year, Tim Frazier is that reason.
The 6'1" junior point guard has been putting up amazing statistics for PSU, regardless of their mediocre record. The averages read like this: 17.9 points, 6.3 assists, 4.9 rebounds, 2.2 steals.
An 2012 Big Ten First Team All-Conference season is in the cards for the budding star, and the recognition will be well-deserved.
Joe Robbins/Getty Images

One of the most tantalizing NBA prospects in the Big Ten Conference this season is Illinois center Meyers Leonard. The sophomore is using the season as a springboard to make the possible jump to the NBA next year.
The 7'1", 245 pounder is averaging 13.4 points, 8.0 rebounds and 2.0 blocked shots each game for Bruce Weber's squad. He is the heart and soul on the interior for Illinois.
His highlight game to date came last week against Minnesota. Even though the Fighting Illini lost 77-72, he did his part by scoring 17 points, grabbing 13 rebounds, blocking four shots and handing out two assists.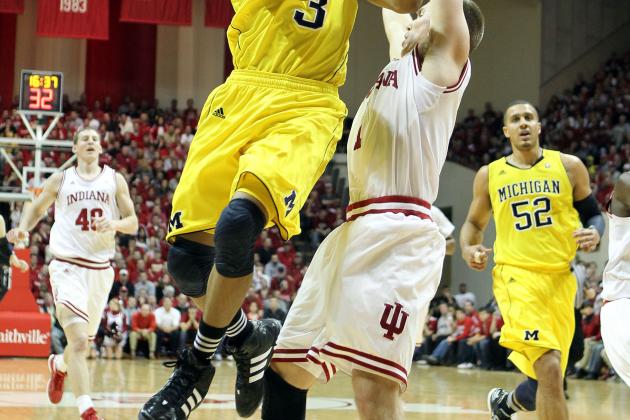 Andy Lyons/Getty Images

Very few freshman in the country are having the rookie season that Trey Burke is having for the Michigan Wolverines. The 5'11", 180-pound floor general arrived in Ann Arbor under the radar but has been anything but that so far this year.
He is the catalyst for the surprising Wolverines, averaging 14.1 points per game. He is also doing his part as a lead guard by handing out five assists each game while grabbing a surprising 3.6 rebounds.
In an upset victory over rival Michigan State in early January, he proved just how important he is to his club. In the 60-59 victory, he scored 20 points while grabbing four rebounds and handing out three assists.