Detroit Tigers: A Look at the Biggest 4 Corners in Baseball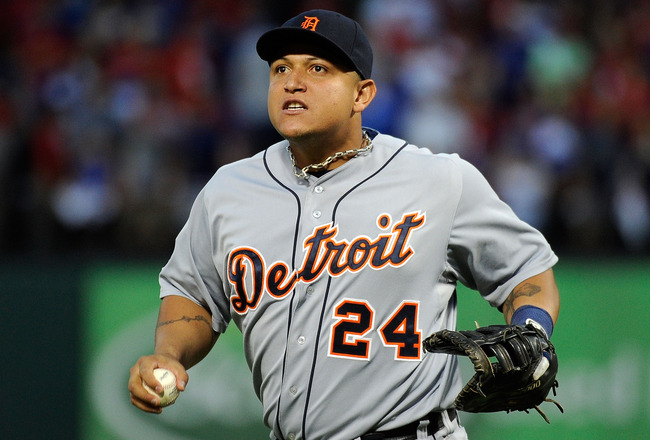 Detroit's Miguel Cabrera will shift from first to third this season to make way for Prince Fielder, who will take over duties at first.
Kevork Djansezian/Getty Images
Detroit's out-of-nowhere signing of Prince Fielder last week, for the rest of this decade, will place him at first and shift Tigers' slugging first baseman Miguel Cabrera to third. Tigers' manager Jim Leyland didn't hesitate to acknowledge there was no other plan (via MLB.com).
"Miguel Cabrera is going to play third base, let's make that perfectly clear today," Leyland said.
This signing puts the Tigers in excellent position to have other teams chasing them from behind early on this season, and potentially for years to come. Detroit has some powerful sticks, a lineup riddled with long-range weapons, making the Tigers a team that most AL pitchers would rather miss in the rotation.
The addition of Fielder adds another yard-driver to compliment the already difficult presence of Cabrera. With the lineup that Leyland spoke about last week, American League pitchers won't find themselves comfortable trying to get around those two big cats (via MLB.com).
While Cabrera and Fielder are plenty force all by themselves, mix in Brennan Boesch and Delmon Young, two young power hitters in their own right to bookend the sluggers, and retreat might be the only escape. With a healthy Boesch and Young the Tigers have big, towering figures at all corners of the field.
Can the Tigers offensive assets outweigh their defensive liabilities at the four corners?
Prince Fielder: First Base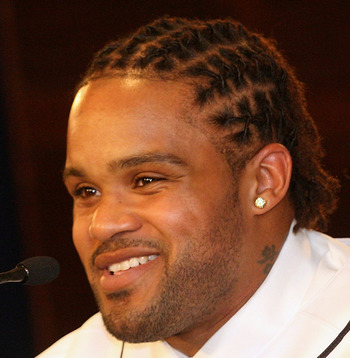 Prince Fielder is the Tigers new first baseman, after signing a nine-year deal with Detroit.
Jorge Lemus/Getty Images
Fielder brings more than offensive prowess to his new team. Over the past six seasons with the Milwaukee Brewers, Fielder played at least 157 games each year, including two seasons where he suited up for all 162 regular-season games. On the reliability scale the Tigers lose nothing shifting Cabrera to third and slotting Fielder at first.
In seven total seasons playing first base for the Brewers, Fielder sports a .992 lifetime fielding percentage, strong considering he's had 7,787 putouts and 516 assists, for a combined 8,000-plus defensive plays.
Ironically, in his four seasons with Detroit, Cabrera also has a .992 fielding percentage.
What is difficult to explain in raw numbers looking at the shakeup at first base is the ability to account for highlight-reel-type plays. The defensive gems that separate great players from Gold Glovers. Here, the more athletic and agile Cabrera gets the nod over his successor at first.
If history holds true, Fielder will be a solid and reliable first baseman for his new team. No, he won't make the spectacular back-handed grabs, and there will be fewer 3-6-4 double-plays than when Cabrera hugged the right field line, but he'll make the plays he's supposed make. If he hits 40-plus homers and drives in 120 or more RBIs, a few less spectacular won't even be noticed by Tigers fans.
What Fielder offers at the plate for the Tigers puts the lineup in another class among American League teams, and that's without the injured Victor Martinez. His .282 lifetime batting average, and five seasons of 32 or more home runs, will fit nicely behind Cabrera's lifetime .317 average.
*All statistical data provided by baseball-reference.com.
Miguel Cabrera: Third Base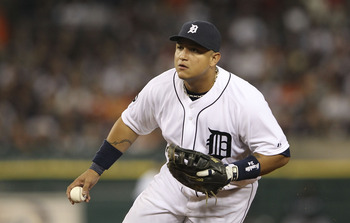 Miguel Cabrera will be changing gloves and changing corners for the Detroit Tigers this season, moving from first to third.
Leon Halip/Getty Images
Most scouts wouldn't look at the 2011 version of Cabrera and think: Detroit's starting third baseman in 2012. Of course, a little less than a week ago, neither would most Tigers fans. It didn't seem likely that anyone other than Cabrera would be prowling first base for the Tigers now, or the foreseeable future. The fact that the Tigers already had a perennial MVP candidate at first base left most Tigers fans feeling Fielder really wasn't an option. A notion reaffirmed by Tigers GM Dave Dombrowski only a week prior to the blockbuster signing (h/t MLive).
Cabrera did what was best for the team. Make no mistake, he is hungry for a title. He is also a great player and known to be one of the smartest guys on the field. He understands that with Fielder comes the opportunity to hit better pitches and be more selective at the plate. The potential to possess the metal that would push him to the highest rung of the MVP ladder.
Cabrera takes third over, albeit abruptly, from Brandon Inge, whose tenure at this point was questionable at best. Inge was clearly dissatisfied when he learned that there would be no contention for the starting spot at third base. Leyland acknowledged so while he also made clear that Cabrera is the Tigers third-sacker (via MLB.com).
In five seasons with the Florida Marlins Cabrera played third 387 times and more than any other position during his time there; however, that was coupled with a less than stellar .951 fielding percentage. Since coming to Detroit and moving to first base, he's improved his defensive stats by 40 points and has been reliable, playing no less than 143 games in a season since his arrival in Detroit.
Cabrera, with his lifetime .317 batting average and 636 career extra-base hits, could get more rest because of the move to third. Inge will still be an option, as will Don Kelly, but that will only be spot-necessary, Cabrera is there every day man.
*All statistical data provided by baseball-reference.com.
Brennan Boesch: Right Field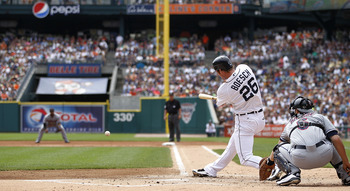 After two good, but not full seasons under his belt, the Tigers' Brennan Boesch is primed for a standout campaign.
Leon Halip/Getty Images
Outside of an unfortunate late-season injury, Boesch was enjoying a great sophomore year with the Tigers. He dipped a bit following the All-Star break, but bounced back down the stretch for the Tigers before the injury to his thumb forced him to the DL, and eventually out for the season. Following successful surgery in the offseason, Boesch has declared himself ready to go for 2012 (h/t MLive).
With the addition of Fielder moving Cabrera up in the order to third, Boesch's perception of his best fit in the lineup has also changed. After playing 133 games in his rookie campaign, Boesch hit .283 in a shortened 115-game season last year and is looking to stretch his potential over the long haul in 2012.
Boesch also has the potential to lead the sluggers that will follow him, and should seriously contend for the runs scored title in the American League, as he also has the range to knock out 20-plus home runs. The pitches he'll see preceding Fielder and Cabrera in the order will have him the envy of every hitter in the American League. Pitchers won't be in a position to gamble with Boesch only to face one of the behemoths that follow. Instead, Boesch should see a steady diet of fastballs over the fat part of the plate, giving him free-rein to drive the gaps at Comerica Park all summer long.
In 219 games in the outfield for the Tigers, Boesch has committed 13 errors, not great, but certainly not terrible either (.970 fielding percentage). However, Boesch does have a strong arm, having 16 career assists to go with his 406 putouts from left and right field where he has platooned.
A healthy 2012 may provide the most productive year of Boesch's short career and permanently cement him in the No. 2 slot of Leyland's lineup, which is a rarity for any Leyland lineup.
*All statistical data provided by baseball-reference.com.
Delmon Young: Left Field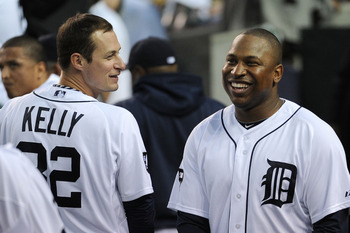 Delmon Young fell right into the Motown groove last fall, hitting five home runs in the ALDS & ALCS as a trade-deadline acquisition for the Detroit Tigers.
Harry How/Getty Images
If Young can do healthy, what he did for the Tigers injured during last season's playoff run, Leyland will be more than happy to have him ride caboose behind the Cabrera-Fielder Express. Throw in Boesch smoking the gaps from the No. 2 spot and you've got the potential for an American League RBI champion in Young.
The guy traded for a minor league pitcher and a player to be named later has enjoyed considerable success since his arrival in the Motor City, including a homer in his first at-bat wearing the Old English D. The season was over before most in Motown even got to see the big cat's strut, leaving Tigers fans yearning for more and wondering exactly who it was their team got. Was it the sensational rookie that in 2007 finished second only to Boston's Dustin Pedroia in A.L. Rookie of the Year honors, or the guy who never lived up to be the smasher the Twins had hoped for?
What the Tigers got was considerable potential. Young hit .298 in 2010, his high-water mark, and still boasts a career .288 average. It's hard to believe that the Twins would dump him for untested returns, but it seems that Detroit may have stolen a gem while the Minnesota brass was watching their team blunder into the basement of the American League Central. All the while, Detroit smirked as Young banged out eight home runs in his 40 games with the team, and then topped it off by bashing another five in the playoffs.
Young has had his share of defensive gaffs, enough for Tigers fans to get a glimpse last fall of why his career fielding percentage is a less than stellar .977, with 32 errors. Although, encouragingly, he only committed two errors in his 40 games with the Tigers last season. Regardless, Young will set the market for himself this offseason if he can live up to the hype that got him to the big leagues years before his peers.
*All statistical data provided by baseball-reference.com.
The Jackson Factor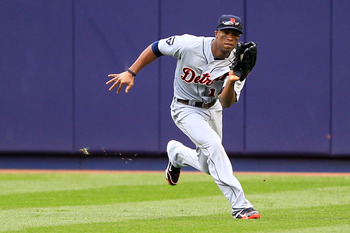 Detroit's Austin Jackson will be responsible for covering an even greater area defensively to help shore up a lack of range in the players around him.
Chris Trotman/Getty Images
It's likely Tigers fans will see a defensive position alignment that plays to the strengths of their team's personnel, which may push Boesch and Young tighter to the lines. With a weapon like Austin Jackson, Leyland may opt to have his corner outfielders save deep balls down the line from becoming doubles and triples. Boesch has an excellent arm. Young, not so much, so Jackson's speed will be called upon to cover considerable acreage in the outfield because of it.
However, regardless of where the big fellas start, in spacious Comerica Park, all bets are off.
Jackson's playing time is pretty well etched, but his subpar .249 sophomore campaign leaves little to be desired. As does the whopping 181 strikeouts, which placed him second in the AL in 2011. That, after hitting .293 his rookie year in 2010 and contending for AL Rookie of the Year honors, finishing second to Texas' Neftali Feliz. Although his rookie year he did strike out an American League-high, 170 times.
While the Tigers are plenty concerned about the development of their speedy defensive star's offensive production, they know now, more than ever, they'll need his defensive game to be Gold Glove-caliber. With nine errors his rookie season, and only three last year, he's put himself in a class of few others in the American League. The Tigers will be hoping he can be as close to perfect as necessary to help shoulder a good portion of the outfield coverage this season.
Of course, I'd be remiss if I didn't mention the cataclysmic momentum that would occur, should Austin Jackson learn to lay off a pitch above his belt. In particular, when he has two strikes in the count. Clearly, should he hover anywhere near the plus-.280 mark the Tigers would be thrilled. Another campaign closer to that of his rookie year and they might be lethal. The difference would be exponential.
*All statistical data provided by baseball-reference.com.
Small Details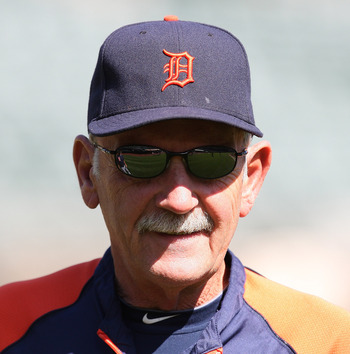 Jim Leyland has reason to smile headed to Lakeland this spring for the Grapefruit League season. His Tigers look to be one of the most feared in the American League.
Tony Medina/Getty Images
Detractors aside, Leyland's experience puts him in the upper echelon of MLB coaches.
While Tigers fans often gripe about his juggled lineups and defensive schematics, Leyland is on top of his game. From his perch on the steps of Comerica Park the old skipper is a master. He coaches his game, not the one media pundits and strategists deplore. The skipper coaches his a game with the nuances of baseball in its most simplistic form. Leyland isn't fancy with his baseball, and you won't find him squeezing runners home at the plate all that often, even if it seems the only option. Instead, what Leyland delivers from the dugout is a reassuring presence.
It's that calming presence that will be relied upon early this season. His new-look Tigers will be challenged by opposing AL managers trying to exploit perceived weaknesses in Leyland's defensive set. The biggest being the towering figures at third and first. AL managers would be wise to test Cabrera's footwork in his new position and his ability to field balls while throwing on the run to first base.
Leyland will be looking for Cabrera to silence any critics early in the season. Fielder is a fine first baseman who will make plenty of good plays and a great one every once in awhile too. Leyland's worries about first should pale in comparison to those at third if for no other reason than Cabrera hasn't played there in several seasons.
Leyland's big four corners are lumbering athletes, not fleet of foot. He'll have to consider how teams will attack his squad from a defensive standpoint. Young cannot cover a ton of ground in the wide-open outfields that litter the league. Leyland will have to adjust to this and account for the liabilities it creates. Of course, with a guy like Jackson roaming freely, the liability should be negligible. He'll also have to consider how his outfield personnel rotation will effect his defensive schematics, whether to play deep or pinch tight, to hug the lines or play them snug. The decisions will be many.
He'll have his hands full, but Leyland wouldn't have it any other way. He likes old-school baseball, and with the signing of Fielder last week, his game just got stronger.
Overall +/-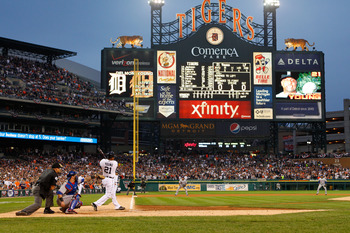 Delmon Young blasting a home run during the 2011 ALCS.
Leon Halip/Getty Images
The offensive assets gained with the signing of Fielder heavily outweigh other factors like infield shifts and outfield sets. More times than not, the Tigers should be in position to capitalize offensively in the wake of the occasional defensive error by one of their big four corners. Leyland will need to be attentive to how opponents try to attack his position players. Big lumbering guys like Cabrera, Fielder, Boesch and Young may not be the preferred defensive setup a manager would want in spacious Comerica Park.
However, it's what Leyland has, and he'll take it.
Respectfully, it does sound a bit like a recipe full of potential for offensive explosiveness and defensive disaster. However, Leyland has enough tools in the shed with the likes of Inge and Kelly, who can fill a need at third should the Tigers need to abandon ship with their initial battle plan. Even if this happens Leyland holds a strong defensive options hand.
Cabrera could shift to left, he's played there before, splitting time between third and left coming up with the Marlins. Delmon Young could spend time in the DH position if necessary to clear way for Cabrera shifting to the outfield. Inge could push to earn his spot back at third if needed. Cabrera and Fielder could spend time rotating at first. Don Kelly, well, that guy can play just about anywhere. The list goes on and on.
At some point things will fall into place. For now, Leyland seems content with going with his gut and playing old-fashioned baseball
Keep Reading

Detroit Tigers: Like this team?