Pittsburgh Pirates: 10 Players Who Could Have Been Pirate Starters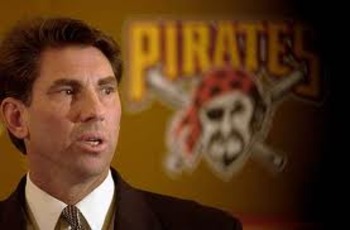 Courtesy of isportsweb.com
The Pittsburgh Pirates made an unhealthy habit of drafting the wrong players under former general managers Cam Bonifay and Dave Littlefield.
Yes, every team in baseball has missed a pick here and there, but the Pirates' recent history of drafting signability over talent is unparalleled.
Any self-deprecating Pirates fan knows this all too well, whether they like to admit it or not.
These inept drafting abilities have played a major role in the Pirates' current situation. It is not a coincidence that the Pirates have not won since Bonifay took the reins in 1993.
Just like it is not a coincidence that the Pirates' struggles continued through Littlefield's reign, and residual effects are still felt today in PNC Park.
The Pirates have had their chances to grab players worthy of their high selections. If we were to dig deeper than the first round, many other miscues would be discovered.
However, Pirates fans can only take so much. Let's just focus on the first-round misfires today.
Here is a starting lineup showcasing what could have been in the Steel City.
Starting Pitcher: Roy Halladay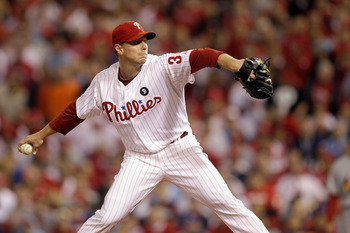 Rob Carr/Getty Images
Roy Halladay was selected 17th overall in the 1995 MLB Amateur Draft.
Instead of selecting the future Cy Young hurler, the Pirates decided to select high school shortstop Chad Hermansen with the 10th overall selection.
Hermansen lost his starting job by 2000. Halladay has been an eight-time All Star selection and has won a Cy Young in both leagues. Not to mention Halladay's perfect game and postseason no-hitter in 2010.
Halladay's 188 career wins would have been useful at the top of the Pirates pitching rotation. His 3.23 ERA would have snagged a few more victories in the rebuilding effort in Pittsburgh.
This was a bad mistake, and one the former Pirates front office surely regrets.
Honorable mentions: Matt Morris (1995), C.C. Sabathia (1998), Clayton Kershaw (2006), Tim Lincecum (2006), Zack Greinke (2002), Cole Hamels (2002), Matt Cain (2002), John Danks (2003), Jered Waver (2004), Chad Billingsley (2003), Adam Wainwright (2000)
Relief Pitcher: Brad Lidge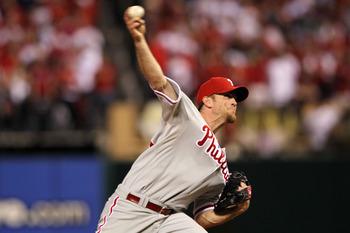 Jamie Squire/Getty Images
Brad Lidge was the 17th-overall selection in the 1998 MLB Amateur Draft.
The Pittsburgh Pirates selected Vanderbilt first baseman Clint Johnston with the 15th-overall pick.
Lidge has not been elite, but he would certainly be an improvement over the virtually nonexistent Johnston.
Lidge's two All-Star selections and World Series ring would have provided solid balance to the Pirates bullpen despite his recent injury issues. He has also won a Comeback Player of the Year award, Rolaids Relief Man of the Year and DHL Delivery Man of the Year, all in 2008.
Honorable mentions: Matt Thornton (1998), Mike MacDougal (1999), Chris Perez (2006), Aaron Crow (2009)
Catcher: Matt Wieters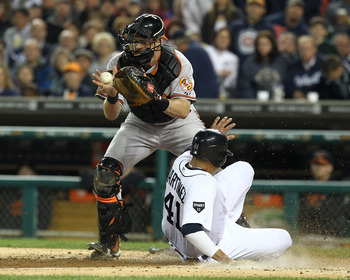 Dave Reginek/Getty Images
Matt Wieters is, perhaps, Dave Littlefield's most notorious draft-day blunder.
Wieters was selected fifth overall in the 2007 MLB Amateur Draft. The Pirates selected Clemson pitcher Daniel Moskos with the fourth-overall pick.
Coming out of Georgia Tech, Wieters was considered a sure-fire All Star catcher. He has been selected to one All-Star game and has won one Gold Glove award, but he has not necessarily lived up to his collegiate hype.
However, that does not take away from Littlefield's error in judgment. Moskos has been moved from the rotation to the bullpen and appears to be marginal at best in his new role.
Moskos was never expected to be an ace candidate by anyone outside of the Pirates front office. The selection either draws laughter, or tears, from the Pirates maligned fanbase.
Honorable mentions: Buster Posey (2008), Jason Varitek (1994)
First Baseman: Prince Fielder
Dilip Vishwanat/Getty Images
Prince Fielder did not come off the board until the seventh-overall pick in the 2002 MLB Amateur Draft.
The Pittsburgh Pirates decided to select Bryan Bullington with their No. 1 overall selection that season, a No.1 overall selection who was openly referred to as a potentially solid No. 3 starter by General Manager Dave Littlefield.
That is the Pirates front office in a nutshell, drafting signable players as opposed to drafting talent. Here is a newsflash: No. 3 starters do not get taken with the top overall pick on purpose.
Instead, the Pirates passed on a laundry list of better options. Fielder is the headliner.
He has racked up three All-Star selections, an All-Star Game MVP award and a Silver Slugger Award.
Given the recent power outage in Pittsburgh and the fact that Fielder is just now entering his prime, this one should hurt.
Honorable mentions: Lance Berkman (1997), Paul Konerko (1994)
Second Baseman: Aaron Hill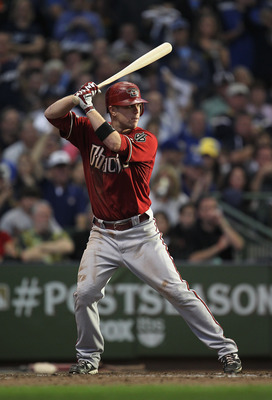 Jonathan Daniel/Getty Images
Aaron Hill was taken 13th overall in the 2003 MLB Amateur Draft.
In this instance, the Pirates have not missed on any elite second basemen in the first round of the draft in recent memory. Hill will suffice for the Pirates' what-if lineup.
He has been selected to one All Star team, won two Fielding Bible Awards and also has a Comeback Player of the Year award under his belt.
For once, the Pirates can feel alright about not moving on Hill nine years ago. Paul Maholm gave the Pirates sufficient service as their eighth overall selection that year, and Neil Walker has blossomed into one of the game's up-and-coming second basemen.
Honorable mentions: Brian Roberts (1999), Gordon Beckham (2008)
Third Baseman: David Wright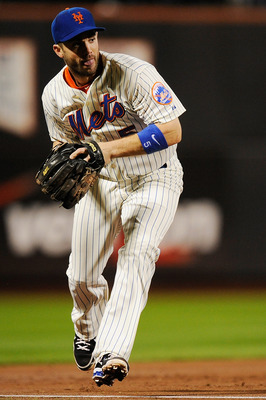 Patrick McDermott/Getty Images
David Wright was technically taken in the supplemental first round of the 2001 MLB Amateur Draft, but the Pirates missed on a first-round talent nonetheless.
This was an epic error considering the colossal flop of John Van Benschoten's career as the Pirates' eighth-overall selection.
Van Benschoten's career started in a bizarre way.
He led all of Division I in homeruns during his senior season at Kent State, but he also worked as the team's closer. The Pirates stripped him of his bat and sent Van Benschoten to work on the pitcher's mound.
The experiment did not pan out. Van Benschoten has a career ERA of 9.20, and the Pirates wasted yet another optimal first-round selection.
Instead, the Pirates could have taken Wright. A five-time All Star, two-time Gold Glover and two-time Silver Slugger award winner, Wright has had a great career in New York.
Honorable mentions: None
Shortstop: Nomar Garciaparra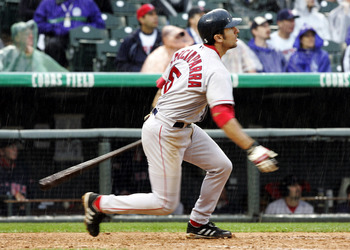 Brian Bahr/Getty Images
Nomar Garciaparra was the 12th-overall selection in the 1994 MLB Amateur Draft.
Instead, the Pirates used their 11th-overall selection on Mark Farris.
Both Farris and Garciaparra were shortstops, but there is one major difference. Garciaparra is a household name, and Farris never made it past Double-A.
Garciaparra was the 1997 Rookie of the Year. He would go on to win one Silver Slugger award and received bids to six All Star games.
Pirate fans may have grown tired of Garciaparra's idiosyncrasies in-between pitches. However, they would have invited his stellar bat and above-average glove in the field.
Honorable mentions: B.J. Upton (2002), Stephen Drew (2004)
Outfield: Alex Rios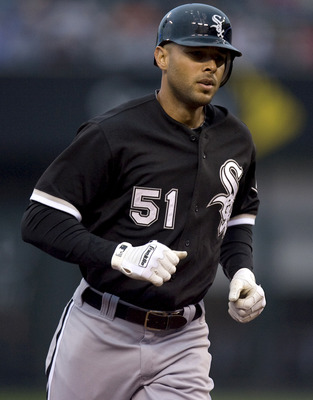 Ed Zurga/Getty Images
Alex Rios was selected with the 19th-overall selection in the 1999 MLB Amateur Draft.
That same year, the Pirates selected high-school sensation Bobby Bradley with the eighth-overall pick.
Three arm surgeries later, Bradley failed to make the major leagues and fizzled out in 2005. Rios has not had an unbelievable career, but he would have been a welcome addition to the Pirates lineup.
Rios is a two-time All Star and has won one Fielding Bible award. He is a five-tool player and would have provided some excitement on the diamond.
Bradley was supposed to be a guaranteed top-of-the-rotation starter for years to come in Pittsburgh. Instead, the Pirates took another giant step backwards without another year's top prospect.
*All outfield honorable mentions will fall on the final slide
Outfield: Nick Swisher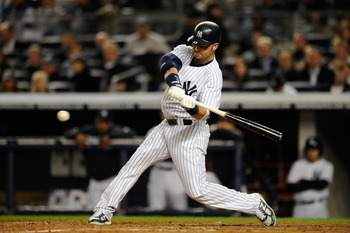 Patrick McDermott/Getty Images
Nick Swisher was taken 16th overall in the 2002 MLB Amateur Draft. He was one of many disastrous misses by the Pirates front office in this year's draft.
The Pirates took Bryan Bullington. Needless to say, that move has not worked out.
Swisher has won a World Series and appeared in one All-Star Game. No, that is not a lot, but that is one more All-Star Game than Bullington has sniffed in his baseball career.
The Pirates would have enjoyed Swisher's clubhouse presence, his switch-hitting ability and his ample power supply.
Instead, they were stuck with yet another arm that never panned out.
Outfield: Jason Heyward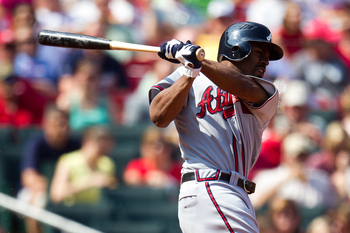 David Welker/Getty Images
Jason Heyward was the 14th-overall selection in the 2007 MLB Amateur Draft.
The Pirates took Danie Moskos with the fourth-overall pick, and that has not worked out.
Some would say Heyward has not lived up to the billing either. I would argue that I would take ten Jason Heyward ceilings before I take Moskos' minimal bullpen potential.
Heyward was named Rookie of the Year in 2010. He also received an All-Star bid that season. He is among the most hyped young players in the game today and oozes potential in all facets of the game.
Moskos was a world-class flub on the part of Dave Littlefield. Heyward would have injected enthusiasm in the Pirate fanbase and provided a ton of potential as part of the current Pirates nucleus.
Honorable mentions: Michael Cuddyer (1997), Jayson Werth (1997), Aaron Rowand (1998), Carlos Quentin (2003), Adam Jones (2003)
Keep Reading

Pittsburgh Pirates: Like this team?