MLB Free Agency: Why the Mets Should Sign Rick Ankiel to a Contract
January 30, 2012

Christopher Pasatieri/Getty Images
It's been a fairly quiet offseason for the Mets. About the most excitement fans have had so far is hearing that John Franco was elected to the Mets Hall of Fame. Other than that, because of the hemmorage that is the Wilpon's finances, the Mets have been forced to spend, like a current player said, "like the Oakland A's." 
However, the offseason isn't over just yet. According to Andy Martino of The New York Daily News, the Mets are looking for a left-handed outfielder, and fortunately for them, there are four options remaining: Kosuke Fukudome, Raul Ibanez, Johnny Damon and Rick Ankiel.
Let's take a look at each option. Fukudome is 34 years old and coming off a season split between the Cubs and the Indians. He had a MLB career-high 139 hits between the two teams, but he has struggled to find consistent success in America, so it would be wise to cross him off the list.
Raul Ibanez has very little pop in his bat from his Royals and Mariners days, and he will be 40 in June. He's not what Gary Sheffield was, so signing him would not be a great idea either, even if it was only for bench help.
Johnny Damon is in the same boat as Ibanez. He'll be 39 this year, and it's very obvious that his best days are far behind him. The Mets would not be doing themselves any favors signing him.
Which leaves us with Rick Ankiel. Ankiel is 32 years old, a Babe Ruth story in the sense that he's made the transition from pitcher to outfielder, and has plenty left in the tank. He's bounced around from team to team since leaving St. Louis in 2009, and although he's not a contact hitter, he does have somewhat of a power stroke.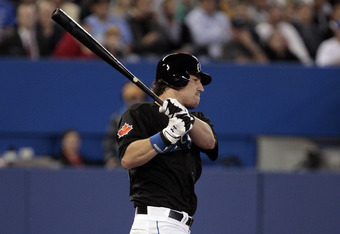 Abelimages/Getty Images
Ankiel has yet to play the way he did back in 2008 when he slugged 25 home runs (although this was done with the aid of steroids), but signing him would possibly do the Mets some good.
There are plenty of reasons why, but I'll condense it down to three: the price tag, his value as a fourth outfielder and the possibility of mentoring Adam Loewen.
First, the price. Ankiel is reaching the end of his prime. At 32, he has one last year before old age sets in and slowly inhibits his ability to play. Outfielders like that are cheap because teams are often concerned about their abilities once they've hit the so-called "baseball menopause." Given the Mets' payroll was practically cut in half this offseason, mostly because of Jose Reyes, signing an outfielder in the last year of his prime for a few million dollars wouldn't put as much of a strain on the Wilpon's piggy bank.
Next, the potential as a fourth outfielder. Moving aside from the bat for a second, it's evident that signing him would add a quality glove. Ankiel's fielding percentage was .996 last year, an impressive statistic. Now that's a number that signifies a good glove. Given Jason Bay's defensive struggles, and Lucas Duda's awkward attempts to play a position he's only slightly familiar with, adding Ankiel would be equivalent to adding a discounted version of a younger Torii Hunter, but only if he can field like he did last year.
Third, Adam Loewen. Earlier this offseason, the Mets signed a similar player, Adam Loewen. Loewen, once a highly-touted pitcher with the Orioles, resurrected his career as an outfielder with the Blue Jays this past season. Loewen still has plenty of work to do, and at 27, he has a lot more left in the tank. Having Ankiel serve as his mentor will definitely be a plus, and hopefully, give him a chance to crack the big league club. 
In conclusion, signing Ankiel would definitely be a wise choice for the Mets as he would fill a variety of roles. Hopefully, the team signs him before spring training begins.