Villanova Basketball: Grading Each Wildcat's Performance for Last Week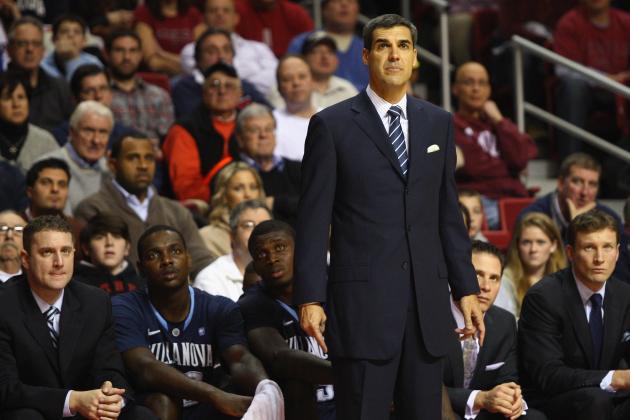 Chris Chambers/Getty Images

As crazy as it sounds, Villanova entered last week with a chance to turn their whole season around. They had a 10-10 record, 3-5 in the Big East.
They had two ranked teams on their schedule, playing at Louisville and hosting Marquette. Had they won both, they would have put themselves into position to play their way onto the tournament bubble.
Unfortunately, they came up just short in both games, really a microcosm of their entire season. When it came to crunch time, they were just outplayed by two more seasoned teams.
They showcased what have become their staples, scrappy defense and tenacious rebounding, but they also exposed their biggest flaws: a lack of shooting touch and and carelessness with the basketball.
More than anything, they youth was exposed. Maalik Wayns had been playing as well as any guard in the nation, but he sat for significant minutes with foul trouble in each game. There was just no one who could step up and fill the void in his absence.
Here is how each Wildcat's week played out.
Begin Slideshow

»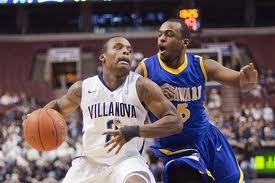 Wayns couldn't stay on the court last week.
Wayns' grade is down from last week, but it isn't really a reflection on a drop in performance or production. Really, he just didn't get much of a chance, sitting out for long stretches of both games with foul trouble.
He picked up his fourth foul in the first minute of the second half against Louisville and was forced to sit for the next eight and a half minutes. Villanova was outscored by 14 points in that stretch.
Wayns fouled out against Marquette, finishing the first half with three fouls and playing most of the second with four. He played just 23 minutes at Louisville and 28 against Marquette. He needs to play more.
In his 51 minutes, Wayns did manage to score 31 points with six rebounds and six assists. He had one of his best shooting weeks, hitting 48 percent from the field, 5-of-10 on threes and knocked down all six free throws.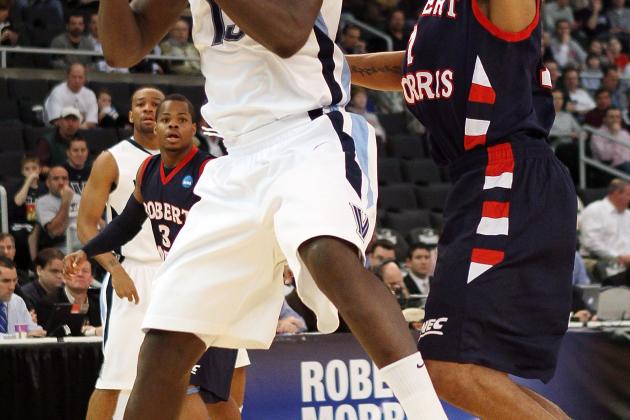 Elsa/Getty Images
Yarou is hitting the boards as hard as ever.
In what seems to be a much more tightly called Big East, Mouphtaou Yarou is another leader that spent far too much time on the bench last week.
In foul trouble in both games, Yarou played just 35 total minutes. He was relatively productive in what amounts to one full game.
He scored 12 points and grabbed 11 rebounds combined in the two games.
The problems for Yarou came from his effectiveness. He only shot 3-of-10 from the field and seems to be uncomfortable with the ball.
He isn't getting to the spots he wants on offense, and he dropped a handful of rebounds that ended up going the other way. Yarou is playing hard and with a lot of toughness, though, and next week should be better.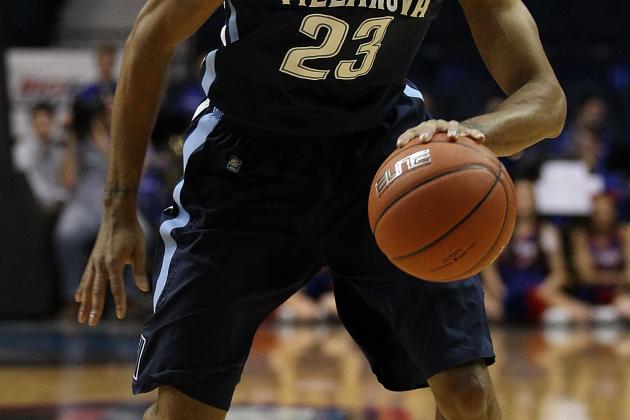 Jonathan Daniel/Getty Images
Cheek is still figuring out what works for him.
Cheek is becoming a harder player to grade as the season goes on.
On one hand, he seems to play better and with more confidence with every passing game. He defends, he rebounds, he passes and he is a great free-throw shooter.
On the other, he is a junior, the second leading scorer on the team, and he just doesn't consistently produce point or play to his offensive strengths. For Villanova to be successful, they need Cheek to become dependable as a scorer.
His shooting and eagerness to shoot threes can really stifle the offense. He is shooting 27.9 percent on threes, but over the past five games, he has attempted 27. Only five went in. Last week, he shot 2-of-14 in two games.
He did manage to average 12.5 points per game, though, along with 5.0 rebounds. He hit 13-of-14 from the foul line.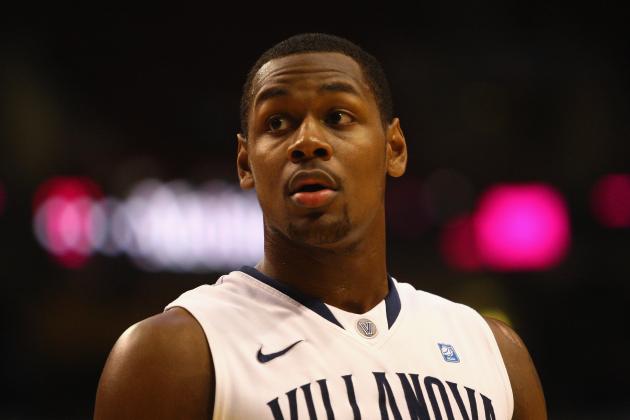 Chris Chambers/Getty Images
Bell's contributions have been huge.
James Bell has emerged as a really solid starter. His toughness, energy and athleticism are huge for the Wildcats.
He averaged 34.0 minutes per game last week, scoring 13.5 points with 9.0 rebounds per game. He shot 48 percent from the field and 40 percent on threes.
For those who remember, James Bell is starting to look very reminiscent of Dwayne Anderson, a secondary player who brings everything he has every night and is just a winning player.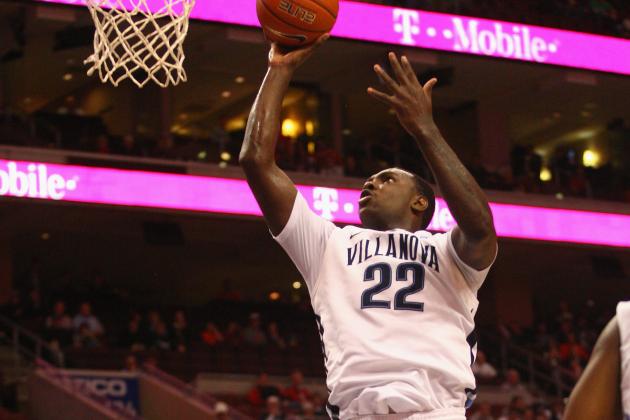 Chris Chambers/Getty Images
Pinkston continues to rise to the challenge.
JayVaughn Pinkston picked up right where he left off the week before.
After posting back-to-back double-doubles the previous week, Pinkston had two more solid games last week.
Now entrenched in the starting lineup, he is proving to be the best inside scorer on the team. He is starting to look like the best rebounder as well.
At Louisville, he scored eight points with 12 rebounds. Against Marquette, he dropped 17 points along with five boards. He also recorded two assists, a block and a steal in each game.
What makes Pinkston's success even more impressive is, he is raising his game in one of the nation's most rugged conferences.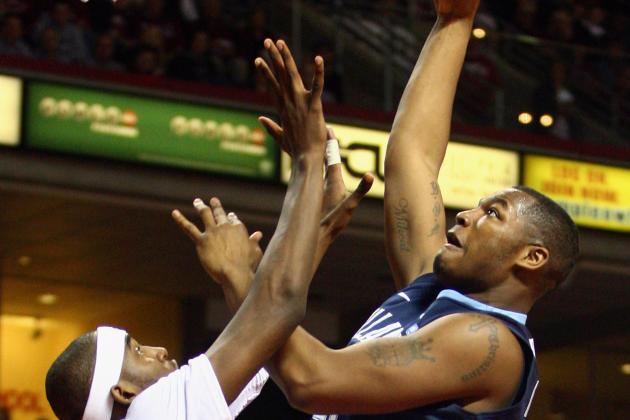 Chris Chambers/Getty Images
Kennedy is going through some growing pains.
Markus Kennedy was off to a promising start to the Big East season, but over the past few weeks, he has seen less minutes.
Last week was due more to foul trouble than anything else. He committed nine fouls in two games, fouling out against Marquette before the midway point of the second half.
In 31 minutes last week, Kennedy scored six points and pulled down five rebounds.
He hasn't been as productive lately and may just be wearing down, but he is definitely has more basketball skill than any other Villanova big man.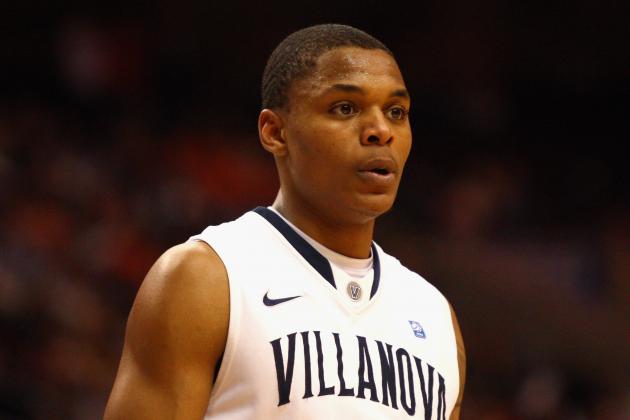 Chris Chambers/Getty Images
Johnson is developing nicely for the future.
Johnson got more minutes than he would have due to Wayns' foul trouble. He didn't produce nearly as well as the Wildcats needed, but that is a lot to expect of a freshman point guard against two good teams.
Johnson played 37 total minutes last week, scoring eight points and dishing out five assists.
He hit one three on two attempts and came up with a huge steal against Louisville that led to a layup that kept them in the game.
Johnson isn't really expected to make an impact right now, so every minute he plays this year should pay dividends next year.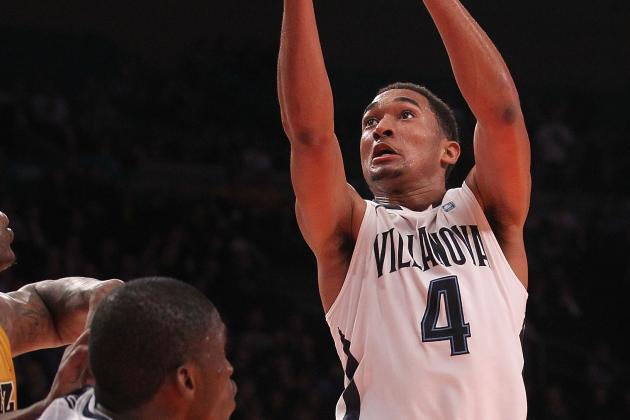 Nick Laham/Getty Images
Hilliard is a gutsy scorer and defender.
Darrun Hilliard isn't getting many minutes because of the emergence of James Bell, but he still has the ability to contribute.
Hilliard has never looked like a freshman that wasn't ready or that was afraid of the spotlight.
From day one, he has been gutsy on both ends of the floor.
Hilliard has a nice outside shot, and he also has some scoring instincts off the dribble.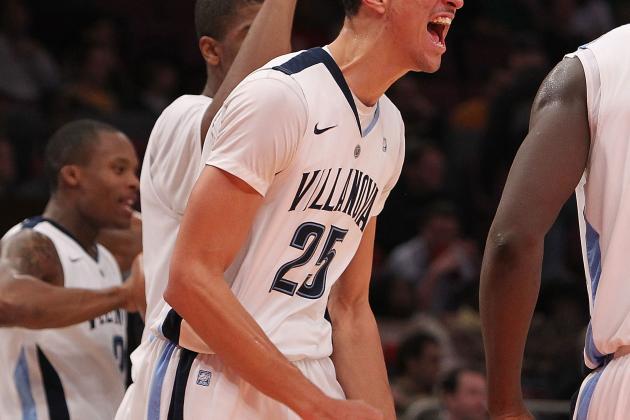 Nick Laham/Getty Images
Sutton brought a ton of spirit to Villanova against Marquette.
Maurice Sutton has been all but forgotten this season, having played just 20 minutes in the previous 16 games.
He made up for lost time on Saturday against Marquette. With Mouphtaou Yarou and Markus Kennedy in constant foul trouble, Sutton ran for 22 minutes.
Taking full advantage, Sutton scored 11 points on 5-of-7 with 10 rebounds, three steals and two blocked shots.
Even more than the impressive stat-line was the presence he provided. Sutton brought an unmatched level of intensity, passion and heart to the court. He played every minute like it was his last.
Sutton should have earned himself some more playing time going forward.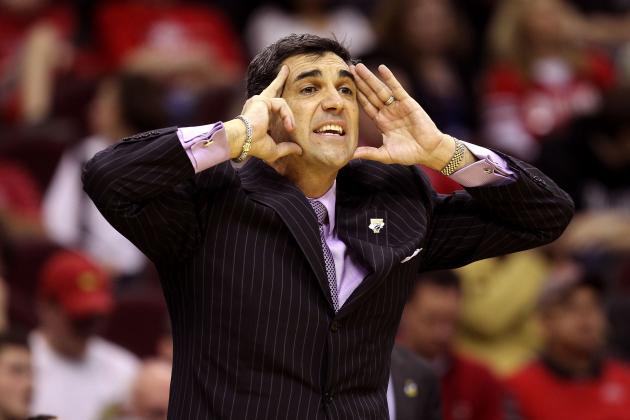 Andy Lyons/Getty Images
Wright has to have headaches after last week.
Jay Wright is doing one of his best coaching jobs in what has to be his toughest situation at Villanova.
He is playing four freshmen significant minutes, along with a sophomore and three juniors who were never more than role players before this season.
Wright deserves a lot of credit for keeping these kids believing and keeping them playing with so much effort, especially on defense and on the glass.
One thing that sticks out like a sore thumb is that this team needs to learn shot selection. He has always given his guards a lot of freedom on offense as a reward for playing defense. That may have to come to an end with this team.
Maalik Wayns seemed to have figured it all out about three weeks ago. He started attacking, getting into the paint, setting up teammates and doing most of his damage from 15 feet in and from the foul line.
For some reason, this team continues to shoot 21 threes per game despite only hitting 30.4 percent. Shooting threes like that is almost the same as a turnover at this point. Villanova has been at their best when they are getting to the rim and shooting as many free-throws as possible.
It's time to find a way to play to their offensive strength and stop wasting possessions on threes that aren't likely to go down.
Wright has a full week to prepare for a game at Pittsburgh on Sunday, so his team should be well prepared. Hopefully, they show improvement on the offensive end of the floor.