Winter X Games 16: Why Non-Action Sports Fans Should Tune into Finale
January 30, 2012

Doug Pensinger/Getty Images
I don't care who you are, what you're doing right now or how you found this article. Tonight, you should be watching the Winter X Games Finale.
All that I ask of you are two simple requests. The first, you've already made good progress on: give me the time of reading this article. Allow yourself to become removed from your daily routine. Try something new. Do whatever else it is that the fortune cookie may predict about your future. The other half of my request is just as simple: tune into the Winter X Games when they conclude their event weekend this evening.
I don't care if it's for five minutes or if you watch the pregame until after the final interviews are concluded.
I want you to experience something new. If you found this, I assume it's because you're not a typical X Games viewer, but still found yourself interested in the subject enough to read an article on the subject matter.
You've read four paragraphs into this article, and you're still reading. Clearly there's some interest within you (even if at this point, I'm just talking to the four of you still reading this piece).
Recently, I found myself casually watching some of the winter event when I stumbled upon it on television. I was ridiculously impressed with the incredible display of athleticism broadcasted for competition on the screen in the Winter X Games.
Their talents, especially that of Shaun White's, are unparalleled. The feats that these athletes are able to reach seem to be beyond human.
So why aren't more people other than action sports fans tuning in?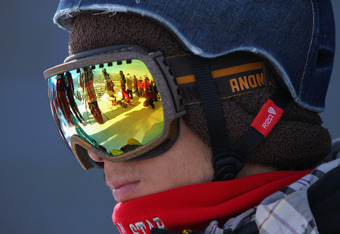 Doug Pensinger/Getty Images
Last year, the 2011 Winter X Games drew a 0.9 rating; this is a rating 18 percent lower than the year before. That same day, the X Games were the lowest viewed sporting event on ESPN that day, and drew rating lower than all four of the college basketball (non-professional) games broadcasted on the station. 
On ESPN2, the X Games recorded a 0.4 TV Rating and only 500,000 viewers.
Some of the reason for the lack of viewership is that, for the third straight year, the competition will only be shown on cable television and no events will be on ABC.
The lack of interest, however, has nothing to do with a lack of quality for the athletes on display.
The snowboarders, skiers, motocross competitors and other crazy adventure-seeking individuals are putting their lives on the line for entertainment. Headlines on ESPN alone prove that these people are as innovative and creative as can be, like Heath Frisby's plan to attempt the first-ever snowmobile front flip.
Also of note are all of the developments with the harsh conditions of the pipe pre-competition, and how athletes plan to deal with this change. In this video, you can watch Mark McMorris land a 1440 triple cork jump.
The contemporary sports world, significantly dominated by ESPN, is far too regimented and marketed towards rote.
Sports fans become fixated on their own teams that they won't even watch an event if they don't know the players associated with the game. This makes sense, of course, as humans are creatures of habit that love to pick sides of alliance.
But by limiting what one watches to only things that one is familiar with, the modern sports fan is ruining a potential alley for entertainment for years in the future.
Many of the die-hard sports fans that I know admitted to me today that they'd never seriously watched an X Games sporting event.
Even fewer would be able to hold a conversation about the sport if the opportunity even arose.
There's no reason to limit our time to games of teams that we already know. In this world, we have the potential to see so much more. The feats of the athletes in the Winter X Games are beyond impressive.
By simply paying attention once, who knows what could come of our future as a sports fan.
Click here to Follow @BryanKalbrosky.