Tristan Thompson: Cleveland Cavaliers' Forward Deserves More Playing Time
January 30, 2012

Through the first month of the 2011-2012 NBA season, Tristan Thompson has been quickly proving his doubters wrong with his never-ending motor off the bench for the Cleveland Cavaliers. He has displayed a lot of skill at the NBA level, and now it's time for him to get some more playing time.
When the Cavs announced that they were drafting Thompson with the fourth overall pick of the 2011 NBA Draft, fans seemed to be deflated (check out the comments on this page). Thompson was a one-year player at the University of Texas, where he showed freakish athleticism, sound defensive skills and a certain ineptness at putting the ball in the hoop unless it was by dunk.
When the season started, Cavaliers coach Byron Scott made it clear that he would use a 10-man rotation, in which he would effectively create two separate teams for the Cavaliers. 
So far, Thompson has been the power forward for the second unit, and he has performed quite well.
Tristan has brought the signature defense and motor that people loved about him when he was a Longhorn. Tristan has had some absolutely stunning blocks and dunks to this point in the season and has made the most of his limited playing time. 
What he has also brought is a surprising ability to contribute offensively. 
No, Tristan Thompson is not a shooter. In no way can he be lumped in with anyone who resembles a shooter. His form isn't half bad, but his release on his jump shots/free throws seems rushed, and he often fires laser beams at the rim instead of nice, high-arcing shots. 
Shooting woes aside, Thompson has a stunning and unique ability to beat defenders off the dribble using both hands. A natural lefty, Thompson often incorporates a nice jab step into his routine and then has the skill to get around some good defenders. 
Near the rim, Thompson can use the strength of his offensive repertoire. Sure, he is a terrific dunker, but he also has some nice touch when he gets close to the hoop in traffic. Another wrinkle in Thompson's game is that he actually seems to finish better with his right hand, even though he's a lefty. This creates issues for defenders because Thompson can finish from awkward angles.
For most, Thompson has been quite a pleasant surprise and a piece many feel comfortable being a part of the rebuilding of the Cavaliers franchise. 
Coach Byron Scott still seems to have some reservations with Thompson's game, not with his effort.  
So far this season, Thompson is playing about 18 minutes per game. Scott could be preserving the young legs of a rookie in a long season. He could feel like Thompson's offensive game just isn't ready for more minutes. He could also be working his way through his lineups, player by player. 
Scott has recently started to tinker more and more with his lineups. At the beginning of the season, the first group played together, and the second group played together. There were very few exceptions to that rule.
Now, with the emergence of Alonzo Gee as a rock-solid defender and an explosive finisher at the hoop, Scott has played him in more crucial minutes with the first team in place of an improving Omri Casspi.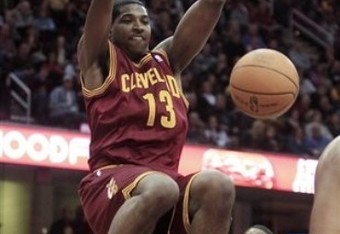 Also, the emergence of Kyrie Irving as the best player on the team has led to increased playing time for the rookie. 
Scott seems to be willing to switch up the lineup as players have gotten into mid-season shape and are more prepared to play competitively night in and night out. 
Tristan Thompson has not been a part of that switch yet. 
Scott has made it clear that he has issues with Thompson being unwilling to give up the ball on offense. Thompson has been the type of player who seems to treat every time he touches the ball like it might be his last, and he always looks to score first. 
It's also tough for Scott to justify playing a 40-percent free throw shooter in crucial minutes.
However, there are signs in Thompson's game that would seem to suggest that he should get more minutes for the Cavaliers. 
First of all, as I said before, Thompson's shot might be bad, but his form really isn't. If he could just focus on putting some arc on his shot, there could be a quick improvement in his shooting numbers. Thompson has been able to get to the line frequently in his limited minutes, and the more practice he gets, the better. 
Another reason the rookie might get more time is that opposing power forwards like Chris Bosh, Al Jefferson, Paul Millsap and David Lee have absolutely destroyed the Cavaliers, especially Antawn Jamison. Tristan Thompson brings the ability to make life difficult for all power forwards he defends. He's strong enough to push players around in the post, and he's quick enough to defend perimeter players. Thompson would immediately help the Cavaliers' team defense in increased minutes. 
Also, the emergence of Anderson Varejao as an offensive threat this season makes Thompson an even better fit with some of those first-team players. Thompson could effectively take Andy's role as the hustle player (bad on offense, great on defense and loose ball plays). While Andy is running pick and rolls with Kyrie Irving, Thompson can prepare for offensive rebounds, which would make him and Varejao one of the most intimidating front lines in the league when it comes to rebounding the basketball.
The other reason Thompson should get more minutes is because Antawn Jamison seems to check out more and more with each passing game. Sure, Jamison is still a pretty good offensive player, but he's a terrible rebounder and he might be one of the worst defenders in the NBA. When Jamison is in the game, other teams almost always have a mismatch, and they look to exploit it. Tristan Thompson would fix that for the Cavaliers in a hurry. 
Lastly, Thompson seems to be the kind of player the Cavaliers envisioned him to be when they selected him in the draft. He has improved in all aspects of the game as the season has progressed, and he has earned more minutes. He plays hard, he plays within himself and he gives the Cavaliers an element of toughness that is missing when Antawn Jamison is on the court.
Tristan Thompson has been head and shoulders better than what many fans expected him to be. It's time for Byron Scott to give him the chance to take the next step with more minutes and more experience.