Super Bowl XVI Continues a Fascinating High School Football All-Star Game Streak
January 29, 2012

Jonathan Daniel/Getty Images
Streaks rule sports.
It starts with winning streaks and ends with losing streaks.
In between there are accomplishment streaks…Joe DiMaggio's hit streak or Brett Favre and Cal Ripken's consecutive game streaks.
Today I want to educate you on the Big 33 Classic's Super Bowl streak.
First, a little background on the Big 33 Classic. It's a high school football All-Star game that is played annually in Hershey, Pennsylvania.
The first Big 33 game was played in 1958. Through the years, Pennsylvania's top 33 football players have squared-off with All-Star teams from Maryland, Ohio and Texas. There have been games against an all-USA All-Star team, plus sometimes the eastern part of the state battled the western part of the state for bragging rights.
For the past 19 years, the Big 33 has pitted the Keystone State against stars from Ohio. It's been a very competitive series, with Ohio winning 10 games and the Pennsylvania stars nine. The Ohio stars will bring a three-game win streak into this year's game that will be played June 16th.
The names of those who have played in the Big 33 game reads like a who's who of NFL Hall of Famers: Montana, Namath, Dorsett, and the list goes on.
And, that gets me to the streak.
When the Giants and Patriots hit the field next Sunday for Super Bowl XVI in Indianapolis, it will mark the 46th straight year that a former Big 33 player will compete in the Super Bowl.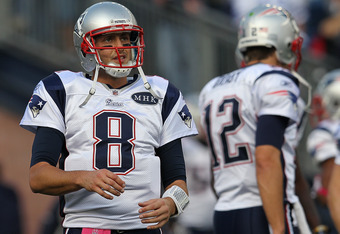 Jim Rogash/Getty Images
That's right, there's never been a Super Bowl without Big 33 alum!
It all started with Big 33 alum Herb Adderley of Northeast High School in Philadelphia. Adderley played in the first two Super Bowls with the Packers. It continues next Sunday with nine former Big 33 players on the turf at Lucas Oil Stadium. 
Continuing the Big 33 streak this year will be New York Giants wide receiver Mario Manningham, along with his teammates fullback Henry Hynoski, linebacker Chase Blackburn, offensive guard Chris Snee and running back Da'rel Scott.
The Patriots have four former Big 33'ers with Tom Brady's back-up Brian Hoyer being joined by fullback Lousaka Polite, center Dan Koppen and punter Zoltan Mesko.
Will the streak hit 47 next year? Who knows?
But what we do know, just like DiMaggio, Favre and Ripken's streaks, it's going to be hard to top the Big 33 streak that forever ties the high school football All-Star game with America's biggest game.