UFC on Fox 2: Are No. 1 Contenders Chael Sonnen and Rashad Evans Really Ready?
January 29, 2012

After a three-year absence, the UFC returned to Chicago for their inaugural Fox event, showcasing a "tripleheader" with exciting specialists like Chael Sonnen, Michael Bisping, Demian Maia and Rashad Evans. A day after the event, fans are split on whether or not the top billings lived up to the hype leading into the show.
Many say the fights were simply boring, lacking any finishes from guys more than capable. Others claim the three main event bouts were dictated on a higher technical level that's harder to appreciate if you're not a hardcore fan.
Regardless, two out of the three decision victories for two undisputed No. 1 contenders have caustic implications for the 185 and 205 pound divisions. It will be determined later this year if the middleweight and light-heavyweight titles will switch hands. But after watching UFC on Fox 2 last night, will the Chael Sonnen and Rashad Evans who showed up in Chicago be enough to topple their respective foes in Anderson Silva and Jon Jones?
These two current champions are the most devastatingly dominant titleholders—along with Jose Aldo—on the UFC roster. Each man has defended their titles in such a convincing manner with unmatched brilliance that many pundits truly believe they are the only true challenges left each other, despite being in different—cleaned out—divisions. 
Top-notch challengers like Dan Henderson, Vitor Belfort, Shogun Rua, Rampage Jackson, Lyoto Machida and Yushin Okami have all fallen victim to Silva and Jones' greatness. That's a list of who's who in the business. In fact, the only person to come close to dethroning Silva was Sonnen over a year and a half ago, a feat which has continued to cement his status as the middleweight division's irrefutable number two. 
And, let's not forget about Evans'—a former UFC champion—impeccable run in the UFC. He has only lost once in the UFC to Machida and redeemed a draw against former champ Tito Ortiz. There's no guessing why the MMA world sees both Sonnen and Evans as deserving challengers to the belts.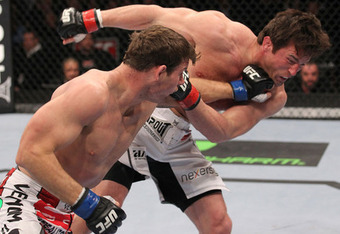 Nevertheless, this sentiment may be on shaky grounds after Evans turned in a safe lackluster performance against an outclassed opponent with only nine professional fights on his record and Sonnen's strengths in wrestling, strength and tenacity were essentially nullified by a smaller and inferior wrestler in Bisping. 
Sonnen got quickly derailed from his game plan in the first round by a damaging strike from Bisping, which really set the downward spiral into motion. For the remaining rounds, Sonnen uncharacteristically failed to overpower his opponent in the clinch and only got to enjoy the fruits of his takedowns momentarily before Bisping popped up to his feet. 
Another worrisome observation for Sonnen fans was how often Bisping was landing short quick combos. The British challenger didn't seem to have much trouble landing through Sonnen's boxing defense throughout the entire fight. That's something Sonnen will not be able to get away with against Silva, especially if his takedowns prove to be ineffective and can't be smoothly mixed within his own striking. 
What's equally disheartening for Rashad supporters is his inability to pull the trigger in high-pressured situations. Ever since getting knocked out by Machida, the former champ has fought comparatively conservative against the likes of Thiago Silva and Rampage Jackson and continued that winning streak by earning a technical knockout over Tito Ortiz, who is clearly past his heyday. 
In addition, as we saw last night, Evans played it safe and had issues capitalizing on openings from a more inexperienced and overall inferior fighter in Davis. By the end of the final round, both men were noticeably tired as well. The lasting thought of Evans' performance left many fans wondering how he'll avoid being target practice for Jones, who has comparable wrestling skills, much longer reach and a highly unpredictable striking arsenal.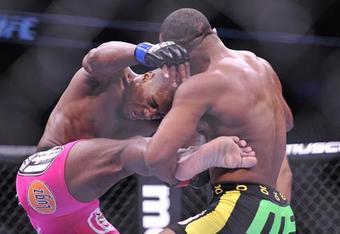 All in all, we were privy to a vulnerable side of Sonnen and Rashad that now poses question marks that weren't necessarily present when pairing them up against their division's respective champs as early as a year ago. Of course, every fight is different and there's no guarantee these issues are reasons to be concerned. They both will have plenty of time to improve on any shortcomings before their title fights. But, if they fight like they did last night at the United Center, in front of millions watching on Fox 2, they will be in for a long night at the office.
Sure, both men should still be seen as the rightful challengers to the belts, but again after last night, their chances of actually winning it have fallen substantially in the minds of some. 
____________________________________________
Check out what I thought of the entire FOX portion of the event on my blog In The Mix with Joe Schafer