WWE Royal Rumble 2012 Unpredictable as Ever: 'A Fan's Predicition'
January 29, 2012

Gallo Images/Getty Images
The 2012 WWE Royal Rumble officially kicks off The Road To WrestleMania 28 at SunLife Stadium in Miami.
The Royal Rumble is a classic, like a fine wine that gets better with time. Every year, superstars do battle to reign supreme and earn a main event spot at the biggest wrestling event in the world, WrestleMania. So far, 2012 has been one of the most interesting years that I can remember.
So much will be on the line tonight when the Royal Rumble goes live from the Scottrade Center in St. Louis. Let's take a look at the updated card for the Royal Rumble. More matches could be added like we saw at TLC in December.
CM Punk vs. Dolph Ziggler
A great feud between two of WWE's biggest stars. CM Punk, who is the outspoken champion, and Dolph Ziggler, who is always bragging but can back it up. Ziggler has had CM Punk's number the past month, winning match after match against Punk, but a lot of those wins were because of several different reasons.
John Laurinaitis, who is the vice president of talent relations and the Raw GM, will be the special guest referee, and when you factor in Vickie Guerrero—and possibly Jack Swagger—at ringside, the odds have been stacked against CM Punk.
Will he walk out of the Royal Rumble with the title, or will we see a new star atop the WWE going into WrestleMania? 
My Pick: CM Punk
John Cena vs. Kane
A match I've been waiting to see for a long time between two powerhouses. John Cena has taken alot of heat from the WWE Universe the past few months, and Kane has been a thorn in his side, attacking Cena on several occasions and putting Zack Ryder out with a broken back last week on Raw in Phoenix.
Kane may have the upper hand in this match. Is John Cena going to be on a heel turn at the Rumble, or could Eve Torres cost Cena the match since she told John Cena on Raw that it was his fault that Ryder was injured? Interesting scenarios for this match. Who knows? It could end in a DQ.
My Pick: Kane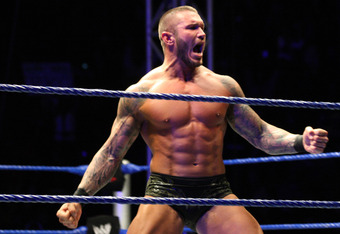 Gallo Images/Getty Images
Daniel Bryan vs. Mark Henry vs. Big Show
This match will be for the World Heavyweight Title, and with all of the turmoil the past few weeks Daniel Bryan has caused, he may be up against major odds tonight. Daniel Bryan's girlfriend was injured a few weeks ago on Smackdown while being at ringside, and Bryan blamed Big Show.
Daniel has gotten himself DQ'd in numerous matches between Mark Henry and Big Show the past few weeks. Will his luck finally run out at the Royal Rumble? Big Show and Mark Henry have been two dominant guys the past few months while Bryan has played the role of spoiler. Can he overcome the odds once again and retain the title in a steel cage match?
My Pick: Daniel Bryan
The 30-Man Royal Rumble Match
A marquee match where everything is on the line. Thirty WWE Superstars will compete for a main event spot and title match at WrestleMania 28 in Miami. Speculation arises every year of who may be a surprise entrant or which WWE legends will be in the Rumble match.
The big question I have is, will Chris Jericho win, or could it be Randy Orton? After all, it is in Orton's hometown of St. Louis. What about Sheamus and Wade Barrett, who have been two top stars? Or could the Miz beat the odds after losing to R-Truth on Monday's Raw? He will enter as No. 1 entrant in the Royal Rumble match. I guess we will see how awesome the Miz really is. Cody Rhodes has been on a roll lately; is it his time to win?
With so many potential surprises, it's going to be unpredictable at the Royal Rumble in St. Louis Sunday Night.
My Pick: Chris Jericho
The excitement is through the roof, so don't forget to order WWE Royal Rumble live on pay-per-view from the Scottrade Center in St. Louis Sunday night, as the Road To WrestleMania officially begins with the winner of the Rumble match. The WWE Universe is in for a treat with several legends who may make surprise entrances in the Rumble match
What are you most looking forward to?