WWE Royal Rumble 2012 Predictions: Cena Stuck Between The Rock and a Heel Place
January 29, 2012

It is almost here, the 25th annual WWE Royal Rumble pay-per-view.
This year's Royal Rumble comes to us from the Scottrade Center in St. Louis, Missouri. 
You can't think about this year's Rumble—or any Rumble for that matter—without thinking about WrestleMania.
This is the official first stop on the road to WrestleMania.
In a Rumble match where WWE is hyping "everyone is eligible," it really makes you put things into perspective.
This year, unlike most WrestleManias, the main event has already been decided...so the WWE doesn't really need the Rumble winner to have much impact on the grand spectacle event.
With that being said, I don't see a high-profile star winning the Rumble; I think they will use it for someone on the way up.  Up-and-comer Alberto Del Rio won the biggest Royal Rumble ever last year, another young star could win again this year.
While the Royal Rumble match itself is exciting, you can't help but think about John Cena's situation heading into this year's event.
I do expect Cena to turn "heel" heading into WrestleMania against WWE Legend The Rock, and this is a genius way of doing it.
It helps the younger audience understand the heel turn, because he is being forced to.  I don't think the WWE wants to confuse Cena's diehard young fans, and I am sure they want to win that population back over in a future return to face status.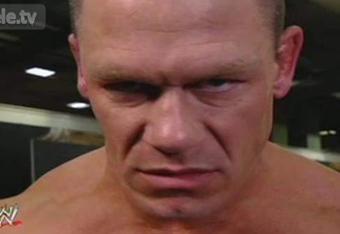 This brings me to my first prediction, the singles match between Cena and Kane.
Singles Match - John Cena vs. Kane
I expect Cena to snap in this match and fight to a no-contest.  However, I do expect this match to be changed to a No Holds Barred or Falls Count Anywhere match, and that would give Cena the win. Under normal conditions, though, the enraged Cena is likely to get disqualified in this one.
The look on Cena's face on last week's Raw brings you back to his "ruthless aggression" debut, and I can see the heel turn happening tonight.  I'll echo most of the WWE Universe in saying it is now or never for this to happen.
Again, I think the matchup rules will possibly be changed, so I am going Cena in this one.
Winner: John Cena
Triple Threat Steel Cage World Heavyweight Championship Match - Daniel Bryan (c) vs. Mark Henry vs. Big Show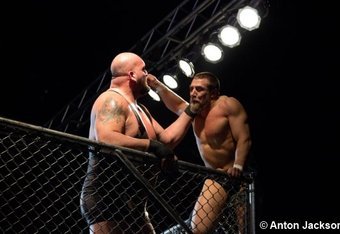 While some fans claim that Daniel Bryan can escape the cage with his prized World Championship, I think the odds are too much for him to overcome.
While Mark Henry and Big Show will likely get in each other's way, this could be a huge advantage for the champion.
I think Bryan will get somewhat lucky in this one and get thrown through the cage and onto the floor, giving him the victory.
Winner: Daniel Bryan
WWE Championship Match - CM Punk (c) vs. Dolph Ziggler (Special Ref: John Laurinaitis)

This match could get very interesting, to say the least.  While you have WWE Champion CM Punk and John Laurinaitis at odds, Dolph Ziggler is gunning for his first-ever WWE Championship.
It is someone not involved in this match I would be worried about—Chris Jericho.
The mysterious return of Jericho earlier this month has sparked controversial arguments that he is back to claim what is his—to be self-entitled as "the best in the world" in professional wrestling.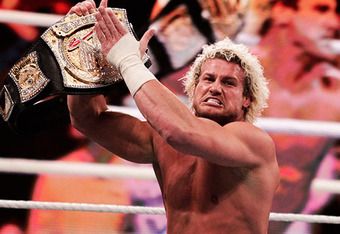 I do think there is a chance Jericho will get involved in this match, and Ziggler will get his first championship because of it.  
However, I see the title coming back to Punk at Elimination Chamber to set up a title match with Jericho at WrestleMania.
One thing Jericho hasn't done in his career is win a Royal Rumble match, but I don't think he needs to win the Rumble to get his match with Punk.  The Rumble winner can choose to face Daniel Bryan, which I think he will.
Winner: Dolph Ziggler
30-Man Battle Royal
Which brings me to the mac daddy of the event, the 30-man (not 40, thank God), over-the-top-rope Battle Royal to determine who will go onto WrestleMania XXVIII in Miami to face a champion of their choosing.
Before I name my winner and surprise entrants, the possibilities are endless at this year's event. While last year's victory by Alberto Del Rio shocked me, I feel this year will shock me even more.
I have been wrong before and I will be wrong again; it's the fun of predicting and watching these shows that keep bringing me back. Even if I am wrong tonight, I will still be pleased and quite possibly shocked with the outcome.
We all know The Miz is going to be coming out as the No. 1 entrant after losing his singles match with R-Truth on last week's episode of Raw.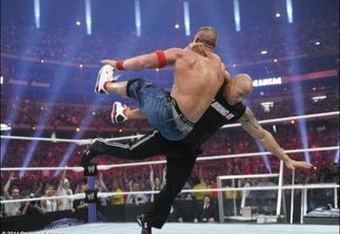 What we also know that WWE is pushing this event to be open to all competitors, which makes me wonder who will be coming out at this event.
Here is my picks for surprise entrants...
Surprise Entrants: Triple H, The Undertaker, Christian, Alberto Del Rio, Rey Mysterio, John Cena, The Rock
Yes, you read that right, The Rock.
Cena is not really expected to be in the Rumble, but I think he won't be finished after his tirade earlier in the night and it will boil over into the Royal Rumble match.
I expect Cena to clean house and eliminate quite a number of stars before the entire WWE Universe is shocked by The Rock's music hitting, and the most electrifying man in all of sports and entertainment makes his way to the ring to put boots to asses.
The Rock will remind Cena how close WrestleMania is, and he will eliminate Cena from the Royal Rumble and then eliminate himself afterwards to show that he is focused on one thing, and one thing only—beating Cena in his hometown in two months.
If that isn't enough, the Rumble has always been stomping grounds for stars returning from injuries: Triple H (2002) and Edge (2009) to name a few. 
I think we will see returning stars such as Christian, Alberto Del Rio and Rey Mysterio, but none bigger than The Undertaker.
We haven't seen The Undertaker in a WWE ring since he was taken out on a stretcher after keeping his streak alive at 19-0 at WrestleMania 27 in Atlanta.
I was at ringside and saw that match firsthand...and I think a rematch is in store, folks, and this is it.
I think Triple H will cost The Undertaker the Royal Rumble match tonight if he were to return, thus cementing a rematch at WrestleMania 28, where both men will most likely wrestle in their final match.
Triple H is already confirmed for Monday Night Raw tomorrow, so what better way to bring him back into the fold than one last run with the Deadman from Death Valley.
With all of these things going on, I haven't even told you who I thought would win the actual Royal Rumble match.
I think it is Wade Barrett's time to shine. The Barrett Barrage is headed to Miami to take on World Heavyweight Champion Daniel Bryan.
Winner: Wade Barrett
One thing is for sure, this is going to be a Royal Rumble to remember for the ages.  If you are a diehard, longtime WWE fan like myself, you will not be disappointed.  I haven't missed a Royal Rumble yet and it is my favorite event of the year; I like it even more than WrestleMania.
The unpredictability is endless, and I love it.
Enjoy the show!
You can follow me on Twitter @nyyrobinson.