Bud Selig to Rule on Theo Compensation from Cubs: Here Are 5 Possible Outcomes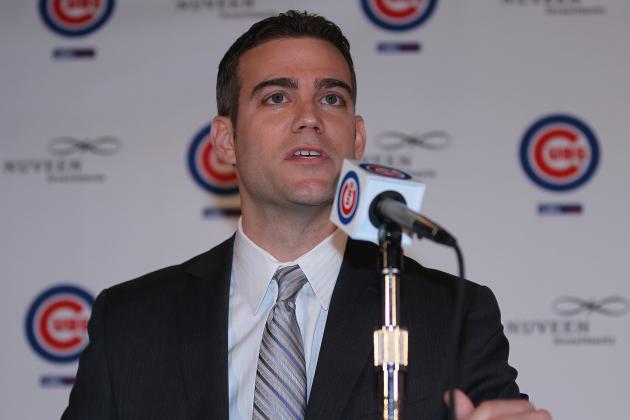 Jonathan Daniel/Getty Images
Theo Epstein left Boston nearly three months ago, no compensation has been agreed to as of yet.
It's been over three months now.
Three months since the general manager that built the modern Red Sox and won two World Series titles with them departed in the aftermath of a terrible 2011 season to embark on a new mission, with a new title in a new city.
Theo Epstein used to be just a general manager, now he's president of baseball operations for the Chicago Cubs. It's a daunting task to take a team that is burdened by a bevy of bad contracts and karma and turn them into winners.
That's the task at hand though and Epstein has already made moves to begin the long process. There's one more move that must be made though and this move is not one that will strengthen the team for either this season or future ones.
The Cubs still owe the Red Sox for poaching Epstein while he was still under contract. The compensation for Epstein's departure was never agreed upon between the two franchises and the solution has been to hand over the responsibility for determining the compensation to commissioner Bud Selig.
Both teams were supposed to have submitted lists of what they considered appropriate as far as compensation goes. If that's true then it's likely that Selig will be looking for common names on those lists. That would make his job easy. It also seems like that's not likely to be the case since the two teams have been unable to agree on this for over three months now. With that in mind the compensation is really an unknown. Here are a few possible rulings. Some are much bigger reaches than others.
Begin Slideshow

»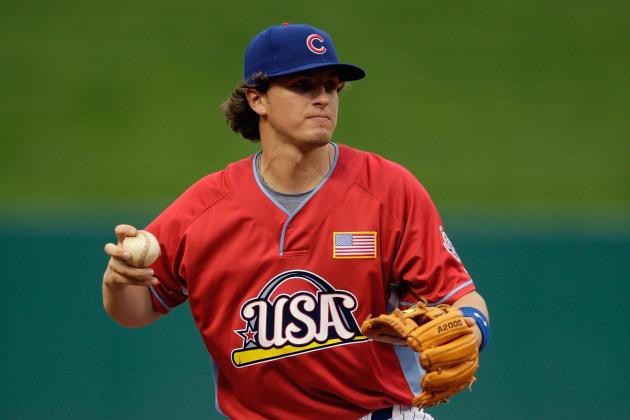 Jamie Squire/Getty Images
Could former top five pick Josh Vitters be Boston bound?
The 2003 Cubs came within a few outs of making the World Series.
The 2006 Cubs lost 96 games and finished dead last in the National League Central. That gave the Cubs the third overall pick in the 2007 Amateur Baseball Draft. David Price went first, Mike Moustakas went second.
Josh Vitters went third. He was only 17 years old when the Cubs drafted out of Cypress High School in Orange County California.
Now 22 years old Vitters has yet to fulfill the promise that No. 3 overall picks are expected to. He's still only 22 though and he also plays third base.
Vitters has only been able to advance to double a in the Cubs minor league system. He's still regarded as a promising young player though.
A top 10 prospect within the Cubs system according to Baseball Prospectus. Vitters is solid defensively and potentially solid at the plate as well.
While a No. 3 overall pick may seem like a steep price for Epstein Vitters has yet to fulfill expectations.
In addition the Boston Globe has reported that there is a feeling among some baseball insiders that the Cubs will end up paying a somewhat steep price for acquiring Epstein. If that's indeed the case then Vitters might not be the guy.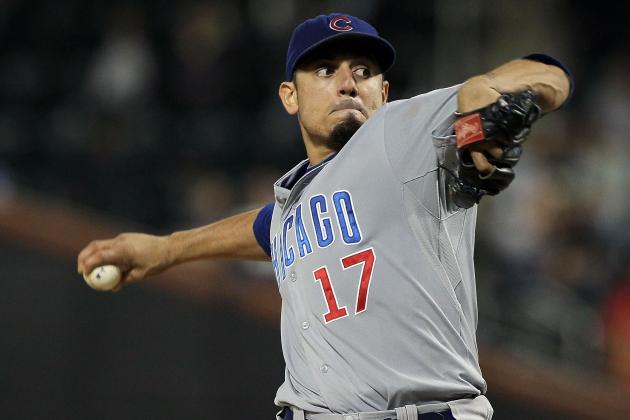 Jim McIsaac/Getty Images
Matt Garza would be an unlikely player to be sent Boston's way.
If the Red Sox and their fans all had a collective dream about the results of this compensation debate the best case scenario would be Matt Garza in a Red Sox uniform.
He's included in the slideshow not because he's headed east but because his name will inevitably come up in debate and discussion about the eventual compensation.
Epstein was a major coup for Chicago and the team may have to pay a decent price for acquiring him while he still had a year left on his contract but there's little reason for Sox fans to expect the commissioner of Major League Baseball to strip a team of their best pitcher in exchange for an executive that can't swing a bat or throw a ball.
Garza has been the subject of many trade rumors this offseason. He might not spend the rest of his career or even this season in a Cubs' uniform but it seems far fetched to expect that he's headed to Boston in exchange for Epstein.
If the Red Sox want Garza then they'll have to deal with Epstein and come up with a nice trade offer.
Ezra Shaw/Getty Images
Trey McNutt is one of the better pitchers in the Cubs minor league system.
The Cubs minor league system isn't exactly overflowing with young pitching talent.
Trey McNutt won't be confused for Stephen Strasburg, but he's still one of the more talented minor league pitchers in the Cubs organization.
A 6'4" 225 pound hard throwing right-handed pitcher McNutt hit a wall of sorts when he advanced to double A in 2010. A full season there in 2011 was not the cure for his ills either. McNutt's numbers at double A. 25 starts, and 100 innings pitched. A 5-7 record, and earned run average of 4.72 and a WHIP ratio of 1.663.
These are not impressive numbers and at the Double-A level they could be a sign that McNutt is just not cut out for the big leagues. McNutt's problems could be mechanical though. He could be a guy that with the right coaching is able to harness his high velocity pitches and learn stay ahead in the count making him less predictable and in turn more effective.
At only 22 years old. McNutt has time to make corrections and still have a major league career. Coming off a down year and as a low (32nd) round draft pick he might be viewed as too little compensation for Epstein.
Ezra Shaw/Getty Images
The top prospect in the Cubs minor league system Brett Jackson would be a real coup for the Red Sox.
The top prospect in the entire Cubs system is a multi-talented left handed hitting outfielder named Brett Jackson.
Jackson is projected as an everyday center fielder who can do a little of everything. Jackson would be a natural fit for the Red Sox who would likely play him in right field. He could be big league ready this coming season and acquiring Jackson would be nearly as big a coup for Boston as Garza would be.
It's also probably a bit of a stretch as well.
Getting Epstein was big score for the Cubs and there's not much historical precedent to draw from in an effort to assess what may or may not be considered "fair" compensation.
There's no comparison for Epstein who is arguably one of baseball's most famous general managers. With that in mind Red Sox fans can at the very least hope that a potential All-Star caliber outfielder is handed to them in exchange for the departed Epstein. It's probably not worth counting on though.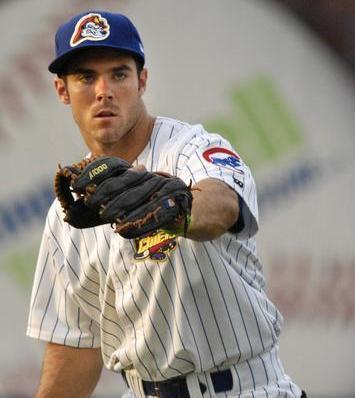 Matt Szczur is another promising Cubs outfielder.
Red Sox fans who are enamored with Cubs prospect Brett Jackson my want to take a look at Matt Szczur. That's because it seems like Szczur would be a more realistic player to be involved in this decision.
The 22-year-old was drafted by the Cubs in the fifth round of the 2010 draft out of Villanova where he played both football and baseball.
He's moved up through the lower minor league ranks and finished 2011 at High-A ball. He's expected to start 2012 at Double-A.
Szczur is a very raw talent a result of not fully committing to baseball until after he left college. His football not only split his athletic focus but developed skill that don't all translate to the baseball diamond. He could be a decent major league player if he can harness his athleticism and continue to develop.
Unlike Jackson it's not a foregone conclusion that he will make the majors. He's still well regarded for his potential though.