WWE Royal Rumble 2012 Results: Grading Each Match at the Latest Pay-Per-View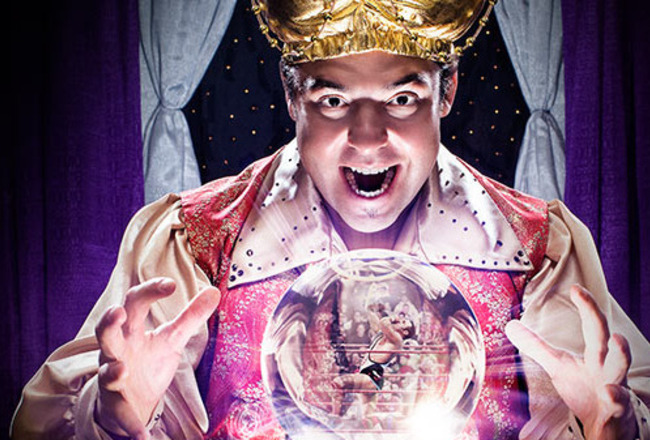 Photo credit: WWE.com

Tonight marked the 25th anniversary of WWE's Royal Rumble, undoubtedly one of the promotion's premiere pay-per-view events and the kickoff point for WrestleMania season.
Heading into the show, speculation about mystery Rumble entrants, John Laurinaitis' ability to be unbiased as the referee for CM Punk's title defense versus Dolph Ziggler, if Daniel Bryan could somehow hang on to the World Heavyweight title, and whether or not John Cena would give into hate versus Kane dotted the Internet.
So did the Rumble deliver?
Match-by-match grades after the jump.
World Heavyweight Championship: Daniel Bryan (c) vs. Mark Henry vs. Big Show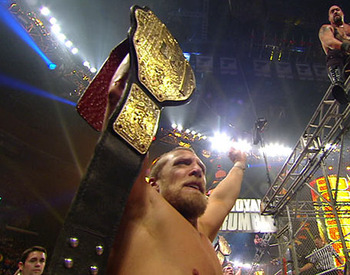 Photo credit: WWE.com
Inside the steel cage, Daniel Bryan was able to retain his World Heavyweight championship against Mark Henry and the Big Show.
Coming in to the match, there were major concerns over Henry's injured groin. For much of the nine-minute bout, the World's Strongest Man was on the canvas selling moves and the brutality of the cage in a decision no-doubt designed to protect him in light of his injury-related limitations.
The match mostly consisted of Bryan selling for the Big Show. To end the match, there was a cool spot where Big Show and Bryan were atop the cage and Show prevented Bryan from leaping down to victory by pulling him up with one arm. An amazing display of strength in an otherwise ho-hum affair, but they did what they could given the mobility and injury issues.
GRADE: C
Eight-Diva Tag Team Match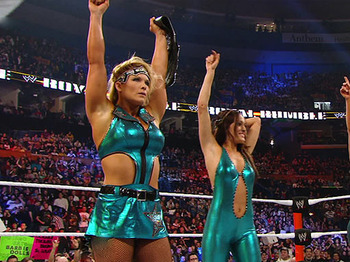 Photo credit: WWE.com
Beth Phoenix, Natalya, and the Bellas defeated Kelly Kelly, Eve, Alicia Fox, and Tamina in four-on-four Diva action.
Normally, this would be the kind of match where I would take the opportunity to grab a soda, construct a glorious plate of nachos, or check the pulse on the Internet, but I couldn't help but hang with this one. I won't go so far as to say it was a really great match, but the Divas delivered what you would expect them to and then some.
Eve had some good ring work, Tamina got a chance to shine early, the rest did what you would expect them to, but all eight ladies worked hard.
The highlight of the match was absolutely Kelly Kelly hitting a top rope plancha to the outside where the rest of the field was scuffling.
Yes, you read that correctly.
Props to the Divas and especially to Kelly, but it was still a Divas match.
GRADE: B-
John Cena vs. Kane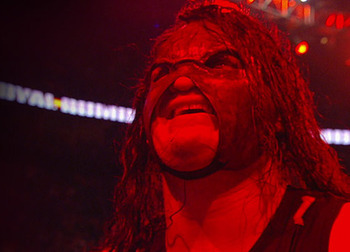 Photo credit: WWE.com
The John Cena/Kane match-up ended with a double count-out at the 11-minute mark, but the action continued for several minutes afterword.
The match itself was pretty solid. Let it not be said that Kane isn't agile for a big man. Even in his advancing age, he can motor when he wants to.
In one of the better spots of the night, Cena connected with a Five Knuckle Shuffle from the top rope. The fans also popped for a post-match Tombstone piledriver by Kane.
A bigger story than the double count-out result was the melee that went down after the match. It inevitably ended up backstage and with a wheelchair-bound Zack Ryder getting destroyed by the Big Red Machine.
In the end, Ryder was stretchered away for the second time this week and Cena was left looking very glum.
GRADE: B+
Drew McIntyre vs. Brodus Clay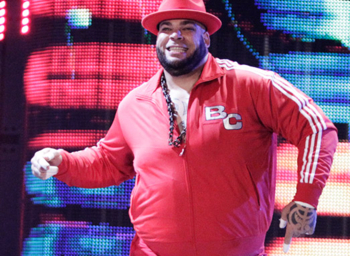 Photo credit: WWE.com
After Drew McIntyre begged Theodore Long for another chance to prove himself, the SmackDown GM obliged with a shot at the Funkusaurus on the Rumble PPV.
The result was much the same as Brodus Clay's previous matches since his FUNKY return to WWE.
It's tough to grade a one-minute squash that culminates in a really, really large man gyrating to bad music, and there wasn't much else to report, but at the very least, I liked Brodus' Jurassic Park-esque logo and utter silliness.
Somebody call my mama.
GRADE: C?
WWE Championship: CM Punk vs. Dolph Ziggler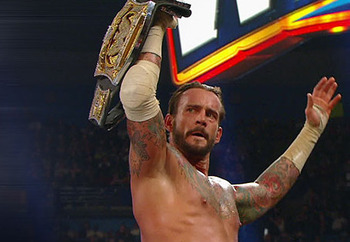 Photo credit: WWE.com
CM Punk held off Dolph Ziggler despite some officiating miscues from Raw GM John Laurinaitis (who served as more of an outside enforcer) in what was the best match of the night from a pure wrestling standpoint.
What I've really liked throughout the course of this Punk/Laurinaitis feud is that despite the tension between the two, Laurinaitis has rarely done anything that was overtly evil/maniacal/abusive toward Punk, and this bout kept with that formula.
However, the former Johnny Ace did enough in ignoring the in-ring action and several Punk pins/submissions to check on a downed referee to draw the ire of the WWE champion. Despite this, and Punk bumping Laurinaitis while attempting the GTS on Ziggler, Laurinaitis was there to count the pinfall in tandem with the official.
Raw should be interesting tomorrow, but bottom line—really solid ring work from both men.
GRADE: B+
Royal Rumble Match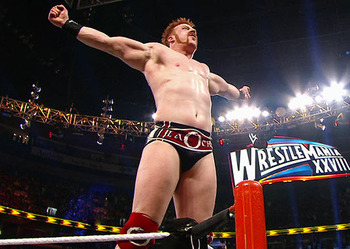 Photo credit: WWE.com
I must confess, the Rumble is my favorite offering in the WWE pay-per-view line-up.
As bad as things may be at any given time on WWE TV, the Rumble always pulls me back in.
That said, this year's iteration did not disappoint... especially for fans of nostalgia.
The match ended right around the 55-minute mark when Sheamus outlasted the #29 entrant Chris Jericho to capture a surprising Rumble victory.
A lot of really good spots throughout the match, including:
-Mick Foley and Santino with a dueling Cobra/Socko moment.
-Ricardo Rodriguez doing a parody of Alberto Del Rio's entrance.
-All three commentators participating at various junctures/Michael Cole getting eliminated by the other two and a returning Kharma.
-Randy Orton and the Great Khali returning to action.
-HOOOOOOOOO! Hacksaw Jim Duggan, the first Rumble winner, showing up and hitting his spots.
-The Road Dogg returning to the match and inciting a "You still got it!" chant from the St. Louis crowd.
-Kofi Kingston employing a hand-stand to avoid elimination.
I may be biased, but what WWE did with this year's Rumble was really great. Great spots, good ring work, a plethora of cool returns/surprise entrants, and an unexpected winner. Hats off to them.
GRADE: A-
Keep Reading