Winter X Games 16: Final Day of Events from Aspen Will Feature Shaun White Win
January 29, 2012

Doug Pensinger/Getty Images
Sunday is the final day of Winter X Games 16 from Aspen, Colo., and the annual weekend of exciting competition is sure to go out with a bang.
Snowboarder extraordinaire Shaun White is expected to defend his Snowboard SuperPipe gold medal, only adding to the fireworks.
The last day at Winter X Games 16 features such final events as Men's and Women's Skier X, Mono Skier X, Snowboard Best Trick and of course Men's Snowboard SuperPipe (7:45 p.m. ET, ESPN) to round out the evening.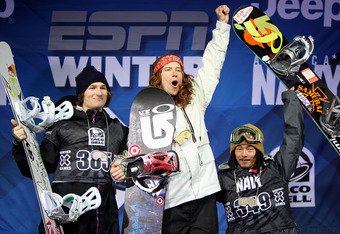 Doug Pensinger/Getty Images
If the Pro Bowl's uninspired action is getting boring and so is NHL All-Star postgame chatter, sports fans would be wise to flip over to the "Flying Tomato" for some prime-time entertainment as he goes for a fifth-straight SuperPipe gold.
The Olympic champion has set the standard for greatness at the event over the past few years and will be the favorite to take home the top honor again this Sunday, despite having aggravated a sprained ankle earlier this week.
The injury caused White to drop out of Snowboard Slopestyle, which he has claimed gold in four times during his career.
"I'm disappointed," White said on Friday, according to ESPN.com. "My priority this year was to ride in Slopestyle, and unfortunately I hit my ankle again riding the course in today's practice. I'm going to rest up and get ready to ride Pipe on Sunday."
White will be the main attraction Sunday night. Without any meaningful NFL action because of an awkward, two-week Super Bowl layover, snowboarding may, just for one night, dominate American interest like White dominates the Pipe.
He is one of the rare household names who participates in the X Games consistently, both winter and summer, and he is a lock to deliver based on his experience, clutch effort and overall athletic advantage far above the ground.