2012 NHL All-Star Game: Roster, Start Time, Predictions and More
January 29, 2012

Christian Petersen/Getty Images
The 2012 NHL All-Star game is a typical pro sport, All-Star event; most of the athletes view it as an extended vacation and won't give much effort.
With many caught in playoff struggles, this is just another way to rest their legs for the long haul of the remainder of this season. Despite its flaws, this is the most fun you could possibly have at 50 percent effort.
Where: Scotiabank Place, Ottawa, Ontario, Canada
When: Sunday, January 29, 4:00 p.m. ET
Watch: NBC Sports Network (USA), CBC (Canada)
Betting Line: Over/Under: 19.5, Spread: Team Alfredsson (-1.5)
While it is so hard to predict 20 goals in a NHL game, this is obviously an exception. As good as the goalies are, the lack of full-on defense will give the best scorers in the game a chance to bury the puck home early and often. I'll take the over here and I'll take team Alfredsson because of their abundance of scorers. Either way, this game should be wild!
Complete Rosters
TEAM CHARA
Forwards: Joffrey Lupul, Pavel Datsyuk, Evgeni Malkin, Marian Hossa, Corey Perry, Phil Kessel, Patrick Kane, Jarome Iginla, Marian Gaborik, Jordan Eberle, Tyler Seguin, Jamie Benn

Defensemen: Zdeno Chara, Kimmo Timonen, Ryan Suter, Dan Girardi, Dion Phaneuf, Dennis Wideman

Goalies: Tim Thomas, Carey Price, Jimmy Howard

Rookies: Gabriel Landeskog, Luke Adam, Craig Smith, Colin Greening, Cody Hodgson, Ryan Johansen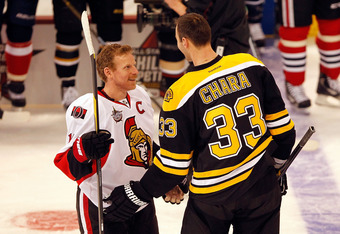 Gregory Shamus/Getty Images
TEAM ALFREDSSON
Forwards: Daniel Alfredsson, Jason Spezza, Claude Giroux, Steven Stamkos, Daniel Sedin, Milan Michalek, Henrik Sedin, James Neal, John Tavares, Scott Hartnell, Jason Pominville, Logan Couture

Defensemen: Erik Karlsson, Kris Letang, Shea Weber, Dan Girardi, Keith Yandle, Alex Edler

Goalies: Henrik Lundqvist, Jonathan Quick, Brian Elliott

Rookies: Sean Couturier, Justin Faulk, Carl Hagelin, Nick Johnson, Matt Read, Craig Smith
Prediction
Team Alfredsson 14, Team Chara 11
Each of the last two player All-Star games has seen both teams eclipse the 10-goal mark, and there is nothing to say that this game will be any different.
With much more emphasis this season on scoring the puck for the All-Stars, there is bound to be another 20 plus-goal night. It's like the 80s NHL all over again!
While this is a complete nightmare for the goaltenders and their fragile psyche, they just need to make sure they know the game doesn't count and they can Tebow all game.
Check back for more on the National Hockey League as it comes, and check out Bleacher Report's NHL Page to get your fill of all things hockey.