UFC on FOX 2 Results: The Calf Slicer and 5 Insane Submission Moves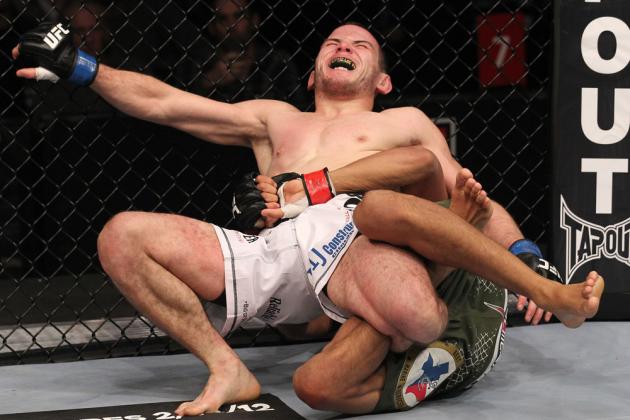 Image courtesy of UFC.com.
At last night's UFC on FOX 2, Charles Oliveira made a splash in his featherweight debut, taking Submission of the Night by tapping out Eric Wisely with a calf slicer.
An early candidate for "Submission of the Year," Oliveira once again showed off his dangerous ground skills, and will be a force to be reckoned with now that he's down at 145.
Over the years, submission aces such as Oliveira have been dazzling fans with their insane finishes.
Here are five of the craziest submission moves ever pulled off in mixed martial arts.
Begin Slideshow

»
The triangle choke has become an essential submission in fighters' arsenals, but this little twist on the well-known choke takes the move to another level.
The inverted triangle choke mechanically sets the opponent's arm and head in a similar fashion with relation to the legs, but the attacker is instead facing down and controlling the back, rather than being in guard.
Toby Imada was the first to pull this off in Bellator; one of the most amazing subs in the promotion's history.
A painful, knee-straining submission, this move has variations within many different grappling arts, from sambo to jiu-jitsu.
Oliveira used the calf slicer while taking back control, but the move can be used from a variety of positions.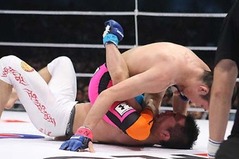 Requiring methodical technique and a bit of flexibility, the gogoplata is an insane submission that is very difficult to escape.
Traditionally, the move is similar to omoplata in that it attacks the shoulder. But newer takes on the submission emphasize putting pressure on the wind pipe instead.
Grappling wizard Shinya Aoki has won on multiple occasions via this technique, even creating a variation of his own, dubbed the "Aokiplata."
As the calf slicer shows, leg attacks are some of the most dangerous submission moves that a fighter can get caught in.
There's only way to make these lower body attacks even more exciting—throw in a flying scissor take down.
A very difficult technique to pull off, the flying scissor heel hook, specifically, is a surprise move that usually stems from extreme desperation.
Facing the now UFC Middleweight champion Anderson Silva, Ryo Chonan pulled off this spectacular submission in Pride, taking the win despite getting lit up on the feet in one of the most shocking comebacks in MMA history.
Image courtesy of UFC.com.
Made popular by famed jiu-jitsu guru Eddie Bravo, this spine-twisting neck crank is brutal.
Usually, a fighter will attack with a choke when controlling the back, attempting to cut off the arteries and airways of their opponent to put them away. But with the neck crank, the sole purpose is to cause pain, by putting pressure on bones and ligaments. This can result in serious injury if a fighter doesn't tap out.
First pulled off inside the UFC Octagon by "The Korean Zombie," this move is insanely devastating and rarely even attempted.
Matt Juul is a Featured Columnist for Bleacher Report.