NHL All-Star Game Roster 2012: Claude Giroux Will Lead Team Alfredsson to Win
January 29, 2012

Joel Auerbach/Getty Images
Full Disclosure: I am a huge Claude Giroux fan. For my money, he's the most exciting player to watch in hockey.
Which is why when the stars come out Sunday afternoon at the NHL All-Star Game, I believe Giroux will shine the brightest and lead Team Alfredsson to the win.
The Flyers' forward is second in the NHL with 55 points, but more important is the flair he seems to possess in the biggest moments. If he gets sprung on the breakaway or is awarded a penalty shot, look out.
He has two overtime goals this season, five game-winning goals, as well as leading the league with 25 power play points, and seems to be at his most lethal in key situations.
With the Sedin twins and Steven Stamkos joining Giroux on the team captained by Daniel Alfredsson—quite fun to watch in his own right—you won't be able to take your eyes off Team Alfredsson when they have possession of the puck.
But keep an extra eye on No. 28—chances are he'll do something that will leave you in awe. And lead his team to the win, for that matter.
Here is the full roster for each team:
Team Chara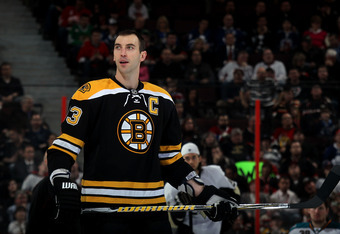 Bruce Bennett/Getty Images
Forwards (12)
Joffrey Lupul, Toronto; Pavel Datsyuk, Detroit; Evgeni Malkin, Pittsburgh; Marian Hossa, Chicago; Corey Perry, Anaheim; Phil Kessel, Toronto; Patrick Kane, Chicago; Jarome Iginla, Calgary; Marian Gaborik, NY Rangers; Jordan Eberle (Injury replacement), Edmonton; Tyler Seguin, Boston; Jamie Benn, Dallas
Defense (6)
Zdeno Chara (Captain), Boston; Kimmo Timonen, Philadelphia; Ryan Suter, Nashville; Brian Campbell, Florida; Dion Phaneuf, Toronto; Dennis Wideman, Washington
Goalies (3)
Tim Thomas, Boston; Carey Price, Montreal; Jimmy Howard, Detroit
Rookies (6)
Luke Adam, Buffalo; Raphael Diaz (Injury replacement), Montreal; Colin Greening, Ottawa; Cody Hodgson, Vancouver; Ryan Johansen, Columbus; Gabriel Landeskog, Colorado
Team Alfredsson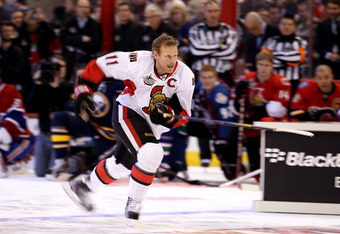 Christian Petersen/Getty Images
Forwards (12)
Daniel Alfredsson (Captain), Ottawa; Jason Spezza, Ottawa; Claude Giroux, Philadelphia; Steven Stamkos, Tampa Bay; Daniel Sedin, Vancouver; Milan Michalek, Ottawa; Henrik Sedin, Vancouver; James Neal (Injury replacement), Pittsburgh; John Tavares, NY Islanders; Scott Hartnell (Injury replacement), Philadelphia; Jason Pominville, Buffalo; Logan Couture, San Jose
Defense (6)
Erik Karlsson, Ottawa; Kris Letang (Injury replacement), Pittsburgh; Shea Weber, Nashville; Dan Girardi, NY Rangers; Keith Yandle, Phoenix; Alexander Edler, Vancouver
Goalies (3)
Henrik Lundqvist, NY Rangers; Jonathan Quick, Los Angeles; Brian Elliott, St. Louis
Rookies (6)
Sean Couturier, Philadelphia; Justin Faulk, Carolina; Carl Hagelin (Injury replacement), NY Rangers; Nick Johnson (Injury replacement), Minnesota; Matt Read, Philadelphia; Craig Smith, Nashville
Hit me up on Twitter—my tweets are chicken soup for the Internet soul.