Illinois Basketball: Minnesota Loss Solidifies Midseason Meltdown
January 28, 2012

Jonathan Daniel/Getty Images
And here we go again.
I doubt there was a mind in Illini Nation that wasn't thinking those words after Illinois 77-72 loss to the Minnesota Golden Gophers. 
Anyone who has followed the Orange and Blue for the last five years knows how famous Illinois has been for choking away close games and promising seasons. This loss confirmed that this team was no different then those that Illini fans have suffered through for the later half of the past decade.  
I hate to admit it, but life just got a lot tougher for Illini fans as they suffered through the beginning of the end for this team.
You see, this game was the pivot point for the season.
Win, and Illinois is back on track.
With a win, the players are able to get over tough loses to Penn State and Wisconsin and fan support picks up where it left off after the Illini's epic upset over Ohio State.
Illinois would also be propelled back into the hunt for a Big Ten title (being 5-3 in conference play and only a half game back) that is completely up for grabs this season.
But a loss would put the Illini at 4-4, which is good enough for sixth place in the Big Ten as of Saturday night.
At sixth, Illinois is only two games back, but nine of the conference's 12 teams are within three games of the conference lead, so it will be all but impossible for Illinois to claw back to the top with so much competition.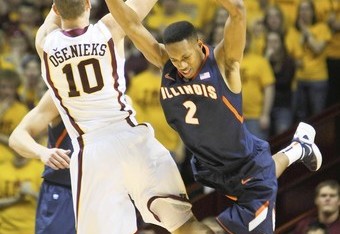 A loss would all but shatter any of the remaining momentum from their Ohio State win and put the confidence of the underclassmen (whom dominate the team's depth chart) in severe jeopardy.  
And a loss is exactly what Illini Nation got.
This team is now on a downward spiral, which could soon be a complete free fall. There is no way to deny that. And what makes it so painful is that there were so many chances for these guys to "right the ship."
If Illinois can just sink one layup vs. an under-performing Penn State team as time expires, everything changes.
If the Illini sharpshooters can keep from being outscored 27-9 from three-point vs. Wisconsin, everything changes.
If Bruce Weber could just play a little zone defense when we have a 7-1 center who is an absolute monster when it comes to delivering punishing blocks verses the Badgers, everything changes. 
And finally, if Meyers Leonard can keep from making the most gut wrenching play of his career as he fouls Austin Hollins during his drive to the basket with five seconds left in the Minnesota game, giving him the chance to tie the game with a three-point play...everything changes.
But those things didn't happen...and Illinois is left with three-game losing streak and a sickening feeling going into its home game against No. 11 Michigan State.
With 10 games left in the regular season, six of which are against ranked opponents, I fear for these Illini players and this fan base.
Illinois could easily pull out an upset against some of those top teams, because that has been the overwhelming trend this year in the Big Ten, but it is becoming harder and harder to envision that happening. 
A more likely scenario is that the Illini fall just short of securing 20 wins for the season and are on the bubble come selection Sunday. 
Unfortunately, fans of the Fighting Illini have become all to used to that situation and the Weber head-hunters reemerge in full force.
Obviously, winning changes everything in this sport and Illinois still holds their future in their own hands, but don't be surprised if this meltdown continues.
I know many Illini fans won't be surprised though, as they continue to mutter...
And here we go again...