Winter X Games 16: Shaun White Toughing It out Shows How Much Games Mean
January 28, 2012

Doug Pensinger/Getty Images
If you want to know how important the Winter X Games are to the athletes that participate in it, look no farther than superstar snowboarder and X Games legend Shaun White.
White is literally the biggest name in extreme sports other than Tony Hawk, being that even casual extreme sport fans know who he is.
He's a marketing genius, as he's found his way into commercials, movies and even the front of a Wheaties box.
That goes to show you how far extreme sports have come, when a snowboarder is on the iconic cereal box dedicated to the worlds greatest athletes.
The sport is where it's at because of guys like White, and that makes him a legend.
Unfortunately, being a sports legend doesn't come without it's fair share of bumps and bruises.
According to Colin Bane of XGames.com on ESPN, White aggravated a sprained left ankle in practice and will have to pull out of the Snowboard Slopestyle event.
One would assume that means the end of White in Winter X Games 16, but he's apparently going to suit up and ride for yet another gold on the Snowboard SuperPipe.
Considering he's hurting, this shows a ton of dedication to the sport, but it also shows how important the X Games are to these winter sport competitors. Bane quotes White in his report saying that the X Games is the place where he loves to step up:
But as much as he loves Olympic glory, White says the Winter X Games are still the ultimate proving ground for a snowboarder.
"Every year we try to outdo ourselves, and X Games is the place where we like to display what we've been working on," White said at a news conference Wednesday, the first day of Winter X Games 2012. "Especially for me, this is it. This is where I want to come and I want to do my best tricks and show the other riders what I've been working on. That's definitely why we're here, to step it up."
While they are certainly fun and intriguing, these games mean a lot.
Don't kid yourself—White can do whatever he wants as far as the sport is concerned. He's literally untouchable.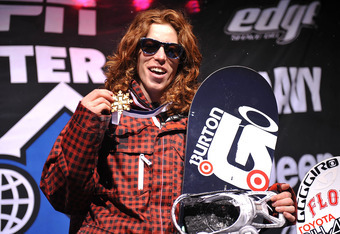 Jonathan Moore/Getty Images
He doesn't have to ride the SuperPipe—he has absolutely nothing to prove. His ankle is hurting and riding more could potentially hurt it worse, yet he still is competing.
This is how much the Winter X Games mean to a guy like Shaun White, who doesn't even need them to get his name out there.
Consider that next time you watch him, or any of the other competitors out there. They love this, and it really means something.
That will really change your perspective of the Winter X Games.