Uconn Basketball: The Struggles for Alex Oriakhi Continue
January 28, 2012

Jim Rogash/Getty Images
After the departure of All-American guard Kemba Walker to the NBA, the UConn Huskies knew they would be fighting an uphill battle in 2012. 
Many expected players such as sophomores Jeremy Lamb and Shabazz Napier to pick up the slack scoring-wise.  In addition, the entire Husky faithful were excited to see the hype and publicity regarding freshman Andre Drummond. 
However, all were anticipating even more from the team's elder statesman, junior forward Alex Oriakhi, and he has not delivered.
While all of the aforementioned players struggled at some point during the 2011-2012 campaign, none have been worse than Oriakhi. 
After a November tournament in the Bahamas, he lost his starting job, one he has had for 72 games, to freshman Andre Drummond.  In a regrettable act, he marched to the airwaves of Twitter and aired his grievances with head coach Jim Calhoun for the entire world to see.
Even after regaining his starting spot a week later, his production has been less than satisfactory. 
In 19 games this year, he has scored in double figures just four times and has double digit rebounds just once.  Adding to his disappointing season is the fact that he has more turnovers than blocks and in UConn loses is only averaging 5.8 PPG. 
Earlier in the season, Calhoun challenged him to be a "bully under the basket".
But after a 70-67 loss to Cincinnati, it has become quite evident that the bully hasn't shown up, and the 69-year-old coach is becoming aggravated.  "Maybe I should have played [walk-on Brendan Allen] more minutes," Jim Calhoun told the media. "At least he had the guts to go to the rim and didn't look like he was going to fumble the ball."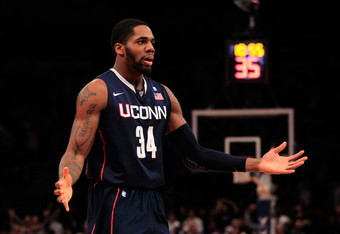 The remarks were coarsely worded and not specifically directed toward any one individual, but Oriahki would be hard pressed to believe he wasn't one of the players being referenced.  Even Kemba Walker, in the stands for the Cincinnati loss, told Calhoun some of his old teammates didn't look the same as last year.
Obviously, one of the biggest obstacles he is facing this year is the presence of newcomer Andre Drummond.  
Last year, Oriakhi was paired with forward Charles Okwandu in the paint.  Comparing the talents of Okwandu and Drummond are like night and day.  The same rebounds, points and, most importantly, minutes that Oriakhi once possessed are now being gobbled up by the freshman.
His struggles can also be attributed to the vast improvement of sophomore Tyler Olander.  As of late January, he has nearly doubled last year's point total (111 from 58) and has become an effervescent force in the blocks.
Yet, throughout all his struggles, the hardworking junior hasn't given up.  He realizes that despite any outside forces, he needs to have faith in his game. "Confidence is so important in basketball," Oriakhi admitted. "I feel when I'm confident, I can be one of the best players out there."
For the Huskies sake, let's hope he's right. Spiraling downward, the team needs a leader with poise and assurance. 
Could Alex Oriakhi could be that guy?