New York Yankees: 10 Bold Predictions for the Bombers in 2012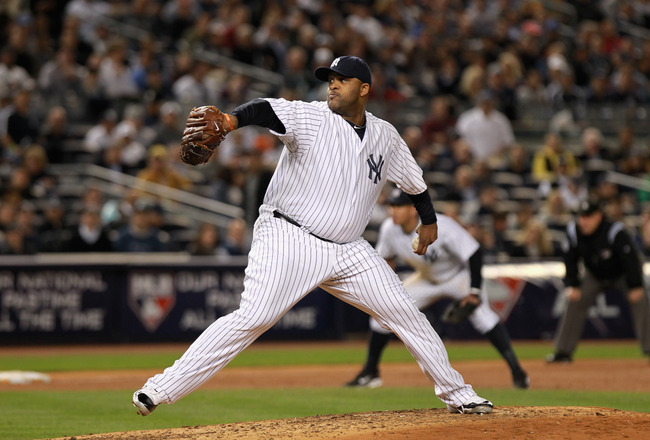 Nick Laham/Getty Images
The 2012 season is almost here. Pitchers and catchers will report to Spring Training in less than three weeks and everybody is gearing up for another great season.
The New York Yankees are arguably the best team in the majors after adding Hiroki Kuroda and Michael Pineda in the offseason.
What's next for the "Bronx Bombers"?
Everybody loves bold predictions, so here you go: 10 bold predictions for the Yankees in 2012.
4 Starting Pitchers with an ERA Below 3.50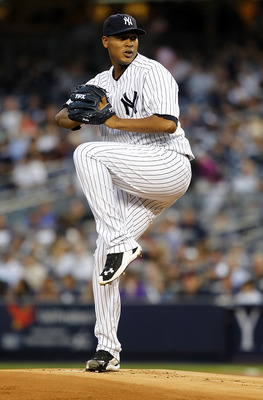 Jeff Zelevansky/Getty Images
CC Sabathia, Ivan Nova, Hiroki Kuroda and Michael Pineda are locked in the Yankees' rotation.
Sabathia will have an ERA under 3.50 in 2012. There are no arguments about that one, right?
I'd be happy to address them in the comments, if you do not think a pitcher who hasn't posted an ERA above 3.37 since 2005 and has posted a 3.11 ERA in that time period can keep his ERA below 3.50 in 2012.
Nova did not start his rookie year very well, but hewent 8-0 with a 3.08 ERA after July 1. He may victim to a sophomore slump but Nova improved as the season went along. Hitters did not figure him out as one would expect from a regression candidate.
Kuroda posted a 3.07 ERA in 2011, albeit in the NL West in large Dodger Stadium.
You would then expect that his home/away splits would show that he is a product of a big ballpark, right?
Well, not exactly.
Kuroda posted a 3.27 ERA at home and a 2.85 ERA on the road in 2011. Kuroda will be much less susceptible to Yankee Stadium's short porches.
In 62.1 innings pitched against AL teams, Kuroda has posted a 3.61 ERA. If you take out the Yankees, he posted a 3.32 ERA against AL teams. That seems very promising.
Pineda is one of the biggest enigma in the majors.
He comes from huge Safeco Field and a weak AL West to a small Yankee Stadium and a strong AL East. He strikes people out at will and flashed his potential with a 3.03 ERA in 113 innings before the All-Star break in 2011.
But he also has a high fly-ball and home-run rate, and posted a 5.12 ERA in 58 innings after the All-Star break.
Did he get tired? Did hitters figure his two-pitch stuff out? I don't think so.
Not only did his K/9 and BB/9 stay constant throughout the whole season, his ground-ball rate rose from 31.3 percent from March to June to 45.3 from September to October.
Here is a small excerpt from one of my earlier articles on Pineda that sums up how I feel about him using advanced statistics:
If you look you can see that he was extremely unlucky on the road because his BABIP is .066 higher away from Safeco. He also for some reason has a 10.5 percent HR/FB at home and a lower 7.8 percent HR/FB on the road even though Safeco Field is supposed to be huge and turn home runs into routine fly balls. He also only stranded 64.4 percent of runners on the road in 2011 even though the league average is 75 percent.

Pineda was a very unlucky pitcher on the road in 2011.

Now, let's look at his FIP. His FIP on the road is 3.26 but his FIP at home is 3.62. Neither of those are bad at all and he is actually better on the road away from Safeco Field.

Pineda actually improved as the season went on, despite what his sudden spike in ERA will tell you. His ground-ball rate was from 31.3 percent from March to June and then from September to October it was 45.3 percent. That is a huge improvement. His strikeout and walk rates also remained fairly constant throughout the year.

After the All-Star break he had a 5.14 ERA, right? Sounds awful. He also had a 3.22 xFIP during that time period, which is actually pretty good.
Michael Pineda has serious talent. If he can work on his changeup and have better luck, the move to New York will not hurt him as much as you would think.
5 Players With Over 30 Home Runs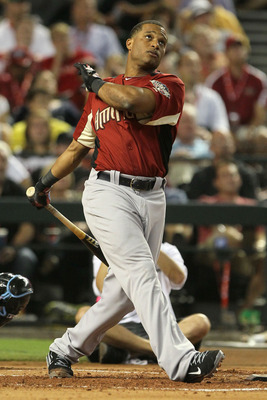 Jeff Gross/Getty Images
Curtis Granderson, Robinson Cano, Alex Rodriguez, Mark Teixeira and Nick Swisher will all hit 30 or more home runs in 2012.
Teixeira has hit 30-plus home runs in eight straight seasons. Just like Sabathia in the last slide, this is a given.
Granderson hit 41 home runs in 2011. Granderson is loving the short porch in right field but he did hit 20 of his 41 home runs on the road, so he is not just a product of Yankee Stadium.
We all know Cano has the raw power to hit 30 home runs in a season but, for some reason, he has not. Over the last two seasons, the defending Home Run Derby champion has hit 57 home runs. Cano is 29 years old and is just hitting his prime.
Cano ended 2011 on a tear, hitting 14 home runs in the last 58 games. That projects to 39 home runs over a full season.
Do I think he will do that?
No, but he does have the raw power to and I do believe he will eclipse the 35-home-run plateau.
Rodriguez hit 30-plus home runs in 13 straight seasons before 2011. Rodriguez only played 99 games last season, so he would have hit more if he played a full campaign.
How many, exactly?
In the 58 games Rodriguez played before he hurt his meniscus, he hit 13 home runs. He was not immediately put on the disabled list but he did complain about knee swelling, which hurt his power. Hitting 13 home runs in 58 games projects to 36 home runs over a full season.
This prediction really would not be bold if I did not include a fifth player. Swisher is just that player.
Swisher has not hit 30 home runs since he hit 35 in 2006 but he hit 29 home runs in 2009 and 2010. It does not seem too bold to think he can bump that up by one dinger, especially considering that he only played in 300 total games in 2009 and 2010.
4 Relievers with an ERA Below 2.50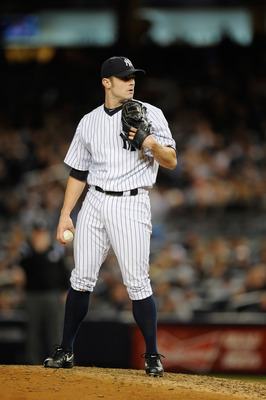 Patrick McDermott/Getty Images
Mariano Rivera, David Robertson, Rafael Soriano and Joba Chamberlain will all post an ERA below 2.50.
Just like Sabathia and Teixeira before him, I do not have to explain Rivera. He has not posted an ERA above 1.91 since 2007 and has a 1.81 ERA in that time period.
Robertson was a breakout star in 2012. He posted a 1.08 ERA, including a 0.25 ERA on the road and a 0.86 ERA after the All-Star break. Robertson also had a 13.5 K/9 BB ratio. In 19 appearances with the bases loaded, he allowed one hit and zero runs while striking out 14 and walking zero batters.
Robertson is poised to become the next Yankee closer and he will follow up an excellent 2011 campaign with another great season in 2012.
Soriano was awful in 2011, but there are a few bright spots. He posted a 2.67 ERA from May to October and his track record is excellent. Before 2011, Soriano had a 2.73 ERA and had posted an ERA below 1.75 twice for the Tampa Bay Rays.
As the seventh-inning man, Soriano will be under less pressure and should perform very well, especially if he can stay healthy.
Chamberlain will miss the first half of 2012 due to Tommy John surgery. Chamberlain had a 2.83 ERA in 2011 before getting hurt and has a career 2.96 ERA as a reliever.
Most pitchers who have Tommy John surgery make a full recover and actually add a couple miles an hour to their fastball compared to right before their UCL tear. This is because the UCL takes months, if not years, to wear down. It does not simply snap.
As it wears down, you lose velocity.
If you look at Chamberlain's velocity charts, you will see that in the middle of 2010 he was averaging about 96-97 mph on his fastball. Right before he got injured, his fastball was averaging about 93 mph.
Chamberlain should be able to hit triple digits once again in 2012 and will be a better pitcher overall.
Killer B's Arrive and Flourish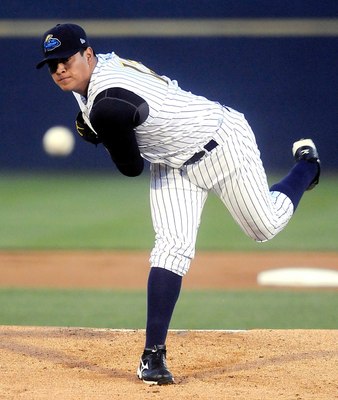 The Yankees own two great pitching prospects in Manny Banuelos and Dellin Betances, nicknamed the "Killer Bs".
Banuelos and Betances were both ranked in MLB.com's top 100 prospects for 2012 list. Banuelos ranked at No. 13 overall and Betances ranked at No. 41 overall.
Both pitchers have a high upside and I scouted them in earlier articles (you can see those here and here).
Even though they are completely different in size (Banuelos is 5'11" and Betances is 6'8") they have similar strengths and weaknesses. They both have mid-90s fastballs and ace-like pure stuff but they both struggle with control.
At 20 years old, I am not as worried about Banuelos because he is so young and getting used to his recent bump in velocity.
On the other hand, Betances is worrisome.
He is 23 years old and has the ability to hit 100 mph but his command is not what you want from a frontline starter.
If they can figure it out, and I think they can, they will both be frontline starters in the majors.
Banuelos already showed his potential by posting a 2.20 ERA during Spring Training last season. I highly recommend you watch this video of Banuelos in Spring Training. It is incredible.
Both pitchers pitched in Triple-A in 2011, Betances made a short stint in New York as well, so they will both be September call-ups at the very least.
I believe they will both show their potential and flourish in New York in 2012.
Alex Rodriguez Earns His $30 Million Salary... as Much as Humanly Possible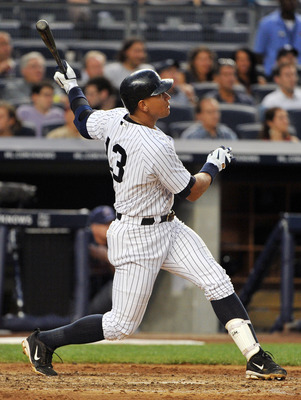 Christopher Pasatieri/Getty Images
Remember 2009 postseason Alex Rodriguez? How about 2005 or 2007 Alex Rodriguez?
Don't expect that, but 2008 A-Rod is not out of the question.
Alex Rodriguez will have a monster 2012 season due to his experimental knee surgery, which Kobe Bryant also had and looks pretty good so far, and more time at DH.
A-Rod will finish the 2012 season with a .300/.400/.550 slash line with 35-40 home runs and 110-120 RBI.
Now, no player is worth $30 million but don't lie, you would take that type of season from A-Rod, even though he is overpaid.
Robinson Cano Will Win the 2012 AL MVP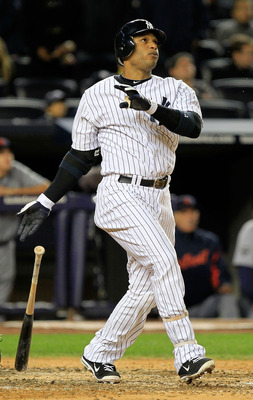 Chris Trotman/Getty Images
Projected 2012 Stats:
.323/.397/.568, 36 HR, 133 RBI, 7 SB
Robinson Cano is among the most feared batters in the majors, and at 29 years old, he is just hitting his prime.
It may be tough to believe, but Cano had an off year in 2011. In 2009 and 2010, he had a .320 batting average, compared to .302 in 2011. Cano has hit just under 30 home runs for two straight seasons, and the added protection that comes with moving from fifth to third in the line-up will give him more hittable pitches, namely fastballs, to hit into the stands.
Cano went on an absolute tear in the postseason against the Detroit Tigers by hitting .318/.375/.682 with two home runs, including a grand slam and nine runs batted in. If he can carry that success over to 2012, watch out because he will be a legitimate MVP threat.
The Yankees Will Win over 100 Games and Take the AL East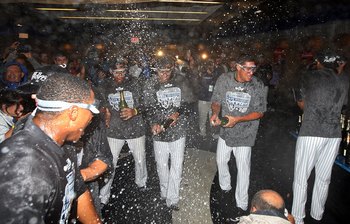 Jim McIsaac/Getty Images
Take a 97-win team who played their Triple-A team after clinching home-field advantage and add Hiroki Kuroda, Michael Pineda and a healthy Alex Rodriguez.
Now, what do you get?
You get the best team in the AL, a team all but guaranteed 100-plus wins and the favorite to win the AL East.
The Red Sox got worse this offseason. They lost Jonathan Papelbon, traded starting right fielder Josh Reddick for his replacement Andrew Bailey, traded their starting shortstop Marco Scutaro to Colorado in order to sign Cody Ross and moved Daniel Bard and Alfredo Aceves to the starting rotation.
That does not sounds like a very good offseason. Did I mention they also lost general manager Theo Epstein to the Cubs and fired manager Terry Francona?
The Tampa Bay Rays are also a big competitor for the AL East title but even though they have a great starting rotation the Rays lack a top offense and a bullpen.
The Yankees should win 100-plus games and the AL East in 2012.
The Yankees Will Win the 2012 World Series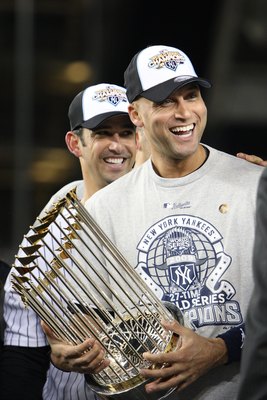 Jed Jacobsohn/Getty Images
The Yankees will have the veteran experience to propel them to a 28th championship by rolling through the Angels in the ALDS, Rangers in ALCS and finally the Phillies in an epic rematch of the 2009 World Series.
The Angels, Rangers, Red Sox, Rays, Tigers and Phillies all have a good chance of winning the World Series.
Are any of them as balanced, talented or experienced as the Yankees?
The Yankees have a top five rotation (along with the Phillies, Giants, Angels and Rays), the best offense in the majors and the best bullpen in the majors as well.
Add in the experience of Derek Jeter, Mariano Rivera and Joe Girardi and nobody will out-manage or out-think them in the postseason.
Mariano Rivera Calls It Quits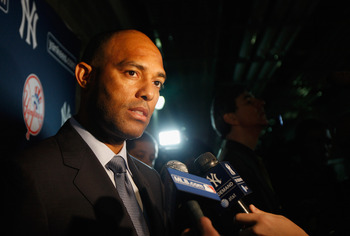 Mike Stobe/Getty Images
Mariano Rivera will have won his sixth World Series ring and retire on the top of his game.
Rivera will finish his career near the top of his game by posting an ERA under 2.00 for the 11th time in his career and a WHIP under 1.00 for the ninth time.
Mo will also save 47 games, conveniently giving him an even 650 for his career and by far the most ever by a closer.
Rivera will always be known as a great postseason closer. He has never posted an ERA above 1.75 in a postseason with more than three innings pitched.
Rivera will go down as the best closer of all time and the best pitcher of our generation.
Rivera will be a first-ballot Hall of Famer, should be the first unanimous selection and will find himself in Monument Park.
Cole Hamels Turns in His Red Pinstripes for Some Blue Ones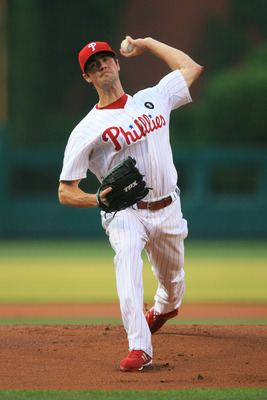 Hunter Martin/Getty Images
I devoted a whole article on why I thought Cole Hamels would become a New York Yankee yesterday right here but here's a summary of my thoughts:
Cole Hamels and his agent do not seem inclined to sign a lesser deal to stay in Philadelphia.
At the appropriate time, Cole is looking to be compensated as one of the premier left-handed pitchers in baseball. Without putting a number on it, we'll leave it at the fact that he's an elite pitcher. Look and see what elite pitchers are compensated with. Hopefully at the end of the day we'll be able to get something done with the Phillies that will reflect that.

I don't think [Weaver] is a parallel. That contract is great for Jered. I understand it. But he took a different path and left a lot of money on the table. He came up through the Angels system and grew up in their backyard. He's pitching where he grew up. That situation appeals to him. It's a similar situation to when I had Tony Gwynn. Without getting into specifics of what we're looking for, the Weaver situation is unique to Weaver.
Hamels also fits the Yankees' plan to get their payroll below $189 million by 2014. Contracts such as AJ Burnett's and Rafael Soriano's coming off the books will allow them to sign Hamels to a huge deal around seven years and $154 million while still lowering their payroll.
The Yankees have Ivan Nova, Michael Pineda, Manny Banuelos and Dellin Betances, who are all 23 years old or younger. They need another veteran starter to go along with CC Sabathia to help those young pitchers.
Not only will he help the young pitchers but he also would give the Yankees the best one-two punch in the majors atop their starting rotation.
Cole Hamels can thrive in New York because he has already proved himself in a big market (Philadelphia) and has flourished in the postseason, posting a 3.08 career ERA in October, and has been to two World Series. He even won the 2008 World Series MVP Award.
Keep Reading

New York Yankees: Like this team?