Brandon Inge Should Be the Least of Detroit's Worries Going into 2012
January 28, 2012

Kevork Djansezian/Getty Images
Everyone around the Detroit Tigers organization knew that the massive signing of first baseman Prince Fielder would create a shift in the way that the team plays baseball going into the 2012 season.
The biggest shift was thought to be the expected move of Miguel Cabrera from first base to third base, and how the slugger would react to such a move.
Cabrera didn't mind the move at all, according to manager Jim Leyland. At that point, everything involving controversy should have ended.
But it didn't. Enter underachieving third baseman Brandon Inge.
Now, Inge has had a great career as a Tiger. For many years he was considered one of the best defensive third baseman in the game. However, as time has gone by and injuries have accrued, Inge has found himself as a solid, yet not spectacular, defender.
Then there's his 2011 campaign. Inge had a .197 average, and for most of the season he wasn't even living up to that standard. While he had a few good games after coming back from his demotion to Triple-A Toledo, he spent a lot of the season splitting time with Wilson Betemit and Don Kelly.
This needs to be prefaced by saying that if Inge were getting cast away to the bench in favor of someone like, say, Don Kelly, there would be some room to be upset.
That being said, Inge has no room to complain after his 2011 season. He's being replaced by Miguel Cabrera, who is arguably the best hitter on this team even with the acquisition of Prince Fielder. The fact that Leyland had to address Inge at all during Fielder's press conference--the manager said that Inge was not a happy camper--is simply ridiculous.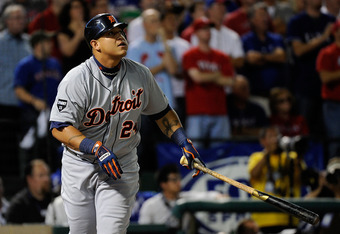 Kevork Djansezian/Getty Images
The city of Detroit, for the most part, identifies with Inge. He's always been considered a blue-collar player; that is, a grind-it-out kind of guy that puts on his hard hat and goes to work.
However, as of late, it seems as though he spends quite a bit of time complaining about his situation rather than actually playing baseball at a high level. This is a player with a superstar mentality and a bench player's stat line.
It's understandable that Leyland was merely addressing a question asked of him by the media when referencing Brandon Inge, but the fact is that until Inge starts playing at the level of Miguel Cabrera or Prince Fielder--something that he'll likely never do--no one should care how Brandon feels about being on the bench. Is that harsh? Maybe, but that's the way it has to be if you want a successful baseball team.
Will all of that being said, there's still a place for Brandon Inge on this team, if he can accept the role. Since Leyland loves his "lazy Sunday" lineup, which includes a lot of role players, Inge could see a bit of playing time still.
All in all, this shouldn't be a huge distraction going into the season. But if Inge wants to keep his fan base, he should probably let this go and just play baseball.