Toronto Maple Leafs: Which Goalie Will Lead the Leafs to the Playoffs?
January 31, 2012

Jim McIsaac/Getty Images
Mirror, mirror on the wall, who's the steadiest of them all?
That's the question fans of the Toronto Maple Leafs want to know regarding which goaltender will lead them to to the promised land—or at least their first playoff berth since the 2003-04 NHL season.
Is It Time to Hit the Panic Button?
When James Reimer suffered an injury after taking a hit from Brian Gionta on Oct. 22, 2011, the reaction from Leafs Nation was almost unanimous—there goes the season.
What made matters worse was Jonas Gustavsson's average—and sometimes shaky—play to try and fill the big shoes left by his fellow netminder.
These lackluster performances shed some light on several glaring defensive issues as well as what may have been a lack of confidence on Gustavsson's part.
In turn, this elicited an immediate knee-jerk reaction from fans wanting Brian Burke to pull the trigger on a deal to bring a legitimate No. 1 goaltender to Toronto.
Opportunity Knocks
What was Reimer's loss has amounted to Gustavsson's gain, as he has made the most of his subsequent opportunities to carry the team and has since taken full advantage of his starts between the pipes.
Gustavsson is enjoying a bit of a renaissance of sorts, playing big in the net with a ton of poise and confidence.
He may not have the kind of numbers that inspire acclamation, but Gustavsson's current .910 save percentage and 2.73 goals-against average is still respectable.
He is currently looking to cap off a stellar January, having won seven out of 10 games and posting three shutouts along the way.
Reimer, in comparison, has struggled to find his form since recovering from the "concussion-like symptoms" he was experiencing at the beginning of the year.
He record is 0-2-1 with a 3.80 GAA and .867 save percentage in his last four games played.
At least Ron Wilson's "If you win, you're in" policy seems to have motivated at least one of Toronto's goaltenders.
To the victor go the spoils!
I can't think of a more diplomatic way of going about business.
Playoff Bound?
According to SportsclubStats.com, the Leafs currently have 70.5 percent chance at making the playoffs.
That stat will continue to fluctuate the closer they get to the end of the 2011-12 season, but if I found slots at a Las Vegas casino that would give me those odds, I would ride that machine all the way to the bank.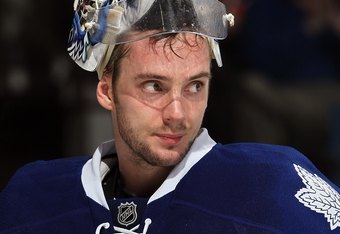 Jim McIsaac/Getty Images
There have been very good hockey teams that have, unfortunately, fallen off the radar and missed opportunities to play for the Stanley Cup, and likewise, clubs with lesser talent who take hot streaks into the postseason.
When it comes to solidifying a spot in the top eight of the Eastern Conference, there are no guarantees.
What is guaranteed, however, is that it's going to be a wild ride for the Maple Leafs between now and April, when the eventual fate of their playoff hopes is finally realised.
Which goaltender is up for the challenge? Let the speculative discourse begin...