Royal Rumble 2012 Predictions: Brock Lesnar and Legends Who Won't Wrestle
Jon Kopaloff/Getty Images
The Royal Rumble is the perfect opportunity for WWE to bring back legends and stars from yesteryear, because it is a nostalgia event, and there is nothing that wrestling fans love more than living in the past. This year's show is unique, in that there have not been a lot of stars announced for the Rumble match.
It would seem that WWE is leaving open the possibility of having some old stars return for a big pop and then walk to the back. But there are a few names that keep popping up that have no business being on this show for many reasons.
Here are a few legends that should not waste their returns at Sunday's Royal Rumble show.
Brock Lesnar
Which Star Would You Most Like To See In The Royal Rumble?
When Lesnar retired from UFC, the first thought that everyone had is that he was going to WWE for at least one more match. That may or may not end up being the case, but if he does wrestle again, it should not be at this show.
Lesnar's return is going to do strong business for the company, as long as it is promoted well in advance. Having him just walk out to the ring in an unadvertised appearance at the Rumble would be a bigger botch than Lesnar's ill-fated shooting star press against Kurt Angle at WrestleMania 19.
Just give him a one-off appearance at WrestleMania in 2013 against Steve Austin or The Undertaker and everyone will be happy.
The Undertaker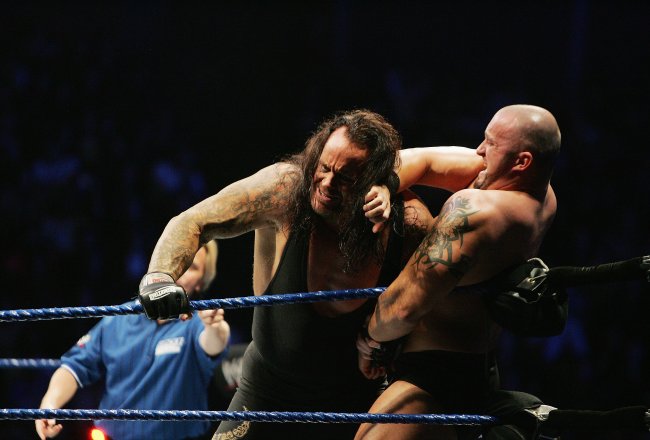 Gaye Gerard/Getty Images
Looking at the Rumble match, I can't think of anyone who needs to show up less than the Undertaker. He is not trying to win a title at this point in his career, he is not going to be on television every week for the next three months, and his return should feel special.
Wait until the Elimination Chamber, or shortly after, to bring back the Dead Man in order to properly build his WrestleMania match with Triple H. If they want to infuse some drama to that match, bring Shawn Michaels in as the special referee.
Triple H
Of the three wrestlers on this list, Triple H is the most logical choice to actually make an appearance in the Rumble. He is still a big part of the company--albeit backstage more than on screen--and we know he will be on Raw to evaluate John Laurnaitis' job performance. (Hint: It sucks.)
However, therein lies the dilemma with putting him in this match. It just seems goofy to have him trying to win a championship match at WrestleMania, which we know he won't get since he is going to wrestle the Undertaker. Then he'll show up on Raw the next night and tell Laurinaitis that he is fired or demoted or whatever they are going to do with him.
Professional wrestling has never been a logic-based business, but this would be pushing the boundaries of stupidity.
This article is
What is the duplicate article?
Why is this article offensive?
Where is this article plagiarized from?
Why is this article poorly edited?