NHL All-Star Game 2012: Team Alfredsson's Goalies Will Steal the Show
January 28, 2012

Christian Petersen/Getty Images
The 2012 NHL All-Star Game is jam-packed with talent on both Team Chara and Team Alfredsson, especially in the cage.
Both team's goalies have the capabilities of performing at a high level but Team Alfredsson will be the group that steals the show.

Goalies for Team Chara
Tim Thomas
Carey Price
Jimmy Howard

Goalies for Team Alfredsson
Jonathan Quick
Brian Elliott
Judging by the names, most people would suggest that Team Chara has the better collection of goalies. That may be true for years past but not this season. Team Alfredsson's goalies have been unbelievable this year and their statistics prove it.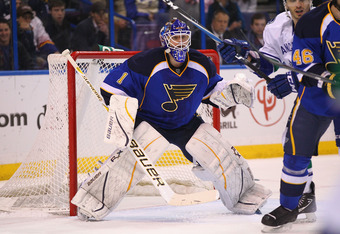 Dilip Vishwanat/Getty Images
All three goalies are in the top four in goals against average (GAA) and save percentage (SVPCT). Elliott leads the league in GAA (1.69) and SVPCT (93.8). He may have been your last guess if you didn't follow hockey.
Quick is holding a 1.93 GAA and 93.4 SVPCT and Lundqvist holds a 1.87 GAA and 93.7 SVPCT. They are all playing extremely well.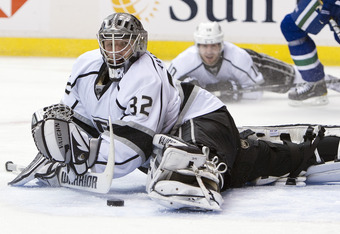 Rich Lam/Getty Images
Certainly Team Chara's goalies are in the area, but Thomas is seventh in GAA and Howard is ninth in SVPCT, so Team Alfredsson's goalies are better as a collective unit.
Playing for the best teams in the league will make goalies' numbers look that much better. Howard and Thomas are great, but they do have solid teams in front of them. What Elliott and Quick are doing for teams like the St. Louis Blues and Los Angeles Kings is impressive given their talent level compared to some of the best in the NHL.
NHL All-Star games are generally high-scoring affairs, which is why having the best unit in the net is of high priority. It's all about limiting the opposition's explosive weapons. Which goalie unit has the best chance of performing the task in the 2012 NHL All Star game?
Team Alfredsson.
They have proved it all season long and will continue to play well in the All-Star game on Sunday.