Liverpool vs. Manchester United: Rating the Liverpool Players in FA Cup Victory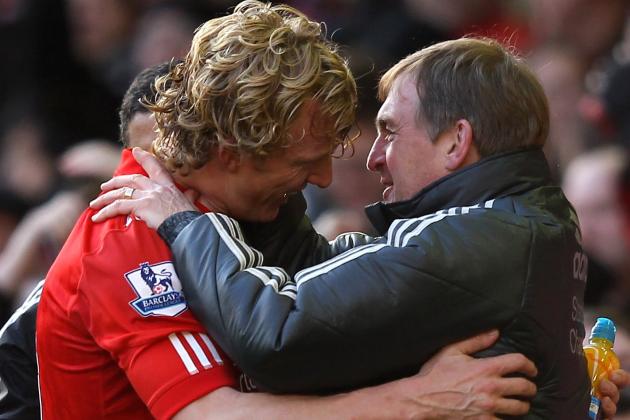 Alex Livesey/Getty Images

Liverpool added to their League Cup semifinal victory over Manchester City in midweek with an FA Cup fourth round win over Manchester United at Anfield as a late Dirk Kuyt goal swept them through against their old rivals.
Here we take a look at the ratings for all the Reds' players after a hard-fought victory against the Red Devils.
Kenny Dalglish named four changes to his starting line-up as Dirk Kuyt, Charlie Adam, Glen Johnson, and Craig Bellamy made ways for Andy Carroll, Martin Kelly, Maxi Rodriguez, and Jamie Carragher, who started in a defensive midfield role.
In a first half of few chances, Liverpool suffered a scare when United midfielder Antonio Valencia hit the post after breaking through from midfield.
However Daniel Agger gave the Reds the lead with a thumping header moments later. Ji-Sung Park equalised for United who ended the half stronger, but a series of second half substitutions by Dalglish changed the tide of the game and Liverpool won it with a late Dirk Kuyt strike.
Andy Carroll hit the bar late on and Kuyt swept wide off the rebound, but Liverpool had already done enough to book their place in the fifth round.
Begin Slideshow

»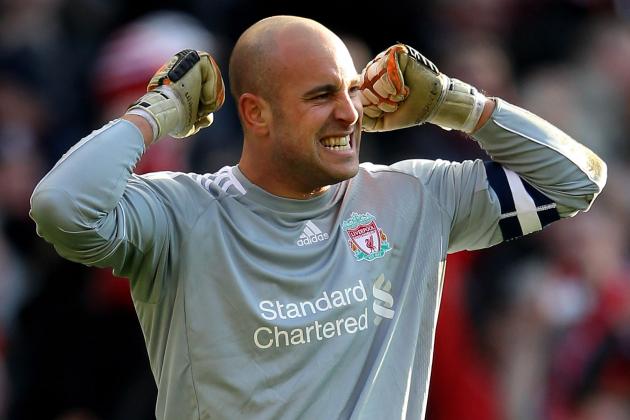 Alex Livesey/Getty Images

Pepe Reina, despite conceding a goal in the first half, had very little to do against Manchester United.
Though the away side dominated possession in the opening 45 minutes, they created next to nothing with it, and bar one straight-forward save from a Ryan Giggs effort and a shot from Antonio Valencia which hit the post, the only thing Reina had to do was pick Ji-Sung Park's shot out of the back of the net.
A couple of ambitious and aimless crosses from either flank were well dealt with, but not until the second half was Reina called into any serious action.
Twice in the second period he had to be quick to race off his line as firstly Danny Welbeck and later Javier Hernandez looked to latch onto long passes behind the Liverpool defence.
Welbeck beat Reina to the ball but Skrtel was able to clear from behind his 'keeper, while Reina got his head in first to nod away from danger with Hernandez lurking.
Reina finished the game as captain after Steven Gerrard was substituted and was involved in the winning Reds goal at the end of the game; his long kick downfield searching out Andy Carroll, who flicked the ball on to goalscorer Dirk Kuyt.
About as comfortable a game as Reina is likely to get against Manchester United.
Pepe Reina: 7 / 10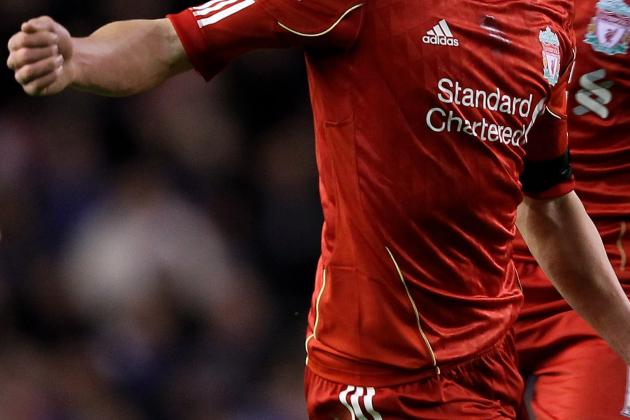 Alex Livesey/Getty Images

Liverpool's full-backs on the day had rather contrasting performances.
Initially it had looked like Martin Kelly and Jose Enrique would be deployed more as wing-backs, but it was soon apparent that they were playing as part of a usual back four instead of flanking a back three.
Kelly was absolutely magnificent. He snapped into tackles, made a few good sliding challenges, intercepted passes looking to release United's left wingers down the channels and used the ball intelligently most of the match.
He was perhaps not able to contribute in the final third as much as he would normally like, with his team shorn of possession in the first half, but he was a real rock in defence and rarely let anybody past him.
On the other side, Jose Enrique has been struggling a bit for his usual good form in the past two matches and again made an error of judgement against Manchester United, letting Antonio Valencia get past him far too easily in the lead up to United's equaliser.
Other than that incident he was largely solid in defence, though he needed help from Maxi in doubling up against the right-winger at times.
A downside to Jose Enrique's game at Anfield was his inability to deliver telling crosses from wide areas, too often cutting inside onto his less-favoured right foot or turning into trouble instead of releasing the ball quickly.
On several occasions Andy Carroll was left frustrated at the lack of delivery to the centre, from the left side in particular.
Martin Kelly: 8 / 10
Jose Enrique: 6 / 10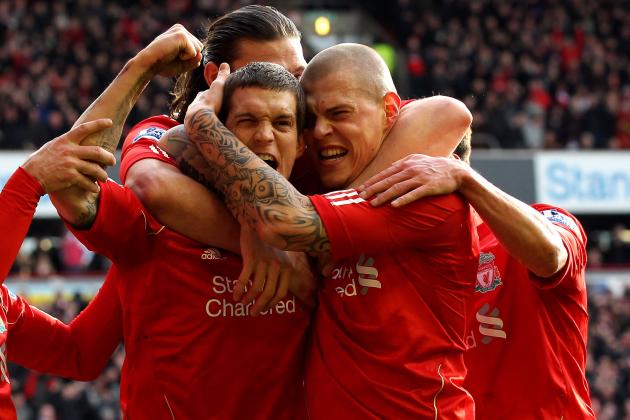 Alex Livesey/Getty Images

Liverpool's central defensive partnership of Martin Skrtel and Daniel Agger continued their fine form of the last few months with a resolute showing against Manchester United.
Daniel Agger headed his first goal of the season—his first goal since the end of the 2009-10 season in fact—to put Liverpool ahead in the first half and was strong in defence thereafter against United's midfielders breaking forward from deep.
The Dane put in the odd overly-strong challenge out by the touchline, once conceding a silly free kick after he failed to bring the ball under control, but was his imperious best for much of the game and brought the ball out of defence twice in his own inimitable style.
Usually when these back two have played together this season, Skrtel has played very well and Agger even better, but it was the other way round today as Martin Skrtel put in an impeccable performance to keep Danny Welbeck at bay.
Skrtel was dominant aerially, showed a good turn of pace to head off any danger of United players getting in behind the defence, and displayed great awareness and reading of the game to mop up a loose ball behind Pepe Reina on one occasion in the second half.
The shaven-headed Slovak was never pushed off the ball and made none of his trademark fouls, jumping in front of a forward to win a ball that didn't need winning.
A great display as a pair and individually.
Martin Skrtel: 9 / 10 and Man of the Match
Daniel Agger: 8 / 10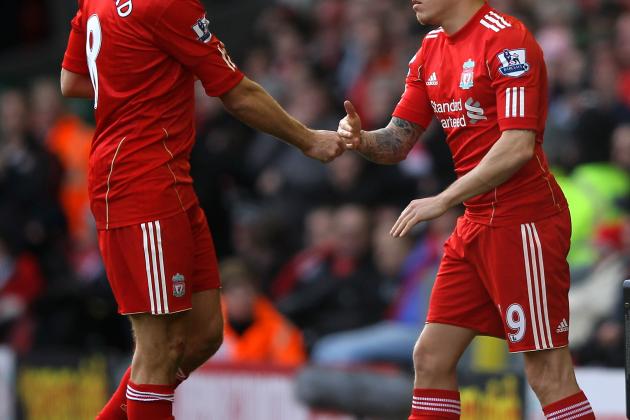 Alex Livesey/Getty Images

Kenny Dalglish brought birthday boy Jamie Carragher, celebrating his 34th year, into the side against Manchester United in what looked to be part of a three man defence.
However, Carragher lined up alongside fellow Academy graduate Steven Gerrard in a holding central midfield position ahead of a normal back four.
Carragher was rarely involved on the ball as Liverpool had little in the way of possession in the first half; his main work was in sideways movement and closing down the space in front of the Reds' penalty box as United passed their way from left to right and back again, looking to probe their way through the Liverpool defence.
Once or twice he put solid challenges in and made good interceptions—essentially doing well the job he was there to do.
Beside him, Gerrard also worked hard in the first half before being able to start attacks more often in the second half as the game opened up and Liverpool got on top more often.
It was the skipper's delivery from a corner on the left which led to Daniel Agger's headed opening goal, and one or two other set pieces also caused problems for United's desperate shot-stopper David de Gea.
The match was relatively quiet in an attacking sense for Gerrard, though he did manage one burst into the area in the first 45 minutes after latching onto Andy Carroll's ball and shooting over the bar.
Thereafter it was more a case of starting the moves from deep for Gerrard, before both he and Carragher were subbed after the hour mark.
Jamie Carragher: 6 / 10
Steven Gerrard: 7 / 10
Alex Livesey/Getty Images

Liverpool's more adventurous midfield play during the FA Cup match against Manchester United came from the two players out on the flanks, Stewart Downing on the right and Maxi Rodriguez on the left, and Jordan Henderson, who did well in a roving role playing just ahead of the midfield.
Henderson was busy all game long and asked questions of the United backline on the counter-attack, before getting on the ball in more measured build-ups during the second 45 minutes.
Clearly more comfortable in recent matches playing centrally instead of on the flank, Henderson has begun to show hints of what he is capable of in a Red shirt even if he is yet to hit his true top form.
Against United he was more aggressive on the ball, wanting to take the game to United and on two occasions in the first half he popped up on the left wing, once dribbling with pace past the right-back Rafael and delivering a good cross.
Later on he was switched to the right wing and then back central as Kenny Dalglish made his substitutes, but his role in the game, even though he didn't get on the ball as much as he would have liked during spells, should not be underestimated.
Stewart Downing picked up where he left off against Manchester City in midweek with a hard-working display, helping out Martin Kelly in defence and getting forward at pace whenever possible.
Downing's dribbling ability caused a few problems for United in the first half, though he lacked any real end product too often.
His crossing was also below-par for most of the game, though a couple of low right-footed efforts might have been more dangerous if Liverpool had been able to get more men into the box.
Maxi was the only real let-down in an attacking sense out of the trio, though he also played his part in doing the defensive work required.
The Argentine was substituted midway through the second period, when in fact he could easily have been leaving the pitch at that moment having been sent off, when he jumped into a tackle with both feet off the ground.
Jordan Henderson: 7 / 10
Stewart Downing: 6 / 10
Maxi Rodriguez: 6 / 10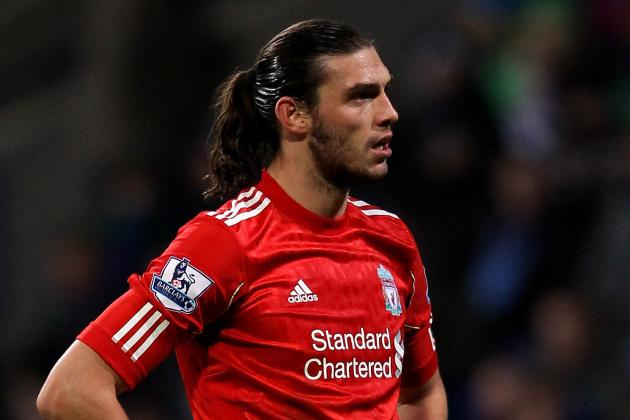 Alex Livesey/Getty Images

Considering the ball didn't touch his feet direct from a team-mate's pass for about the first hour of the FA Cup match against Manchester United, Andy Carroll put in a much-improved performance and was a big part of the reason Liverpool were able to go on and win the match.
This was not vintage Carroll, or vintage No.9 play, by a long stretch—but let's be quite honest: the service Andy Carroll received from those behind him was pretty shocking.
The big Geordie closed defenders down more often and quicker than he has done previously; he will never match Craig Bellamy's all-out-action style of harrying the opposition but he did put them under pressure.
He was also a target for repeated aimless balls in the first half and did about as well as could be expected of him with next to nothing played to him accurately or helpfully, one time in particular controlling with his chest and leaving Chris Smalling for dead in the centre circle before releasing Steven Gerrard to charge forward.
David de Gea was more preoccupied with moving Carroll out of the way than actually doing his job any time Liverpool won a threatening set piece, and so resulted the opening goal of the game as de Gea totally ignored the impending threat of Daniel Agger in favour of pushing Carroll out of his six yard box.
The Reds forward also claimed the assist for the winning goal, flicking on a Reina pass for Dirk Kuyt to rush in and win the match late on, before indulging in some excellent hold-up play with—yes, it's true—some close control by the corner flag to run down time late on.
One gets the feeling that Carroll was told in no uncertain terms that this match was make or break for him for the season, with Luis Suarez close to returning from suspension and Bellamy in scintillating form recently.
If that was the case, then despite not having a huge amount of time on the ball during the match, Andy Carroll can consider today one big step in the right direction with his performance.
Andy Carroll: 7 / 10
Alex Livesey/Getty Images

Kenny Dalglish went for the impact of quick changes against Manchester United, using all three of his substitutions within a ten minute spell in the second half to freshen up his troops, change the system around a little and take the game to his opponents.
The ploy worked as Liverpool started to dominate the game soon after the first changes were made, though they had in general worked their way back into the game in the second half.
Charlie Adam was his usual bustling and abrasive self in the middle of the park, spraying passes and bundling over opponents with equal vigour, as well as firing a bobbling effort just wide of the post from distance.
Craig Bellamy got a hero's reception when he entered the fray with 20 minutes remaining after his match-winning performances recently, though his impact was actually minimal in this instance.
The biggest cheer of the game was reserved for Dirk Kuyt, who freed himself from the attentions of Patrice Evra—and didn't every Liverpool fan love that—with just two minutes left on the clock to fire a first-time shot past David de Gea and win the match.
Credit to Kuyt for finding the target after a wretched run in front of goal this season—but even bigger credit to Kenny Dalglish for being brave and decisive and making the changes to swing the game in his team's favour.
Charlie Adam: 6 / 10
Dirk Kuyt: 7 / 10
Craig Bellamy: 6 / 10