Senior Bowl 2012: Quinton Coples and Stars Who Will Increase Their Stock
January 28, 2012

Geoff Burke/Getty Images
The 2012 edition of the Senior Bowl serves several purposes.
For NFL teams, it's a good way to see how players perform away from the comfortable surroundings of their college and familiar teammates.
On the other hand, this is the chance for the players to showcase why they were invited to the event and how talented they really are. At the end of the day, everyone is working toward the same goal; succeeding in the NFL.
Keep an eye on all of the following players; they may wind up on your team. That would be a very good thing.
Quinton Coples, DL, UNC
North Carolina has been putting out stellar defensive linemen over the past few seasons. Quinton Coples is another perfect example of that.
At 6'6" and 285 pounds, he has the ability and versatility to walk into the NFL and be a dominant force at defensive end or defensive tackle. That's exactly what teams want to hear.
With more room on his frame to add weight or muscle, there isn't a team in the NFL that couldn't use him to fill a void somewhere on its defensive line.
While he would be dominant in any system, I see him as a 3-4 defensive end that can not only get after a running back, but put pressure on the quarterback with a heavy pass rush.
Janoris Jenkins, DB, North Alabama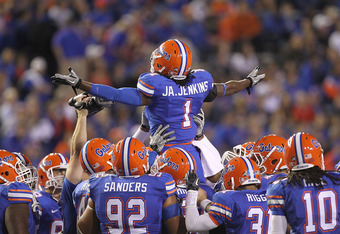 Mike Ehrmann/Getty Images
While there are still serious questions about his state of mind since being let go from Florida, North Alabama star cornerback Janoris Jenkins is one of the most underrated players in this year's draft.
Jenkins may be a bit undersized at 5'10", but he more than makes up for that in his ability to play any system well. He has played in man schemes, zone schemes and every other scheme you can name in his college football career.
The Senior Bowl will be Jenkins chance to not only show the right people that he is as talented now, if not more talented, than he ever was in Florida, but show that he has grown up and become a man. If he shows maturity, he is a high first-rounder for sure.
Cordy Glenn, OL, Georgia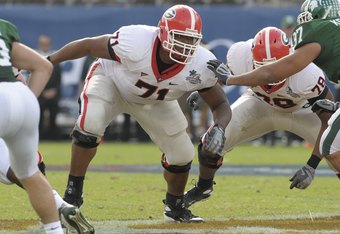 Al Messerschmidt/Getty Images
Where to start with Georgia offensive lineman Cordy Glenn, who can play and has played every position on the offensive line this season? It's that versatility that is catapulting this kid up the draft  boards.
Another reason for his surge amongst scouts is just how athletic Glenn is for his size (6'6" and 348 pounds). The Senior Bowl should showcase exactly what Glenn is made of.
After playing his career in the tough SEC against some of the best defensive prospects in the world, Glenn will have no problem showcasing his talents at the Senior Bowl and making a deep enough impression to warrant a very high first-round draft pick.
Check back for more on the NCAA Football as it comes, and check out Bleacher Report's College Football Page to get your fill of College Football.