USC Football Recruiting: Tracking 2012 National Signing Day Targets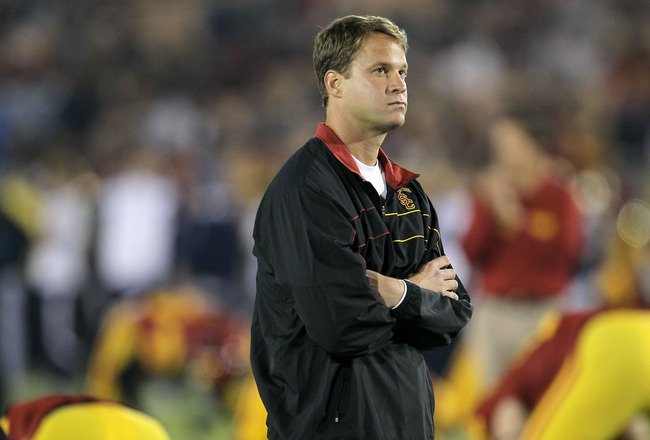 Stephen Dunn/Getty Images
Though the college football season officially ended earlier this month, the "second season," that being recruiting, is just now culminating.
And as any serious fan of the game can tell you, it is recruiting that forms the foundations for any successful program.
National Signing Day for these high-profile recruits is Wednesday, Feb. 1, and despite the Trojans operating under the shackles of reduced scholarships, they are expected to be in the mix for some of the most highly-rated prospects in the nation.
This slideshow will look at the recruits USC is targeting, as well as those who have already given the Trojans their verbal pledge.
Also, information will be posted on these recruits as it becomes available, so don't forget to check back often.
So let's get started with this look at the Trojans of the future.
Andrus Peat, Offensive Tackle, Corona Del Sol High School, Tempe, Ariz.
Depending on which recruiting service you read, Andrus Peat is either the highest-rated offensive tackle or close to it.
At 6'7", 305 lbs and lean as can be, Peat mixes power and mobility into a frightening package for whomever is unlucky enough to be across the line from him.
Peat is ranked as the No. 9 offensive tackle in the nation according to Scout.com.
Peat has taken a trip to USC, and from all accounts enjoyed himself.
However, Peat's brother plays at Nebraska and that is where most expect him to wind up.
Committed to Stanford on 2/1
Tracy Howard, Cornerback, Miramar High School, Miramar, Fla.
Rated a 5-star prospect by Scout.com and the No. 4 safety in the nation by that recruiting service, Tracy Howard has everything one would look for in a big-time cornerback.
At 6'0", 175 lbs and blessed with 4.4 forty speed, Howard will need to put on some weight at the next level, but he has the frame to do that easily.
A sure-handed defender, Howard had four interceptions as a junior and had a solid senior season.
Though he has made a trip to USC, Howard is expected to eventually settle on Florida when all is said and done.
Committed to Miami on 2/1
Kyle Murphy, Offensive Tackle, San Clemente High School, San Clemente, Calif.
In a class loaded with great offensive linemen, Kyle Murphy may be the best of them all.
At 6'7", 295 lbs, Murphy is a great combination of speed and power and his nimbleness is possibly his best attribute.
Rated a 5-star prospect by every recruiting service I have read and the No. 4 offensive tackle in the country according to Scout.com, Murphy is down to only two possible destinations. USC is one of them.
Committed to Stanford on 2/1
Nelson Agholor, Safety/Athlete, Berkeley Prepatory School, Tampa, Fla.
One of the most electric athletes in the nation, Nelson Agholor's versatility has made him an extremely attractive recruit for Lane Kiffin and his staff.
Playing on both sides of the ball as a running back and safety, Agholor is expected to stay on the defensive side of the ball but could be given a look at tailback, given the Trojans lack of depth at the position.
Rated as No.5 safety in the nation according to Scout.com, Agholor will have visited USC by the time you read this and he has them rated as "high" in terms of his interest.
Committed to USC on 2/1

Leonard Williams, Defensive Tackle, Mainland High School, Daytona Beach, Fla.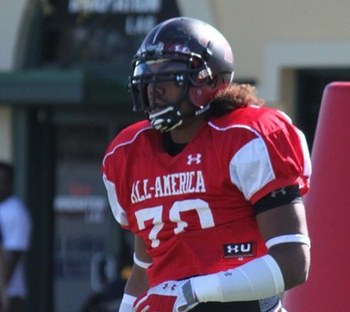 photo from recruiting.scout.com
If there is one position the Trojans really need to replenish (besides running back), it's defensive tackle.
And the best of who's left is big Leonard Williams.
A very mobile interior lineman at 6'5", 280 lbs, Williams has the kind of frame to pack on a lot more weight at the college level.
Rated the No. 13 defensive end in America by Scout.com, Williams will likely end up on the interior when all is said and done.
And on the plus side, Williams grew up in the Los Angeles area and he took an official visit to USC a week or so ago and liked what he saw.
However, the Trojans have a bunch of competition for his services.
Committed to USC on 2/1
Tyriq McCord, Defensive End, Jefferson Senior High School, Tampa, Fla.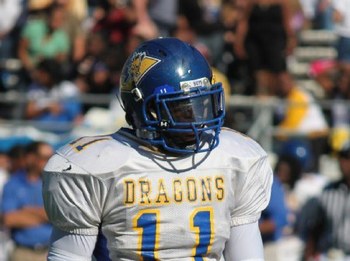 At one time, it looked like the Trojans were a serious player for the lightning-quick defensive end from Florida.
Now, not so much, although he will be visiting USC on this weekend.
Although light (235 lbs) for a D-end, McCord has the body to pack on more weight at the next level.
However, it is his quickness that makes McCord so attractive to the Trojans—especially defensive line coach Ed Orgeron.
Averaging more than a sack a game during his senior year after collecting 18 as a junior, McCord is a blur coming off of the edge but only ranked 28th at his position by Scout.com.
Verbal to Miami (Fla.)
Justin Shanks, Defensive Tackle, Pratville High School, Pratville, Ala.
photo from floridastate.scout.com
If Leonard Williams doesn't come on board for the Trojans, they would be just fine with big Justin Shanks.
Shanks, who goes 6'5" and a whopping 320 lbs, is not just a statue in the middle either.
Surprisingly quick for such a big man, Shanks can get to the quarterback, although he is better suited as a run-stuffer.
Shanks is rated as the No. 10 defensive tackle in the country according to Scout.com.
Shanks will be visiting USC on the weekend of the 27th, so the Trojans are still a player, but Florida State has the big fella's verbal at this point.
Verbal to Florida State
Zach Banner, Offensive Tackle, Lakes High School, Lakes, Wash.
Of the remaining high-profile offensive linemen in this class, Zach Banner appears to be the one most likely to don the cardinal and gold when all is said and done.
A massive young man at 6'9", 295 lbs, Banner combines all that size with surprising mobility that is displayed in his ability to also star as a basketball player.
Ranked the No. 13 offensive tackle in the nation by Scout.com, Banner made a trip to USC, loved it and will choose between Washington and the Trojans.
UPDATE: Committed to USC on 1/30
Bryce Treggs, Wide Receiver, Saint John Bosco High School, Bellflower, Calif.
California has a lot of great wide receivers in this class. Among them is Bryce Treggs from Saint John Bosco High School in Bellflower, Calif.
Treggs, 5'11", 175 lbs, doesn't have elite size, but he makes up for it with his route running and "after the catch" skills.
In his senior season, Treggs had 71 receptions for 1377 yards and 11 touchdowns and is considered by Scout.com to be the No. 5 receiver in the country.
Long considered a Cal "lock," Treggs opened up his recruitment when Cal's coaching staff underwent a facelift, but USC is still considered a longshot.
Committed to Cal
Aziz Shittu, Defensive Lineman, Buhach Colony High School, Atwater, Calif.
Still another defensive lineman that the Trojans covet, Aziz Shittu's versatility makes him attractive to USC.
Able to play tackle in a 4-3 scheme or end in a 3-4, Shittu is equally effective at either position.
Very quick for his size (6'3", 285 lbs), Shittu is explosive off of the edge, yet strong enough to dominate opposing runners.
Shittu is ranked the No. 14 defensive tackle by Scout.com.
After taking a trip to USC, the Trojans entered the picture as a rival to favorite Stanford, but they still have an uphill climb for Shittu's services.
Committed to Stanford on 2/1
Jabari Ruffin, Outside Linebacker, Downey High School, Downey, Calif.
The next eight slides will feature players that have already given USC their verbal pledge to play for the men of Troy.
The first of these is Jabari Ruffin, a 4-star (Scout.com) linebacker who has a chance to be really special for the Trojans.
Blessed with great size (6'3", 230 lbs), Ruffin is quick enough to play running back in high school, but his true talent is at linebacker where his sideline-to-sideline speed makes it nearly impossible for opposing runners to turn the corner.
Ruffin is thought to be the No. 13 outside linebacker in America according to Scout.com.
Status: Verbal to USC
Max Tuerk, OL, Santa Margarita High School, Santa Margarita, Calif.
The Trojans needed offensive linemen this year and big Max Tuerk was one of the first to step up and heed the call.
Versatile enough to play anywhere along the line except center and big enough (6'5", 295 lbs) to dominate, Tuerk will be a contributor sooner rather than later for the Trojans.
Rated a 4-star prospect by Scout.com, Tuerk was one of the most highly sought-after linemen in the nation and is ranked No. 6 at his position by Scout.com.
Status: Verbal to USC
Jordan Simmons, Offensive Guard, Crespi High School, Encino, Calif.
Along with Max Tuerk, the Trojans other big (literally) offensive lineman "get" is mammoth guard Jordan Simmons.
Simmons, 6'5", 340 lbs, dominated his opponents at Crespi and is expected to do the same for the Trojans.
At USC, Simmons will be looked at first on the interior but has the talent to play tackle if he sheds a few pounds of that baby fat.
However, at guard, he is ranked No. 4 in the nation by Scout.com.
Status: Verbal to USC
Jalen Cope-Fitzpatrick, Tight End, Whitney High School, Rocklin, Calif.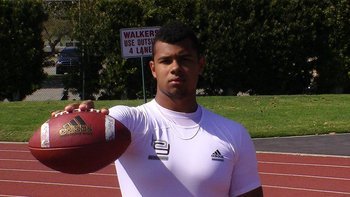 Though the Trojans are well stocked at the tight end position, when Jalen Cope-Fitzpatrick showed interest in USC, he was simply too good to pass on.
Rated the best at his position in the nation by ESPN, Cope-Fitzpatrick combines great size at 6'5", 250 lbs, with a pair of the softest hands you could ask for.
Though his senior stats weren't particularly impressive (29 receptions for 433 yards and five touchdowns), look for Cope-Fitzpatrick to do far more for the cardinal and gold.
Status: Verbal to USC
Kevon Seymour, Cornerback, Muir High School, Pasadena, Calif.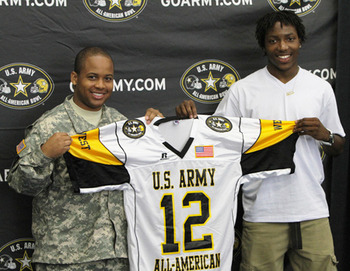 photo from recruiting.scout.com
The Trojans need to start building for the future at cornerback. What better way to start than Kevon Seymour from Muir High School in Pasadena, Calif.?
Seymour, who has great ball-hawking skills and the all-important "swivel hips" will be a fixture at his position for years to come.
Though he will have to add some weight (170 lbs) to his 5'11" frame, Seymour has the ability and, more importantly, the desire to do so.
Seymour is rated the No. 14 cornerback by Scout.com.
Status: Verbal to USC
Darreus Rogers, Wide Receiver, Carson High School, Carson, Calif.
In Darreus Rogers, the Trojans think they have a big-time receiver to join a unit that is all of a sudden depleted with the recent departures of Brice Butler and Kyle Prater.
Actually, Rogers, at 6'2", 200 lbs, is a big-time receiver, but the reason the Trojans only think they have him is because of recent rumblings that he may join a USC Pac-12 rival instead of them.
In any event, Rogers has great hands and body control and can take over a game when he puts his mind to it and is rated the No. 10 receiver in the country by Scout.com.
Chances are Rogers signs with the Trojans, but it is not quite as sure a thing as it once was.
Committed to USC on 2/1
Pio Vatuvei, Defensive Tackle, Patterson High School, Patterson, Calif.
As stated before, the Trojans need interior defensive linemen. In Pio Vatuvei, they think they have found a real sleeper at the position.
Vatuvei has good size (6'2", 275 lbs) and mobility, especially in terms of stuffing the run.
Rated either a 3- or 4-star prospect depending on the recruiting service, Vatuvei had a real nice senior season where he had 12.5 sacks.
Vatuvei is rated the No. 43 defensive end by Scout.com but will play tackle in college.
Committed to Washington on 2/1
Jahleel Pinner, Fullback, Mission Viejo High School, Mission Viejo, Calif.
With the dearth of running backs now in the Trojans stable thanks to the transfers of Dillon Baxter and Amir Carlisle, along with Marc Tyler's graduation, getting a big back in Jahleel Pinner will be huge for USC going forward.
Pinner, originally recruited as a fullback (he is ranked No. 2 at this position in the nation by Scout.com), has the size at 6'0", 225 lbs, to get the tough yards inside and can catch ball coming out of the backfield.
His senior stats, while not overwhelming, are still solid, including 10 touchdowns, over 550 yards rushing and 20 receptions.
Status: Verbal to USC
Keep Reading

USC Football: Like this team?