NHL Skills Competition 2012: Past Success Favors Team Chara
January 27, 2012

Gregory Shamus/Getty Images
Call Zdeno Chara what you want—a homer, a Slovakian giant, a Boston Bruin, an NHL superstar, a Stanley Cup champion, a vicious hitter.
But when the 2012 NHL All-Star Weekend is all said and done, you'll have to call him a smart team captain, as well.
For the skills competition, anyway.
Chara will look to defend his own title in the hardest shot challenge, wherein last year he set a league record with a 105.4-mile-per-hour snipe, edging Shea Weber of the Nashville Predators, whose blast clocked in at 104.8 miles per hour.
Team Chara also sports a former champion in the fastest skater competition in the form of Marion Gaborik. Of course, the New York Rangers winger won't be participating in the event—he last won it in 2003—though Team Chara will still be in prime position to win with Toronto Maple Leafs winger Phil Kessel and Ottawa Senators rookie Colin Greening on hand.
Then again, Daniel Alfredsson's squad sports the "quickest" player at Scotiabank Place.
Los Angeles Kings goalie Jonathan Quick, that is.
Team Alfredsson would seem to have the upper hand in the accuracy shooting phase, thanks to the presence of 2011 winner Daniel Sedin.
That is, until you consider that Team Chara has three past champions on his side—Jarome Iginla (2002), Marian Hossa (2007) and Evgeni Malkin (2008).
Furthermore, Team Chara will be well represented in the elimination shootout, with 2008 winner Dion Phaneuf and 2011 winner Corey Perry suiting up for Chara's side.
The score of the skills competition, though, may well turn on the results of the breakaway challenge and the skills challenge relay. Washington Capitals winger Alexander Ovechkin is the only player who's ever won the breakaway, but is essentially protesting the All-Star Game on account of a three-game suspension he's currently serving. Hence, the breakaway may well be little more than a toss-up at this point.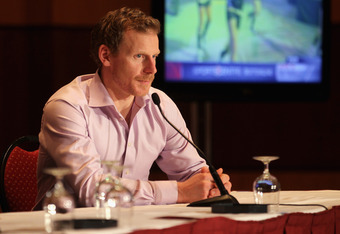 Bruce Bennett/Getty Images
The same goes for the relay, the fate of which rests on 16 players per team—14 All-Stars and two rookies—and is in just its second year of existence.
That being said, if Team Chara holds serve with its superior slap-shot, sharpshooting and survival skills and remains competitive in the other three competitions, than it will come away victorious, leaving Daniel Alfredsson to deal with the shame of failure in front of his hometown fans.