Premier League Goalkeepers: Complete Power Rankings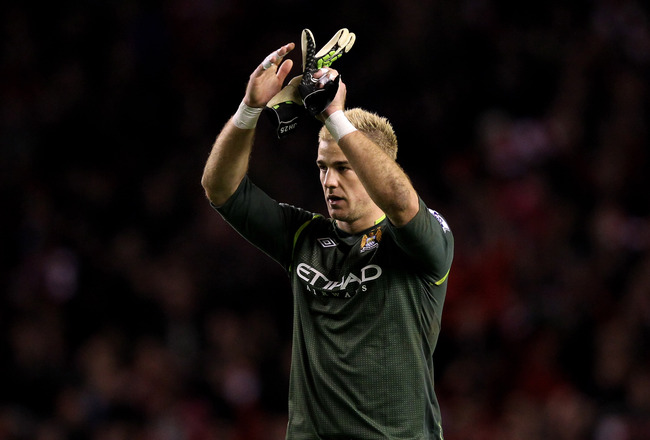 Alex Livesey/Getty Images
We're just past the half-way point of the EPL season, which means it's time to reflect on what we have seen thus far.
What better to do, then, than to rank the top players at each position?
This list starts us off with the No. 1, the guy who stands back there with the big gloves and is the last line of defense to the goal.
I took all of the 20 goalkeepers in the Premier League and listed them from worst to first.
As with other power rankings, I have weighted recent performance heavier than past performances.
Agree or disagree? Leave a comment below.
20. Adam Bogdan (Bolton)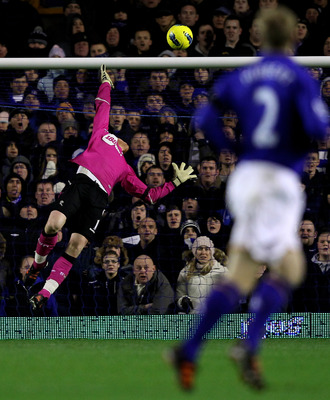 Alex Livesey/Getty Images
Yes, Bolton have been less than stellar in every department this season.
However, Bogdan has not been very inspiring either.
Despite climbing out of the relegation zone at the moment, the Wanderers have conceded the most goals in the EPL thus far.
Sorry, this Hungarian red-head bottoms out my list.
19. Ali Al-Habsi (Wigan)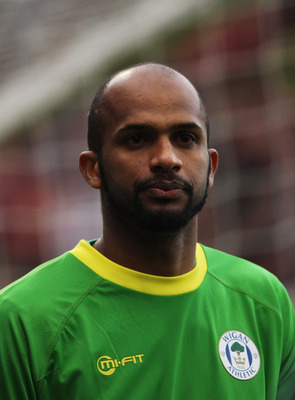 Scott Heavey/Getty Images
Al-Habsi may be hindered by a poor team, but his play has been equally as poor of late.
Unless his play improves dramatically, I doubt Al-Habsi and Wigan will be playing in the Premier League next season.
18. John Ruddy (Norwich City)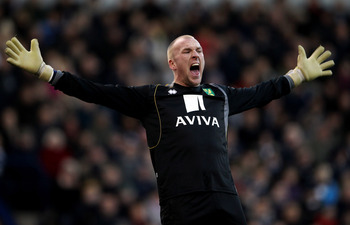 Scott Heavey/Getty Images
Ruddy's concession rate has been poor this season, but somehow his club sits in the top half of the league.
He kept his first clean sheet of the season last week, so maybe things will turn around for him.
However, I'm sure he'll be happy just to keep his team where they are right now.
17. Paddy Kenny (QPR)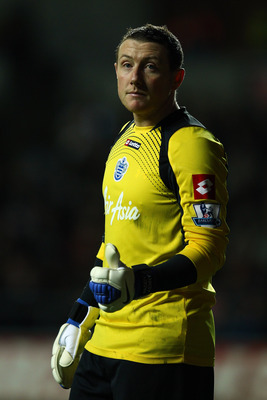 Richard Heathcote/Getty Images
Probably the most inconsistent keeper on the list.
Some days, he can shut your team down. Some days, he'll concede six to you.
With QPR struggling to find the back of the net, Kenny will have to be more consistent to keep his team up for next season.
16. Paul Robinson (Blackburn)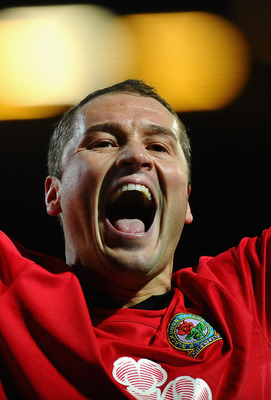 Laurence Griffiths/Getty Images
The ex-England No. 1 has suffered this season.
Of course, he has had to deal with the loss of the fans and the Steve Kean era at Blackburn, but he is certainly not making the best of a bad situation.
15. Mark Schwarzer (Fulham)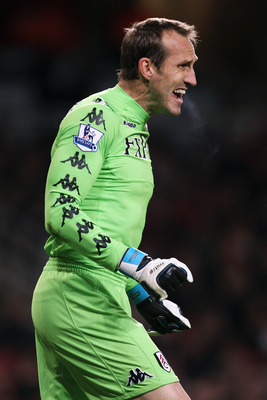 Scott Heavey/Getty Images
Schwarzer's season has not been amazing, but it has been solid.
Sure, his concession rate is not great, but lopsided defeats to high competition (including 5-0 to Man U) has stopped that rate from being telling of his performance.
14. Wayne Hennessey (Wolves)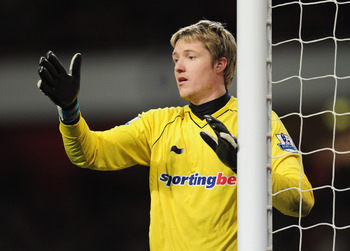 Shaun Botterill/Getty Images
This Welshman is another young talent that has incredible potential.
However, he has a leaky defense and is failing to rise to the occasion.
Now, his club lies in the relegation zone.
Hennessey needs to turn some of his potential into present-day talent over the last half of the season to save his club.
13. Asmir Begovic (Stoke City)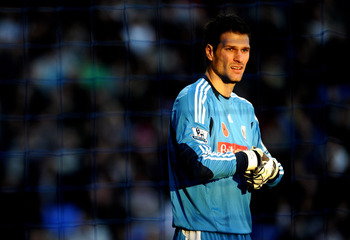 Laurence Griffiths/Getty Images
Begovic, 24, has some incredible potential.
This comes through in his performances against top teams, in which Stoke has conceded few goals.
However, Stoke concedes just as many goals against lower-half teams; some of those goals were less than convincing.
If Begovic could find a way mimic the form he has against top teams all the time, then he will move up this list quickly
12. Tim Howard (Everton)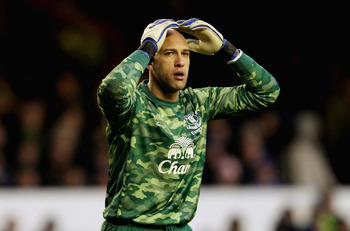 Scott Heavey/Getty Images
Howard's club hasn't given much support to him, but the American No. 1 has fought bravely despite this.
He may have been able to score a rare goal, but Howard's inability to keep some of the more important goals out keeps him a little further down on the list.
11. Petr Cech (Chelsea)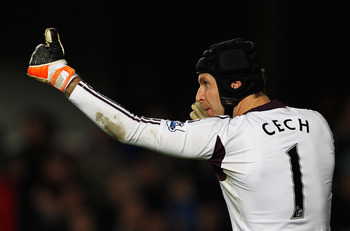 Paul Gilham/Getty Images
Once the greatest keeper in England, Cech's play has fallen off for Chelsea recently.
His play attacking balls that are being challenged has been especially called into question.
This may be because of his multiple head injuries, but Cech is certainly not playing up to snuff for his fantastic reputation.
10. Anders De Lindegea (Manchester United)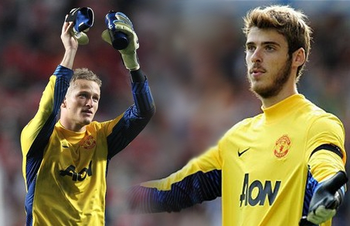 Anders de Lindegea is my amalgamation of Anders Lindegaard and David de Gea, the duo that has minded the net for Man U so far this season.
De Gea started the season under intense criticism. He may have let in a few borderline howlers, but the Spaniard also made a few great saves that went unnoticed.
Since Lindegaard has seemingly taken over the net, his play has been steadier, but the rate at which he has conceded has not been vastly superior to de Gea's.
It may not be clear who will be the keeper of the future, but there is one thing that is clear from this situation: at 21 and 27, both have a fantastic future ahead of them.
9. Ben Foster (West Brom)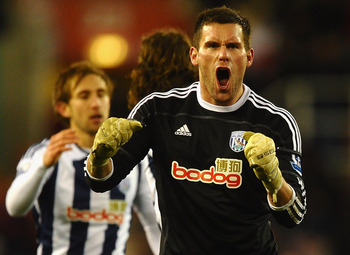 Laurence Griffiths/Getty Images
Not too much has changed with West Brom from last year.
One big difference, though, is the addition of Ben Foster.
After conceding by far the most goals in the Premier League last season, West Brom is comfortably in the middle of the pack.
That statistic should speak for itself.
8. Shay Given (Aston Villa)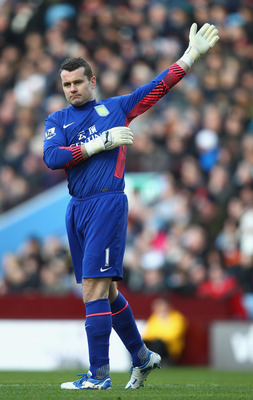 Clive Mason/Getty Images
Shay Given's career looked over when Hart replaced him in net for Manchester City.
However, just a few years later, the Irishman is playing fantastically for Villa.
His best years may be behind him, but Given is looking in good form for a run at Euro 2012 with the Irish.
7. Craig Gordon (Sunderland)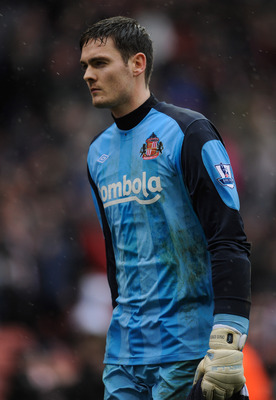 Michael Regan/Getty Images
Surprisingly, Sunderland has the fourth-least goals conceded this season.
That is mostly thanks to Gordon, who has been outstanding in net.
All of the sudden, Sunderland is one of the toughest places to pick up a win. Just ask Man City (lost 1-0) or even Chelsea (won on a bit of a fluke goal) this past month.
6. Wojciech Szczesny (Arsenal)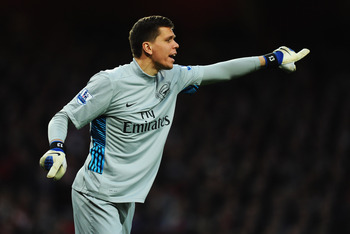 Mike Hewitt/Getty Images
Szczesny started the season shakier than a house of cards in a hurricane, just like Arsenal.
However, he has just gotten better and better as the season has progressed.
Sure, the consistency is not quite up to snuff yet, but at 21, Szczesny's future is looking very bright.
5. Michel Vorm (Swansea City)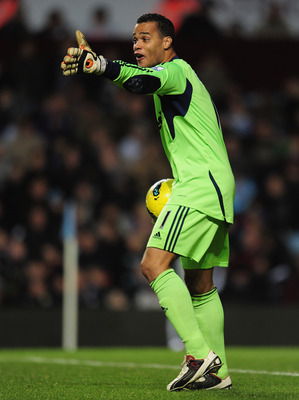 Shaun Botterill/Getty Images
Looking for someone to thank for Swansea's incredible run in the Premier League this season?
Here's the guy.
Vorm's performances behind a less than potent strike force have been heroic.
The Dutchman may be destined for bigger and better things than Swansea, but his play this season may be enough to keep the Welsh squad up this season and make him a club hero.
4. Pepe Reina (Liverpool)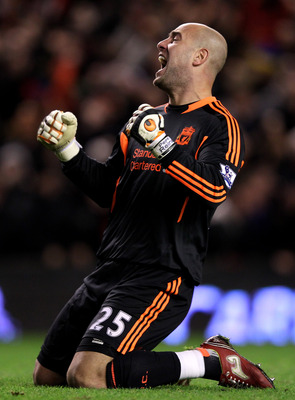 Alex Livesey/Getty Images
Reina is having an underrated season thus far.
While Liverpool has been struggling to find goals from anyone not named Suarez, Reina has been keeping Liverpool in the hunt for European football.
Despite a shaky defense (just look at the Bolton match), Pool has conceded the second-fewest goals in the EPL thus far and are lurking in seventh place.
Yes, Reina has allowed a few goals where he could have done a bit better (Man City comes to mind), but without Reina, it is questionable where Liverpool would be right now.
3. Brad Friedel (Tottenham Hotspur)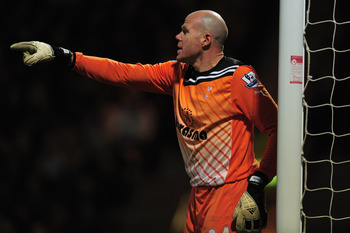 Jamie McDonald/Getty Images
The old man of the Premier League has proven so far this season that age is just a number.
At 40 years old, Friedel has played incredibly for Spurs, holding down a back line that was shaky at best just last season.
Sure, Scott Parker and Adebayor were big signings in the summer, but Friedel is arguably the biggest reason Spurs went from a distant fifth a year ago to firmly controlling third today.
2. Tim Krul (Newcastle United)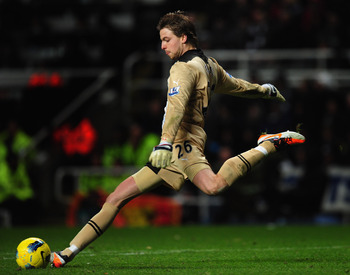 Stu Forster/Getty Images
Krul's start to the season was incredible. His performances in net, especially in the first match against Manchester United, were the best in any part of the world this season.
However, he has cooled off with his club slightly.
At 23, he has proven his potential to be the best in the world, but his consistency has him at No. 2.
1. Joe Hart (Manchester City)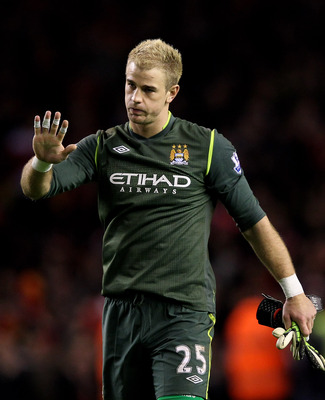 Alex Livesey/Getty Images
The England No. 1 tops this list as well.
Manchester City has conceded the least amount of goals so far this season, and that is due mostly to the services of Joe Hart in goal.
Hart's acrobatic saves and great positioning have allowed City to be defensive stalwarts and attack with conviction.
His consistency has been unrivaled.
And the best part? He's 24, so he'll be around for years (and World Cups) to come.
Keep Reading