Penn State Football Recruiting: Tracking 2012 National Signing Day Targets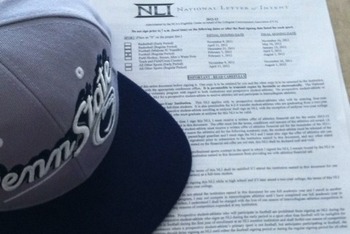 The letters are ready to be signed and faxed. The baseball caps are ready to be placed on the head. Will the top high school player near you choose to go to your favorite college football program, or your biggest rival?
This is the buildup for National Signing Day, the first day high school seniors can sign their official national letters of intent, which declare where they will play their college football. At Penn State the day will be one of the most scrutinized in recent memory with Bill O'Brien doing everything he can to manage to keep a Class of 2012 together while attempting to restore the image of the stained football program.
Here is a walk through each recruit who has either committed to Penn State or is in the running for the Nittany Lions according to the recruiting experts.
Demetrious Cox, Cornerback, Jeannette (Jeannette, PA)
Demetrious Cox will play in the Big Ten, but he will be playing in East Lansing for Michigan State. The 13th ranked safety is a tremendous pick-up for the Spartans. having played his high school football at the same high school as Terrelle Pryor some felt he may follow in Pryor's foot steps en route to Ohio State, where Urban Meyer is putting together a tremendous recruiting class.
After visiting Penn State earlier in January, Cox made visits to Wisconsin and Ohio State. He had previously visited Michigan State.
Penn State has focused on defense overall this recruiting season and losing out on Cox is the latest miss for the program.
Status: Solid verbal to Michigan State
Wayne Morgan, Cornerback, Erasmus Hall Campus (Brooklyn, NY)
Brooklyn's Wayne Morgan is considered a bit of a wild card for Penn State right now but of the six schools to extend offers Penn State could be rising in the bunch. If Penn State can lure in the fifth ranked prospect in New York it would be considered a strong addition. Penn State has focused on the cornerback position this recruiting season, as needed. Missing out on Morgan would not seem to be a terrible loss if they line up the rest of their prospects, but he would certainly add some quality depth to the position very quickly.
Committed to Syracuse on 2/1
Skyler Mornhinweg, Quarterback, St. Joseph's (Philadelphia)
The Philadelphia quarterback, son of Philadelphia Eagles offensive coordinator Marty Mornhinweg, switched his college choice late in the game. The previous Penn State commit was mum on his future in the wake of the Jerry Sandusky scandal and now it appears he will be heading to Florida instead.
The loss of Mornhinweg may be off-set by the addition of Steven Bench under center in this year's recruiting class. But with some good depth already at the position with Matt McGloin, Rob Bolden and Paul Jones, and with a top quarterback already offered for the Class of 2013, this loss could pan out to be a minor blemish.
Status: Solid verbal to Florida
Jamil Pollard, Defensive Tackle, West Deptford (Westville, NJ)
New Jersey's Jamil Pollard appears to be heading to Penn State after initially having his scholarship offer pulled due to academic reasons. Pollard ultimately chose Penn State over Boston College. Former Nittany Lion Anthony Scirrotto was one of Pollard's high school coaches, so it is possible that may have helped keep Pollard heading to State College.
Pollard will find a spot on the defensive line, where it will be up to Larry Johnson Sr. to do some coaching to see if he can mold another stud defensive linemen the way he has with Devon Still, Jared Odrick, and perhaps Jordan Hill moving in to 2012.
Status: Soft verbal
Jesse James, Tight End, South Allegheny (McKeesport, PA)
Penn State's first official member of the Class of 2012 committed to Penn State last March and is already enrolled.
James is a three star tight end and Rivals ranks him as the 21st top player overall in Pennsylvania. Given Bill O'Brien's offensive game planning focusing on tight ends, expect James to be a part of the offense as early as possible.
James enrolled early and is already locked up for Penn State.
Status: Committed (Enrolled)
Steve Bench, Quarterback, Cairo (Cairo, GA)
Penn State lost a quarterback recruit late in the game to Florida (Skyler Mornhinweg) but Bill O'Brien's staff added a dual-threat quarterback the same week with Steve Bench. Bench, out of Georgia, is a three-star recruit measuring in at 6'3", 206 lb.
O'Brien made it a point to say they had to take recruiting in to the south. If Bench pans out well it could be the start of a change in philosophy when it comes to recruiting at Penn State.
Bench was not highly recruited, only receiving offers from Rice and South Alabama at the FBS level (South Alabama moving up) and a handful of FCS programs.
Status: Solid verbal
Da'Quan Davis, Defensive Back, Calvert Hall (Towson, MD)
Da'Quan Jones was a late addition to Penn State's recruiting class. After initially committing to West Virginia, Penn State swayed him to their program using Larry Johnson's influence in recruiting out of Maryland. Johnson has always recruited well in the state and Davis will help add some depth to a position being hit hard by graduation. Look for Davis to join former high school teammate Adrian Amos in the secondary relatively quickly as starting jobs will be up in the air for many under new head coach Bill O'Brien.
Status: Solid verbal
Derek Dowrey, Defensive Tackle, John Handley (Winchester, VA)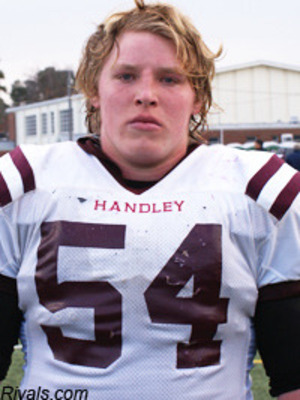 Defensive tackle Derek Dowrey, out of Virginia, will be another project player for Larry Johnson Sr. on the defensive line. Dowrey is just a two-star recruit according to Rivals.com, so take that for what you will. At 6'3" 279, pounds Dowrey wouldn't be held back by adding a few more pounds of muscle.
Dowrey made his commitment to Penn State in June and never seemed to consider leaving in the wake of the scandal on campus. Dowrey did have concerns about losing Bill Kenny on the staff after establishing a relationship with him but is happy with the direction of the program moving forward.
Status: Solid Verbal
Brian Gaia, Offensive Line, Gilman School (Baltimore)
Brian Gaia was one of the earlier recruits lined up for the Class of 2012, and for Penn State to keep Gaia in the fold following the Jerry Sandusky scandal should be a testament to the work done by the coaching staff before and after the changes made. The offensive guard out of Maryland is the eighth ranked prospect in the state and held offers from Iowa, Maryland, Pittsburgh and West Virginia. Penn State was the only school he visited though so it appears he was set and prepared to follow through with his commitment.
Penn State is always in need of offensive linemen, and with new head coach Mac McWhorter joining the staff, with his background, Gaia should be in good hands moving forward.
Status: Solid verbal
Malik Golden, Athlete, Cheshire Academy (Cheshire, CT)
Penn State may have picked another top player out of Connecticut, the home state of running back Silas Redd. Malik Golden comes from a different school but he is the second-ranked prospect in the state and can bring versatility to the team.
Golden is listed as an athlete so he can fill in at a couple spots. After meeting Bill O'Brien Golden says that if he comes to Penn State he will likely focus on the offensive side of the football, which is an area in the Class of 2012 that could use an extra play maker if possible. It is expected that Golden would be given a shot at wide receiver with his 6'1" 185 pound frame.
His recruitment is still considered to be open, but Penn State may still be the final decision when it comes to signing his letter. Iowa and Connecticut are thought to be the biggest threats.
Status: Soft Verbal
Austin Johnson, Defensive Tackle, St. Augustine (Richland, NJ)
New Jersey defensive tackle Austin Johnson committed to Penn State last June and never seemed to shy away from his commitment. Johnson is a three-star prospect from St. Augustine and his only other offer was from Villanova. Johnson never really allowed his recruitment to open up to many other schools following his early commitment.
Johnson's 6'4" 276 pounds will be worked in the middle of the defensive line, where position coach Larry Johnson Sr. has worked plenty of magic before.
Status: Solid verbal
Jake Kiley, Athlete, New Hampton Prep (New Hampton, NH)
Penn State will welcome the addition of two-star recruit Jake Kiley, another athlete who can bring some versatility to the offense. But it appears that Kiley will be placed on the other side of the football.
Kiley was wowed by his meeting with defensive back coach John Butler, which indicates that Kiley will get a chance to play in the secondary when he arrives in the fall. The defensive backfield was a big concern in this recruiting class after losing players like Nick Sukay, Drew Astorino and D'Anton Lynn. With the Nittany Lions bringing in a few recruits at the position it will likely mean there are some stiff competitions for playing time from young players. Kiley may be a bit of a project though and may not have a legitimate shot for a couple years.
Status: Solid verbal
Wendy Laurent, Defensive Tackle, Hun School (Princeton, NJ)
A recent addition to Penn State's Class of 2012, defensive tackle Wendy Laurent out of New Jersey will be actually play on the offensive side of the football under new offensive line coach Mac McWhorter.
Laurent received a offer from Bill O'Brien's staff and he was quick to accept it. Laurent held offers from mostly FCS schools including Bucknell, Delaware, Richmond and Towson, as well as FBS schools Navy, Buffalo and Connecticut. Laurent's decision came down to UConn and Penn State.
This has potential to be a solid under the radar recruit for Penn State. McWhorter has always seemed to recruit well for the offensive line so we will have to wait and see just what he has in mind for Laurent.
Status: Solid verbal
Eugene Lewis, Wide Receiver, Wyoming Valley (Plymouth, PA)
Wide receiver Eugene Lewis is the fourth ranked prospect in Pennsylvania, and the 22nd ranked receiver. He may not be a game-changer but Lewis may be one of the top players in this recruiting class.
Penn State needs wide receivers, especially with Bill O'Brien bringing a dynamic offensive game plan to the program in the fall. After a season in which receivers dropped many passes from quarterbacks Matt McGloin and Rob Bolden, having a guy who can hang on to the football will be critical.
Lewis will play in the Big 33 game in Hershey over the summer.
Status: Solid verbal
Jordan Lucas, Defensive Back, Worcester Academy (Worcester, MA)
Penn State expects to have three-star safety Jordan Lucas in their recruiting class. Lucas was a late addition to the class and they may be fortunate to have received his commitment. A day before Lucas ha planned on enrolling early at Temple, Lucas met with Penn State's coaching staff he was offered a scholarship that night.
Lucas is an example of the coaching staff working hard right form the start. Though he visited Penn State for the Alabama game in week two of the 2011 season, Lucas was never really in the loop at Penn State, but the new coaching staff made it a mission to lure him back in to their class. It worked in a short amount of time.
Lucas adds another defensive back to the class, continuing to add to the depth at the position.
Status: Solid verbal
Akeel Lynch, Running Back, St. Francis (Athol Springs, NY)
New York's third-ranked prospect out of New York, running back Akeel Lynch, gave Penn State a solid verbal commitment on January 22. Lynch had previously been leaning toward Rutgers, and it would be expected that after the recent coaching change at Rutgers that would only strengthen Lynch's commitment to Penn State with signing day just days away.
Lynch held offers from a number of schools, including Oklahoma, Iowa, Illinois and Syracuse. He made visits to Boston College and Iowa in addition to Penn State.
Penn State will still have two years left of Silas Redd (potentially), which could give Lynch some time to be groomed for a starting job in 2014.
Status: Solid verbal
Anthony Stanko, Offensive Line, Howland (Warren, Ohio)
Anthony Stanko committed to Penn State in March 2011 and stuck with the Nittany Lions through everything.
Stanko had offers from a few other schools, including Stanford, Northwestern and West Virginia, but the only school he ever visited was Penn State. Stanko is a three-star offensive tackle and at 6'5" 305 pounds it is expected he will add some weight to the offensive line. Under Mac McWhorter, offensive line coach, Stanko could find his way on to the offensive line in a couple years at most.
Status: Solid verbal
Jonathan Warner, Wide Receiver, Camas (Camas, WA)
Penn State picked up a recruit nobody was really paying attention to, so you can consider Jonathan Warner a bit of a wild card project for the offense. The two-star wide receiver only received an offer from Penn State but had interest in Boise State, Oregon State, Washington, Washington State and Pittsburgh.
Warner had 775 receiving yards and 11 touchdowns last season.
Status: Solid verbal
Nyeem Wartman, Linebacker, Valley View (Archbald, PA)
What would a Penn State recruiting class be without a linebacker? As it stands, Nyeem Wartman could be Penn State's lone linebacker recruit this year. Wartman, out of Scranton, is Pennsylvania's 13th ranked prospect.
Wartman committed to Penn State back in July but as the program underwent massive changes, including a change at head coach, Wartman explored other options. Rutgers was a big benefactor of this as he kept in contact with Greg Schiano for a while. But with Schiano leaving for the NFL it could help have him lean more heavily back on Penn State.
And Penn State is never afraid to take on another linebacker when they can.
Status: Soft verbal
Brent Wilkerson, Tight End, DeMatha (Hyattsville, MD)
Bill O'Brien's offense relies heavily on the tight end position, which has been a bit of a sore spot for Penn State in recent seasons.
Chalk this recruitment up to Larry Johnson, who plucked Brent Wilkerson out of the high-profile DeMatha High School in Maryland. Wilkerson is the tenth highest ranked recruit in Maryland and should fit in nicely in O'Brien's offensive scheme.
Wilkerson held offers from Michigan, Nebraska, South Carolina, West Virginia, Iowa, Illinois and more.
Status: Solid verbal
Trevor Williams, Wide Receiver, Calvert Hall (Towson, MD)
Wide receiver Trevor Williams, from Towson, is a three star recruit that could be a wild card type player. That is to say he could be very good or just an average possession receiver. He was not highly recruited by big names in college football but did draw interest from Penn State's new coaching staff once Bill O'Brien put it in to place.
Williams held offers from Toledo and West Virginia and a handful of FCS schools and committed to Penn State January 22, a day after he took a visit to Penn State's campus. He had previously been heading to West Virginia. Williams changed his mind after West Virginia lost three assistant coaches to Arizona.
Status: Solid verbal
Evan Schwan, Defensive End, Central Dauphin (Harrisburg, PA)
Harrisburg area defensive end Evan Schawn received a late offer from Penn State but he was quick to accept it. Schwan, a two-star recruit, has plenty of potential under the guidance of Larry Johnson Sr. Schwan measures in at 6'6" and 235 pounds and had 78 tackles and 17 sacks last season for Central Dauphin, Pennsylvania's Class AAAA state champion.
Schwan had offers from Iowa, Temple, Rutgers, Connecticut and Kent State.
Status: Solid verbal
Kevin McGuire is a Featured Columnist for Bleacher Report. Follow him on Twitter, like him on Facebook and add him to your Google+ circle.
Keep Reading

Penn State Football: Like this team?