George Mason Basketball: What Patriot Fans Want to See Against JMU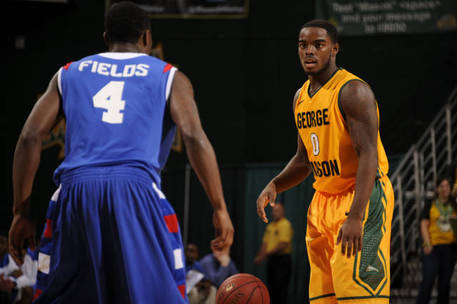 The Patriots are currently working their way through certainly the most grueling part of their CAA schedule, which has Mason, as well as every other CAA team, playing four games in only eight days.
So far during this "four in eight" stretch, the Patriots have gone 3-0, but haven't exactly looked great doing it, thanks to their offensive woes of late. Mason had to use late runs to put away Towson and UNCW, and actually had to come from behind and use some Sherrod Wright heroics to finish off Hofstra.
However, Saturday is a new day and at 2:00 PM on Comcast SportsNet, the Patriots return home to take on an old school rival—the James Madison Dukes.
These two teams met only two weeks ago at JMU, and Mason came away with an 89-83 victory in an ugly, hard fought game.
With Mason's less than convincing victories of late, Patriot fans will be hoping that the team can once again return to the high scoring, dominating team that they can be. Here are five things that Mason fans will be looking for against JMU on Saturday.
Begin Slideshow

»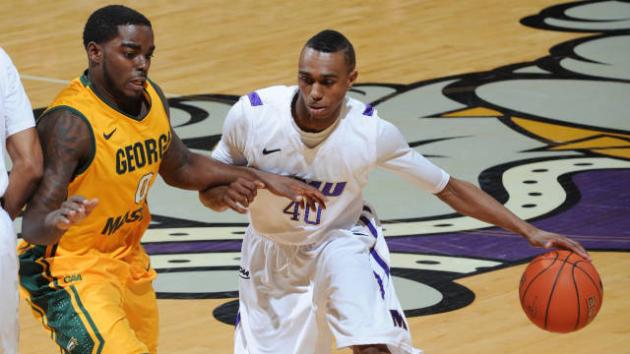 As I mentioned before, Mason's offense has struggled of late. After a masterful performance against Delaware, Mason's offensive totals have dipped each game, finally hitting rock bottom against Hofstra, where they only managed to score 55 points, including a whole 19 points from Mason's starters.
The absolute low point in the game on Long Island had to be in the first half, where Mason shot only 17.4 percent for the half, and no Patriot had more than one field goal throughout the half. Between the offense running too fast, hard luck bounces on the rim, a complete lack of three point shooting and the return of the turnover monster, Mason's offense just did not click at all in that first half.
Yet going into the half, the Patriots were only down 20-19. How was this possible?
Strong defense.
The one thing that has gotten lost in Mason's offensive woes is that their defense has been superb lately. The Patriots have forced an incredible 46 turnovers over the past three games, and their defensive efforts helped Mason come away with victories in each game.
Again looking at the Hofstra game, with the game within a possession under two minutes, freshman Corey Edwards forced two straight "five second closely guarded violations" on Pride point guard Stevie Mejia to help seal the deal for Mason.
The defense has also done their part to spring Mason's offense, including their game against UNCW where Mason scored 19 of their 67 points off turnovers.
Obviously, Mason fans are going to want to see their team pick it up on the offensive side of the ball, but for Mason to get the victory, they are also going to need to stay strong on defense and continue to give opponents headaches trying to score on them. It's a lot easier to win a game when your opponent scores 50 instead of 70.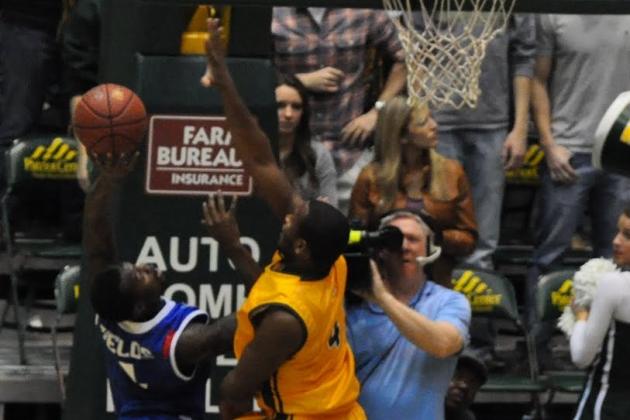 Patriot fans haven't seen this guy in a while, and it is clear that Mason Nation is anxiously awaiting his return.
Erik Copes was injured during his absurd seven block performance against Drexel back on January 12th when he took a hard fall coming down from attempting a rebound. Since the fall, Mason fans have heard a myriad of reasons as to why Erik wasn't playing, stemming from precautionary reasons, to back and neck injuries, to the stomach flu, to a possible concussion.
It seems like Copes is just about ready to return, however, as Erik has been spotted working out at recent practices and was even dressed against Hofstra, but did not get any game action.
Copes can certainly help Mason keep their defensive intensity on the defensive end with his penchant for getting monster blocks, but what he brings to the table that's even more useful is his rebounding prowess.
Jonathan Arledge has filled in for Copes since his injury and has done a spectacular job, piling in 8.8 points per game over the last five contests. The one area where Arledge has struggled, as well as the rest of the Patriots as a whole, is on the glass.
Against Towson, for instance, Mason let up 43 rebounds, including 22 offensive rebounds, which enabled Towson to stay in the game until the very end.
A big part of Mason's problem on the boards is they've been forced out of position for rebounds by stronger guys on the opposing team. Copes certainly does not have that problem. It has been hard to move the 6'8", 244-pound freshman this year, and I believe his presence will help Mason get more physical down low, and will help them get their rebounding edge back.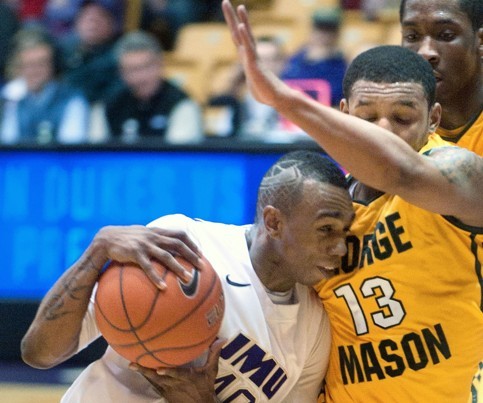 To be completely honest, the last time these two teams met, it was an utter debacle. There was no flow to the game, the players were getting frustrated, the game ran nearly two and a half hours and it became nearly unwatchable. All of this was because of one reason: Fouls.
The game between JMU and GMU on January 14th was an extremely tightly called contest, resulting in 63 fouls and 89 combined free throws. The 63 fouls tied a CAA record set back in 1984 between George Mason and Navy. Mason's 48 free throw attempts were only two shy of the school record, and the Patriots actually attempted three more free throws than they did field goals.
Like I said, an utter debacle.
James Madison is considered a rival to George Mason, albeit an old school one. Games between rivals are generally chippy and physical. Now, I'm not saying that the refs need to swallow their whistle when a guy gets hacked, but to call every little thing is just ridiculous and takes away from the game.
No fan wants to watch 63 fouls be called, and I don't think they will on Saturday.
As always, expect this game to be physical, particularly in the paint, and expect Mason to try and draw fouls on the bigs like they always do, particularly Andrey Semenov.
But please, I'm begging you, please don't make me and the rest of Mason Nation sit through another 63 foul performance. One of those is plenty for the next 20 seasons.
It has been a while since Mason Nation has seen one of these.
Starting shooting guard Vertrail Vaughns has hit a bit of a slump of late. Over the last six games, Vaughns is shooting only 22.2 percent, and has hit only one three pointer.
That last stat is particularly shocking when you look at Vertrail's shooting percentage from deep last season, which was an absurd 49.3 percent.
So what has been the problem?
It may possibly be fatigue. Last year, Vaughns was a sixth man, averaging only 9.5 minutes per game. This year, that number has nearly tripled, jumping to 26.3 minutes per game. So the question for Hewitt becomes, do you return Vaughns back to his sixth man role in order to try and allow him to get his shooting touch back?
Coach Hewitt certainly has a viable replacement in the starting lineup in Sherrod Wright, who has been on fire recently, averaging 12.8 points per game, including a 22 point performance against Towson. The catch is, Sherrod has only now started to get hot since he was switched into being the sixth man.
Personally, I think the Patriots should give Sherrod another shot as a starter and see if Vertrail can find some of his instant offense magic again as the sixth man. With Hewitt's rapid substitutions, Vaughns as a sixth man wouldn't exactly be a demotion, but the few extra minutes of rest may be beneficial for Vertrail.
One thing is for sure. If Vertrail can find his shooting touch again and starts putting up the big numbers we all know he is capable of, I don't think he nor Mason Nation will care if he's starting, coming off the bench or shooting with his eyes closed.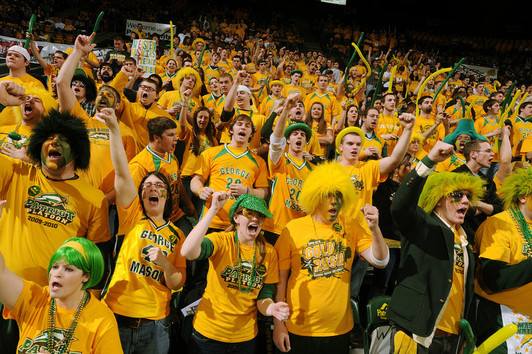 This is something that not only the fans of Mason basketball want to see, but the players want to see as well.
This season has been tough sledding for Mason's attendance, but it hasn't exactly been Mason Nation's fault. This season alone, two games were added at the last minute for the Preseason NIT, six games were played in the Patriot Center during the student's winter break, and the last home game was played on a Monday night at 9:00 PM.
When games have been played at reasonable times while Mason students were on campus, however, the Patriot Center has been filled. For example, opening day against Rhode Island had a listed attendance of 6,644.
Mason's game against JMU will, believe it or not, be the first game Mason has played on a Saturday, at home, while school has been in session the entire season.
Needless to say, I expect that Saturday's crowd will be Mason's highest attended game of the season. The Fairfax locals have done a good job attending games thus far this season, keeping Mason's average attendance at about 4,200 despite the lack of students on campus, and now that the students are back, I expect that number to double for the JMU game.
Ticketmaster is already showing that very few tickets are still available for purchase, which bodes well for the potential sellout.
The Patriot Center is a tough enough place for opponents to play, with Mason dropping only one game over the past two seasons, and if the place is sold out and rockin', it's near impossible for opponents to escape with a win.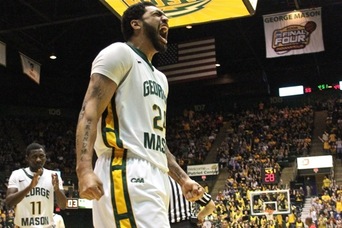 Instead of just giving one prediction, because what fun is that, here's a whole host of them for Saturday.
I predict that over 8,000 people will be in the Patriot Center come 2:00 PM Saturday.
I predict that the decibel meter, as questionable as it is, will hit 102 at least three times.
I predict that Doc Nix and the Green Machine will be awesome (alright, that's a bit of a gimme, but I'm on a roll).
I predict that Erik Copes will play and have two blocks.
I predict that we will see at least one Vertrail Vaughns three pointer.
But most of all, I predict that Mason will recover from early jitters from the large crowd, finally show their offensive resurgence and take the victory over the Dukes, 82-65.