National Signing Day 2012: Overlooked Players That Will Be Superstars
January 27, 2012

With just days remaining until Wednesday's National Signing Day circus, the country's top college football programs are making their last pushes to bring in top-notch recruits for the 2012 season. While many elite talents like QBs Jameis Winston and Gunner Kiel have already made their decisions public, there are still plenty of big names up for grabs.
All the attention will naturally be on players like consensus No. 1 overall prospect Dorial Green-Beckham at WR, but some of the less-heralded prep standouts are inevitably going to break through as superstars at the next level. These three prospects have a good chance to find themselves in that category by the time their college careers are done:
DE/OLB Ken Ekanem
For all the attention hybrid pass-rushers get in the NFL draft, there isn't as much of a spotlight on them in college recruiting. Nevertheless, Ekanem is the kind of disruptive penetrator who can make a real difference to a BCS-caliber defense.
By all accounts, Ekanem's decision came down to Notre Dame versus home-state power Virginia Tech (the presumptive favorite). Either defense would give him plenty of chances to shine by getting into opposing backfields and racking up sacks. Recent reports, though, indicate that Ekanem has scrapped his visit to Notre Dame and is likely to choose Virginia Tech.
WR Thomas Johnson
He's not getting the press of the gigantic Green-Beckham, but the 6'0" Johnson is a speed burner to match any receiving prospect in this recruiting class. Having decommitted from Texas, he's thought to be looking west to the pass-happy Pac-12.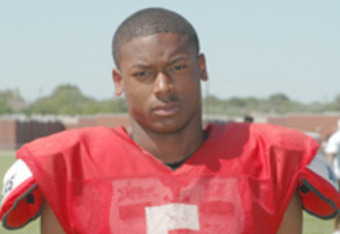 With Cal and Oregon among the frontrunners for his services, there's little doubt that Johnson will be getting plenty of balls thrown his way. In that wide-open conference, Johnson's speed will let him rack up TDs, especially the momentum-turning catch-and-run plays that have served the Ducks so well in recent seasons.
CB Armani Reeves
Smallish though he is at 5'10" and 185 lbs, Reeves has the biggest prerequisite for an elite cornerback: speed. He's also a better tackler than you'd guess from his build, no minor concern for a player who's apparently aiming for a Big Ten program.
Once committed to Penn State, Reeves is now thought to be leaning towards either Michigan or Ohio State. Either of those destinations would provide a great opportunity for a playmaker like Reeves to make some highlight-reel picks and anchor a dangerous pass defense.