UFC on FOX's Michael Johnson: 'My Mother Is the Love of My Life'
January 27, 2012

In just a few short hours, the Ultimate Fighting Championship will be kicking off its second appearance on the FOX Network, when they air UFC on FOX 2.
Taking part in the FOX preliminary card is lightweight Michael Johnson (9-6), who will be squaring off against submission artist Shane Roller (10-5).
UFC on FOX 2 will take place at the United Center in Chicago, Illinois, beginning at 5 p.m. PT and 8 p.m. ET.
In a recent interview with Bleacher Report's Garrett Derr, Johnson discussed his upcoming bout with Roller, his inspiration in life and more.
Johnson, a former football player at the University of Central Methodist, found himself departing from school to attend a junior college for the opportunity to wrestle.
"I had dreams of one day making it to the National Football League. Playing in the NFL was a dream of mine, and that's why I chose Central Methodist," said Johnson. "I ended up leaving school and found myself at a JUCO college."
"There I wrestled and started getting into the sport of mixed martial arts. Before I knew it I was training and in the UFC," stated Johnson.
Along with Johnson's robust skill set comes his nickname, "The Menace."
"You know, I really don't have a specific reason why I chose that nickname. When I entered the sport I really wanted something that no one else had," said Johnson. "It seemed like a lot of guys had 'The Nightmare' and a lot of the popular names were already taken.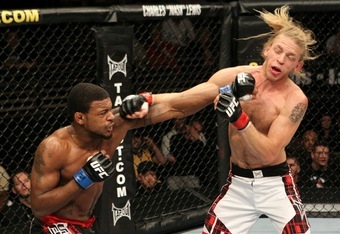 "At the time, no one had 'The Menace' so that's what I decided to go with. The name has stuck with me ever since."
"The Menace" will look to bounce back from his previous defeat when he takes on Roller in what many consider to be the biggest fight of his life.
While Johnson has demonstrated exceptional knockout power in his previous bouts, Roller will hold the slightest advantage in the submission game heading in. However, Johnson isn't overly concerned, as he feels he'll be able to control the fight and take it where he wants it to go.
"I love my matchup with Shane. He took the fight on a couple weeks' notice, and I hope he isn't overlooking me," shared Johnson. "I hope he doesn't think he can take the fight on short notice and come in and beat me."
"I respect his submission game, but I feel I will be able to control the fight on my feet. If Shane wants to take the fight to the ground, I'll be able to control it there as well. There's no way it will be going to the judges' scorecards," stated Johnson.
Johnson, a fairly big lightweight, has no plans of leaving the 155-pound weight division anytime soon. That is, however, until he wins the lightweight title.
"I won't be going anywhere anytime soon. I'm happy at 155 and this is where I want to be. I want to win the lightweight championship and be looked upon as one of the best fighters in the UFC. If I can accomplish that, then I'll definitely look at moving to the welterweight division," said Johnson. "We will see."
When action finally begins on Saturday, January 28th, Johnson will be well-prepared for anything that Roller may throw his way.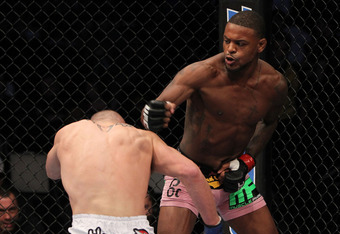 "I actually was down training at Jackson's for a while before making the move to Imperial Athletics. I'm now a member of the Blackzilians, and it's one of the best decisions I've made"
"I get to train with some of the best fighters in the world, like Rashad, Rumble and many others," stated Johnson. "Plus, you can't beat living down here in Florida."
UFC on FOX 2 will begin with a Blackzilian and end with a Blackzilian, as Rashad Evans will look to move closer toward regaining the light-heavyweight championship when he meets Phil Davis in the main event of the evening.
"Rashad is my teammate, but I would honestly pick him to win even if he wasn't. I really think that Rashad is just the overall better fighter," stated Johnson. "Phil's a great fighter, but I don't think he'll be able to withstand Rashad's striking."
While Johnson certainly isn't looking past his lightweight showdown with Roller, he often envisions his future in the sport and what his legacy will one day become.
"Everyone wants to win the title, and of course that's something I want to accomplish. But, I really want to be inducted into the Hall of Fame. I know I have a long way to go, but that's something I've always wanted to do," said Johnson.
"I'm only 25 years old and I want to fight for a long time. I often think of Randy Couture, who fought into his 40s. That's what I want to be like," shared Johnson. "If Randy can fight that long, there's no telling how long I could fight for."
While Johnson's young career will undoubtedly take him places in life, there's one person he owes everything to.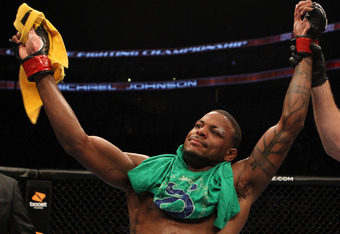 "My mother is the love of my life. You know, I lost my dad at a pretty young age, and my mom raised us alone for a little over 12 years. She was always there for my siblings and I no matter what. The reason I'm fighting is because of her," stated Johnson.
"I want to do well in the sport so that I can support her and she can retire happy."
Johnson concluded by proclaiming his love for his mother.
"I love my mother more than anything. She's my hero"
To learn more about Michael Johnson, follow him on Twitter.
For additional information, follow Garrett Derr on Twitter.