BYU Football 2011 Offensive Report Card: Running Backs, O-Line and Quarterbacks
February 1, 2012

Sarah Glenn/Getty Images
Report cards are in and every significant contributor has received a performance grade (A, B, C, D, or F with +s and -s as necessary) and a citizenship grade (O, S, N, and U, once again with +s or -s as required), as well as some brief comments on why they received the grade they did.
Grading Criteria
The problem with many "grades" handed out by writers and bloggers to sports teams and personnel is that they lack a frame of reference so that the readers understand what the grades mean. I don't intend to let that happen. In my class, an "A" means excellent, "B" means good, "C" means Satisfactory, "D" means "needs improvement" and "F" obviously means fail.
Definitions:
"Excellent" in this case means way above average, better than good and one of the best. Not just the best of the independents, not just the best of the mid majors, but one of the best in the country. Needless to say, there aren't any easy "A"s.
"Good" is not just better than average, it is good. Think of it in food terms. What comes to mind when you think of a "good food" or a "good home cooked meal"? Thanksgiving seems to be a common answer. It may not have been prepared by professional chefs from the finest ingredients, but it still tastes really good and you are always excited to have it.
"Satisfactory" means they get the job done. Related back to the food analogy, satisfactory is how you feel after a warm and filling meal. It may not be Thanksgiving dinner, but you're content and have no substantial complaints.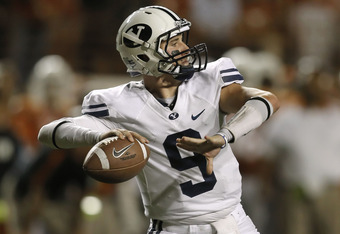 Erich Schlegel/Getty Images
"Needs improvement" means just that, it needs improvement. Think of it as a food that you don't like to eat, but if there is nothing else you could probably force yourself to swallow it down.
"Fail." You've just been a victim of food poisoning.
For the citizenship grades, "O"= outstanding, "S" = satisfactory, "N" = needs improvement. "U" = Unsatisfactory. These grades can be more difficult to determine. Typically you only hear if a player is a trouble maker or a coach's dream. Anything else tends not to be reported. To give us a little more material with which to assign these grades, we will also include how well the player did compared to expectations/natural ability.
Definitions:
"Outstanding" Players are a coach's dream and often appear to play at a level above their natural ability.
"Satisfactory" players are those with whom the coach is satisfied with their effort. They are hard workers and by no means slackers, but do not distinguish themselves like "outstanding" players do.
"Needs Improvement" is reserved for those who have either earned minor disciplinary action or have caused issues in practice or in the locker room.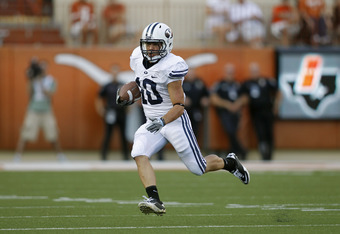 Erich Schlegel/Getty Images
"Unsatisfactory" players do not remain on the team.

Running Backs
Joshua Quezada
Grade: D
Notes: 86 carries, 298 yards, 3.5 ypc, and 1 TD.
Those might be acceptable numbers (if you ignore the lack of TDs) for a short yardage back, but Quezada is supposed to be an every down back (and you can;t ignore the lack of TDs). Now I recognize that Josh struggled with injuries for a significant part of the early season, but when you can't even reach three ypc in the majority of your games, you should consider yourself lucky to escape with only a "D" for your (lack of) efforts.
In 2011, Quezada seemed to be a synonym for inconsistency. On October 22 against Idaho St., he had 59 yards on 11 carries, averaging 5.4 ypc. Two games later against Idaho, Quezada had 12 yards on 10 carries.
I think Joshua Quezada has good potential, and I expect him to bounce back to average over five ypc in 2012, but the most charitable thing that can be said for his 2011 season is that it was disappointing.
Citizenship: S-
Notes: I am not aware of any overt locker room issues involving Quezada, but when you under-perform as badly as Josh did in 2011, at least some of it can likely be traced to citizenship- related issues.
Bryan Kariya
Grade: C+
Notes: A "C+" is probably rather generous for a running back who averaged only four ypc, even if the back is a short yardage specialist, but I'm giving it to Kariya anyways.
Kariya was "Mr. Consistency." While Quezada had seven games in which he averaged below three ypc, while Quezada had one. In that one he had six yards on three carries (hardly a representative sample), but he also had two receptions for 11 yards and a TD. He also lead all Cougar RBs in TDs with seven.
While consistency and seven TDs are nice, they aren't anything special or unusual. What moves Bryan into that "C+" range is his quickness in hitting the holes opened by the offensive line and his blocking ability.
Citizenship: O+
Notes:  Kariya has frequently been described by coaches as a coach's dream.  He walked on to the team and worked his way into being a key part of the Cougar offense through determination, hard work and finding and maximizing what limited (compared to other D1 RBs) talents and abilities he possessed.
J.J Diluigi

Grade: C+
Notes: Once again, this may seem like a generous grade for someone who was comparatively pedestrian in his rushing performance. 584 yards and three TDs on 116 carries isn't bad, but it doesn't quite qualify as good, especially when you are the No. 1 run option on your team.
What earns that "+" for Diluigi is his receiving game. While his numbers were down from prior years, he still had 274 yards on 27 catches. Once again, nothing spectacular, but his versatility nudges his grade up to a C+
Citizenship: S
Notes: As with many of the players, I haven't heard anything particularly good or bad about his citizenship.
Micheal Alisa
Grade: B-
Originally I had Alisa at a "C+" based on how green and sometimes lost he looked at times, but then I keep seeing the numbers. 5.4 ypc. three runs of over 30 yards (with a couple more that were called back due to penalties). The last time a BYU RB had 3 runs of 30+ yards? 2005 by Curtis Brown. Alisa did it while sharing carries with four other runners.
Only 17 percent of BYU's running plays went through Micheal. Give Alisa 51 percent of the carries and you get nine runs over 30 yards in a single season. Alisa may have been a "B-" back in 2011, but I wouldn't be surprised to see some "A"s in his future.
Citizenship: O
Notes: In Spring practice he switched to full back from linebacker at Mendenhall's request, then worked so hard that he went from third string FB to starting RB, passing all three of last year's starters on his way up. There is no way he could have done that without some serious hard work and dedication that goes above and beyond what is simply required.
Zed Mendenhall
Grade: I (incomplete)
Note: Once Nelson took over the offense, we saw less and less use of this throwback-style full back. I'm afraid Mendenhall's opportunities are all but gone. Next year, Iona Pritchard will be playing fullback when the offensive schemes utilize the position. 
Citizenship: O+
Notes:  Zed is a walk-on who lacked the skill to play D1. Zed didn't seem to care. Through hard work and sheer grit, he earned the starting fullback spot as a sophomore. He almost never touched the ball, but he didn't care. He just loved to be on the field and hitting people
Running Backs as a Unit
Grade: C+ 
Notes:  BYU's 2084 total rushing yards is the second highest total the Cougars have rushed in the past decade. Their 4.2 ypc is tied for the second highest average (tied) ypc during the same time period.  However, this squad's total disappearance (along with that of the offensive line) in several big games show that they certainly do not rate anything in the "B" range
Citizenship: O-
Notes:  Three inspiring stories, one mild and one severe disappointment.
Offensive Line
This can be one of the hardest position groups to grade. To do the job properly, I would have to watch at least a dozen hours studying film and taking copious notes. I unfortunately do not have that kind of free time to spend on a single section of a sports blog post, so you are just going to have to deal with the opinions I have gathered from watching the game and doing some very basic analysis.
Braden Brown
Grade: B-
Notes: You almost never hear this guy's name. If you are an offensive lineman, that is a good thing. Braden is lean (for an offensive lineman) and has good feet. He is not a great offensive lineman. He didn't make any of the watch lists.
However, I cannot remember him ever getting flagged for holding or a false start, which probably says more about my memory than anything else.
Citizenship: S+
Notes: During Brown's freshman year, the starting right tackle went down with an injury during the middle of the season. In the next game, it was not the backup tackle that who took over the spot, but a 260-pound TE named Braden Brown with less than a week of practice, and no game experience.
The next year it was Brown, now listed at 300lbs, who was manning the right tackle spot and he has started every game since then. That type of dedication/sacrifice/study/whatever you want to call it would have given Braden at least an O-, but the entire offensive line significantly underperformed expectations, so everyone is going to get a slight hit in the citizenship grade because of it
Grade: B
Notes: I don't have a lot to say here. Hansen is more talented than Brown and had some pretty impressive blocks during the season, but he also seemed be flagged more often. I am excited this guy is coming back though. He has enough ability to play on Sundays and I expect that will become even clearer next season.
Citizenship: S-
Notes: The "-" is the grade drop applied to all offensive linemen because they failed to meet most peoples' expectations.
Terrance Brown
Grade: B
Notes: This is a guy who likes to get after people. I really enjoyed watching him play. My only issues with Terrance were his couple of bad snaps that were of out of character for him. This is a guy who will be missed.
Citizenship: S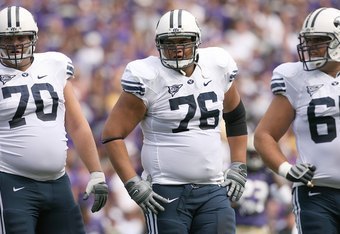 Otto Greule Jr/Getty Images
Notes: His sophomore year he was listed at 346lbs, and he looked it. This year he weighed in at 318 and almost looked lean (for an offensive lineman at least).  Any of you who have tried to lose weight, know that loosing 30 lbs, especially when you already live an active lifestyle, can be very difficult and requires a lot of dedication. That was enough to give Brown an S+ or maybe even higher, but the squad's underperformance knocked this grade down to an "S".
Houston Reynolds
Grade "C-"
Notes: (Disclaimer: Houston played hurt for most, if not all, of the season. His Citizenship grade will reflect this, but his performance grade will not because it is based solely on their performance.)
Houston struggled in the beginning, especially with Texas and the strength and speed they brought to the table. He improved over the season, but he remained the weakest link on this offensive line. I expect that with a year of experience under his belt and a clean bill of health, Houston will be around the "B" range next year.
Citizenship: "S+"
Notes: Reynolds played hurt, almost "injured" for most of the season. Playing through pain equals a high Citizenship grade.
Matt Reynolds
Grade: "A"
Notes: Matt is a future mid-round draft pick and the best offensive lineman the Cougars have seen in a while. He was by no means perfect though. During the first three key games of the season, the Cougar run game was basically nonexistent.
In my opinion, an "A+" left tackle would not have let that happen three games in a row. Matt also missed more blocks than he did last year. He is still a great player, but just not an "A+" one like many thought he would be.
The thing that makes Matt such a good tackle is not his size, strength or quickness, though these are certainly more than adequate
Citizenship: "O-"
Notes:  His helmetless block against Tulsa showed what type of player this guy is. The guy was on the ground (I think he actually missed his assignment on the play), but instead of thinking he was out of the play he popped back up and took off running in hopes he would be able to do something. That is the definition of playing to the whistle.
The Offensive Line as a Unit
Grade: B-
Notes:  They may technically have given up only 1.3 sacks per game and rushed for the second highest yardage total since 2001, but they could have been so much better. In many key games, the Cougar offensive line struggled to open holes for the running backs. At 'Ole Miss, the Cougars averaged 2.9 ypc, at Texas it was only 1.9 ypc, Utah it was 0.5., TCU it was 2.8 ypc, and at Tulsa it was 2.4.
Citizenship: S
Notes: There are some good leaders and great "citizens" in this group, but the way they managed to underperform at times bring down all of those other factors down to an "S."
Quarterbacks
Jake Heaps
Grade: D+
Notes: We'll go through this game by game.
1)  'Ole Miss. 24/38, 63.2%. 225 yards, 1 TD, 1 INT.
Not a terrible game statistically, especially in light of playing an SEC (if a poor one) team on the road with almost no run support to speak of (2.9 ypc). What the stats do not state is that 'Ole Miss' only TD was a 96-yard interception return courtesy of Heaps. Still, this game probably earned a "C-" for Heaps overall.
2) Texas. 22/38, 57.9%, 192 yards, 1 TD and 2 INTs. "D+".
Once again Heaps had no run support (1.9 ypc), but the two pics and his difficulty in the red zone finalized this grade. BYU drove within the 20-yard line four times. They came away with one TD. This was a bad game, but not a firing offense when you have a new OC, no run game and a brilliant opposing DC who was able to reconfigure his defense to completely shut down the Cougars in the second half.
3) Utah. 27/50, 54%, 305 yards, 1 TD, 1 INT. D-.
Once again, statistically this was not a bad game. However, Stats don't tell the whole story. Jake's triple fumble that resulted in a Ute TD basically set the tone for the entire game. His other two turnovers, a pic and another fumble just made things worse. BYU could easily have won this game, but not with their starting QB turning the ball over three times, including his amazing triple fumble on the opening drive that ended in a Ute TD.
4) UCF. 16/34, 47.1%, 133 yards, 0 TDs, 1INT.
"F" You threw the ball 34 times and only got 133 yards, no TD and a pic as a result? Add in the fact that you are playing at home, against a 2-2 non AQ opponent, and actually had decent run support.
Cody Hoffman's 93-yard kickoff return and an opportunistic defense that came up with three turnovers are the only reason BYU won and allowed Heaps to hold on the his job for another half game.
5) USU. 11/25, 44%, 107 yards, 0 TDs, 0 INTs. "F+"
Basically the same thing as UCF except he didn't throw a pic.
6) Idaho St. 8/10, 80%, 67 yards, 0 TDs, 1 INT. "D+"
Why a "D+"? Well, while he did complete 80percentof his passes, he only averaged 6.7 yards per attempt and threw a pick... against the backup defense of a FCS team that finished 2-9.
7) Idaho. 15/20, 75%, 185 yards, 2 TDs, 1 INT. "C+."
Good completion percentage and YPA. What keeps him out of "B" range was the marginal passing yards and the pick.
8) New Mexico St. 21/36, 58.3%, 4 TDs, 1 INT. "B-."
Red zone effectiveness is what gives Heaps his highest grade of the season. He scored more TDs in this game than all of his other starts combined. However, a mediocre completion percentage and only 238 yards guaranteed that his grade was not going to be higher than a "B-."
Overall: Clearly Heaps deserves a failing (below "C-") grade, but he could have been worse. What I finally did was determine his GPA from the eight games in which he played. It came out to be 1.34. The closest grade was "D+," and that is what I assigned him.
Citizenship: N
Notes: He lost the respect and support of some of the team, and he underperformed woefully.
Riley Nelson
Grade: B
Notes: Riley's season was full of ups and downs, often in the same game. Downs included a fumble against Utah that was returned 56 yards for a TD against Utah. A three turnover (two INTs and a fumble) performance against a 2-4 SJSU that turned a should be blow out into a competitive game.
Then there was his bowl performance in which he completed only 42.5 percent of his passes and threw two pics. There would have been two more, but one went right through the hands of the defender and the other was negated by an encroachment call.
Then there were the good times: Driving 98 yards against USU in under two minutes to win the game. Having a passing rating over 200 against both USU and Idaho St. Throwing At least three TDs in five of his six starts.
His completing at least one throw of 30-plus yards in every game in which he attempted at least seven passes. His last second bowl winning fake spike pass against Tulsa. His having a run over 10 yards in every game in which he had at least two rushing attempts.
Put it all together and you have a good QB. His mistakes and inconsistencies prevent him from being a great QB, but he certainly does enough on the field to earn a solid "B."
Citizenship: "O+"
Notes: With a collapsed lung, Nelson completes a TD drive with a 32-yard pass to Cody Hoffman before coming out and being rushed to the hospital. Three weeks later (half of the original doctors estimate), Nelson is back on the field and threw for 363 yards and three TDs with no picks.
While these things are incredible feats, the fact that many were not terribly surprised by them shows clearly how hard Riley worked and how much the success of the team means to him.
Quarterbacks as a Unit
Grade:  C
Notes: What can I say that hasn't already been said? It has been a wild ride, but in the end BYU won 10 games, and  you can't do that with "D" quarterbacks. Of course all of the turnovers (including several returned for TDs) keep them out of the "B" range, so they land squarely on "C."
Citizenship: S 
Notes:  Depressing + Inspiring = somewhere in the middle.