2012 NHL All-Star Game: Gabriel Landeskog Player Profile
January 27, 2012

Doug Pensinger/Getty Images
The Colorado Avalanche finished in the penultimate spot in the final 2010-2011 regular season standings.  The silver lining of the Avs' forgettable finish was the fact that they claimed the second overall draft pick. 
There were many talented young prospects in the 2011 NHL Draft, including forwards: Ryan Nugent-Hopkins, Gabriel Landeskog, Jonathan Huberdeau, Sean Couturier, and defenseman Adam Larsson.  The Edmonton Oilers selected Ryan Nugent-Hopkins with their second consecutive first overall pick.  
Although, there was some speculation that the Avs could bolster their blue line with Adam Larsson, or pick Huberdeau or Couturier, most people pegged the Avs picking Swedish left winger, Gabriel Landeskog, which they did. 
"He was our guy pretty much from the start.  He's just got everything you're looking for in a young hockey player. We're really happy to have this kid."  said Colorado Avalanche Executive Advisor/Alternate Governor, Joe Sakic. 
Pretty high praise coming from the new Avalanche executive, who also happens to be the franchise's all-time leading scorer, and a sure-fire Hall-of-Famer once he becomes eligible later this year.
Although he hails from Stockholm, Sweden, Landeskog has not had the typical path to the NHL of most European players. 
When he was 16-years-old, Landeskog made the decision to leave Sweden and come to North America to pursue his dream of being an NHL player.  In 2009, he joined the Kitchener Rangers of the Ontario Hockey League, and by the very next year, he became the first European-born player to ever be named the team's captain.  In addition to what he brings on the ice, Landeskog will also develop into a very good leader.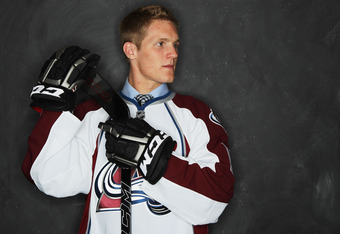 Nick Laham/Getty Images
After two seasons with the Kitchener Rangers, Landeskog, became the highest draft pick in Colorado Avalanche history (not counting the franchise's years as the Quebec Nordiques before moving to Colorado in 1995). 
Similar to Avs' first-round pick, third overall from 2009, Matt Duchene, Landeskog grew up watching the Avalanche as his favorite team.  Fellow Swede, and long-time Avalanche forward and former Hart Trophy winner, Peter Forsberg, was Landeskog's boyhood idol growing up. 
Despite the fact that his career was derailed by countless injuries, Peter Forsberg was arguably one of the most talented players to ever lace up a pair of skates.  He was a pioneer amongst European players, who had a reputation of being less physical.  Forsberg wasn't the biggest player out there, at 6'0", 210lbs., but pound-for-pound, he may have been the strongest. 
His ability to protect the puck was unparalleled, he had a patented move where he would initiate contact with an incoming defenseman by throwing a shoulder, often knocking him down, and he would then continue to control the puck.  On the penalty kill, Forsberg could often hold the puck for an entire shift and virtually become a one-man penalty killing unit.  He was instrumental in the Avs' 1996 and 2001 Stanley Cup victories despite missing the final two rounds of the playoffs in 2001, with a ruptured spleen.
While it's certainly premature and unfair for the 19-year-old Landeskog to already be compared with his boyhood idol, Landeskog does incorporate some elements of Forsberg's game into his own.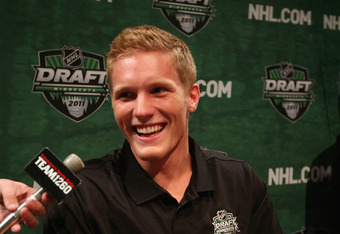 Bruce Bennett/Getty Images
For instance, Landeskog leads the Avalanche and all NHL rookies with 129 hits. Another impressive stat is that Landy leads both the Avs and NHL rookies with is shots on goal, with 145.  The fact that Landeskog leads the Avalanche in both these categories is impressive, because often times, rookies and young players are notoriously gun-shy.  Not in the case of Landy.  He is willing to be aggressive, physical, and strong. And this will only continue to increase as he develops physically and gets even more accustomed to the NHL game.
This weekend, Landeskog will represent the Avalanche as one of 12 rookies chosen to participate in the skills competition at the 59th NHL All-Star Game in Ottawa. 
Landeskog will be the Avs' only player to attend the All-Star festivities.  Last year, the Avs sent rookie Kevin Shattenkirk to participate in the skills competition.  Later that year, Shattenkirk was traded to St. Louis as part of a controversial blockbuster trade. 
The Avs also sent centers Matt Duchene and Paul Stastny last year, but with Duchene on the injured reserve with a knee injury and Stastny not quite having an all-star season, Landekog will be the only player representing the Burgundy and Blue.  The Avs leading scorer, Ryan O'Reilly is having a breakout year and was apparently in consideration to make the All-Star Game, but was ultimately not selected.
 The rookie skills competition for Landeskog is just the beginning of things to come.  Like Joe Sakic said, Landy has all the tools to be a force in the NHL and on this young Avalanche team for years to come.  He will be a staple, leader, and superstar player for the Colorado Avalanche and that is why I just invested in a #92 jersey and so should you.