Alabama Football: The Top 5 Games in 2012 for the Crimson Tide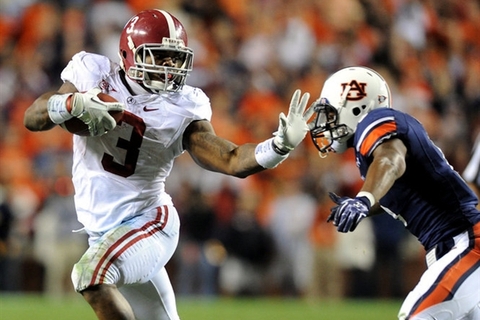 Since Alabama defeated LSU in the national championship game, the only thing Alabama fans can look forward to now is spring practice and next year's top games.
While Nick Saban and the coaching staff is focused on bringing in the top recruits, the fans are busy trash talking about next year's big games. After all, football in the Southeast lasts 365 days.
Alabama fans are happy about winning their 14 championship, but now they're focusing on getting their 15th.
Here are the biggest games next year for the Crimson Tide.
Begin Slideshow

»
Now that Texas A&M is part of the SEC, it is time for them to start making rivalries.
This should be a big game for many reasons. This game will be played late in the season so if Alabama is undefeated, Texas A&M will be ready to knock them off. People will be doubting Texas A&M all season long because they are coming from the Big 12, so they will want to prove they can play with the big boys. And Alabama fans are already calling this the "Bear Bryant Bowl" as Bryant once coached for the Aggies.
Also, Alabama plays LSU the week before this game, so it will be interesting to see how tired and motivated the Tide will be for this game.
This two teams may become huge rivals in the SEC.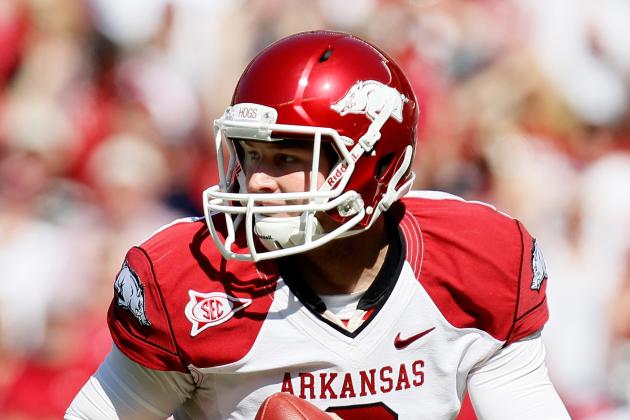 Kevin C. Cox/Getty Images

Every time Alabama and Arkansas play, there is always a lot of hype, but the Crimson Tide shows they are the better team every year. Both teams should enter the season in the top 10
Bobby Petrino has turned the Razorbacks into a major contender in the SEC. Arkansas have been hoping to knock Alabama off the past three years but they lost all three of those games. The Razorbacks will be looking for revenge.
Tyler Wilson and Knile Davis will be leading the Razorbacks, so Arkansas will have one of the best offenses in the SEC. Also, Alabama will be breaking in several new starters at linebacker and in the secondary, and the Crimson Tide will be traveling up to Fayetteville.
Expect a very tough game for Alabama, as Petrino and the Razorbacks will try to show the nation they are one of the best.
This game should have the same environment as the LSU/Oregon game did last year.
On the first weekend of the season, Alabama will take on Michigan in Dallas Cowboys stadium.
As Michigan won the Sugar Bowl last year, many people believe that Michigan is back to elite level. Brady Hoke has turned this program around, and the fanbase is starting to believe in him.
With Denard Robinson back for his final year, he is going to try to lead his team past the big, physical Alabama defense. Michigan's defense did really good last year, but they will have to take it to elite level next year if they want to compete for a title.
This game will have plenty of hype, as SEC fans will trash talk the Big Ten all summer long until the SEC gets beat on a big stage. Alabama and Michigan are two classic teams, and this game should be one of the best of the year.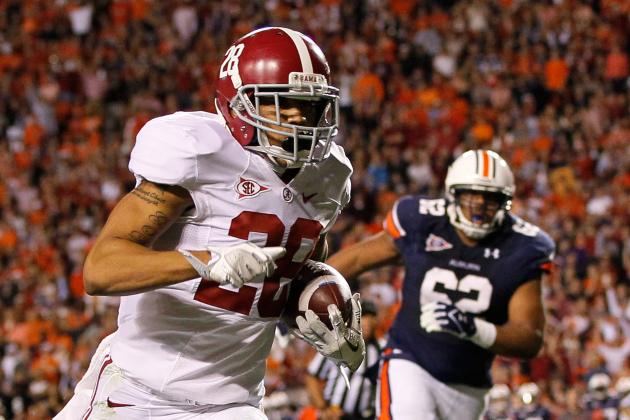 Kevin C. Cox/Getty Images

The Iron Bowl.
Alabama and Auburn fans know what this game means to them every year.
Alabama dominated Auburn last year, with Alabama's defense not even allowing a point. Auburn had to score on defense and special teams.
This year should be different, though, Auburn is older and more experienced and has a new offensive and defensive coordinator. Auburn should be set on quarterback as Keihl Frazier and Clint Mosely will battle for the starting spot.
Alabama will have have many new starters on defense, but on offense they should be fine. Nick Saban knows how to prepare and motivate his team for big games.
Alabama should be slight favorites coming into the game, but this is the biggest rivalry in college football so anything can happen.
Fun Fact: The road team has won this game the last three times, so beware, Bama fans.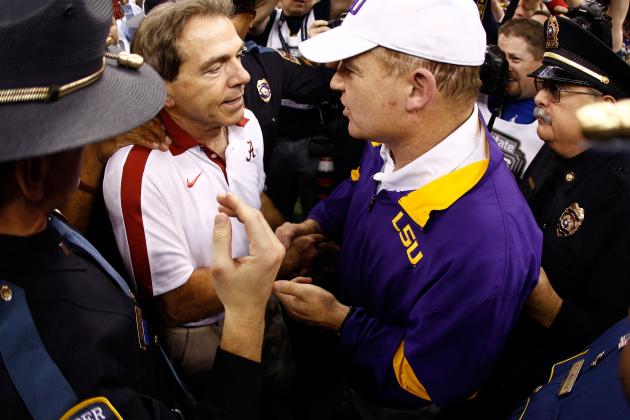 Chris Graythen/Getty Images

Do I even need to explain this one?
These teams played games last year labeled as the "Game of the Century" and "The Rematch."
Even though LSU beat Alabama in Tuscaloosa, Alabama got the last laugh by embarrassing LSU in the championship game by a score of 21-0. Alabama's defense may have been the best one we have ever seen.
LSU is still mad about it, so expect them to look for a lot of revenge in November. Also, Alabama will have to travel to Baton Rouge next year. Many have LSU ranked No. 1 in early preseason rankings, and Alabama is in the top five.
These two teams are at the top of the college football world, and that is not going to change for awhile. LSU has surpassed Tennessee as Alabama's second biggest rival. Alabama and LSU fans hate each other, especially after the teabagging incident after the championship game.
This game will have many headlines and a bunch of hype. Expect this game to be have big championship game implications, and expect a good, defensive battle. Sound familiar?