Baltimore Ravens Offseason: Who to Re-Sign and Who to Let Go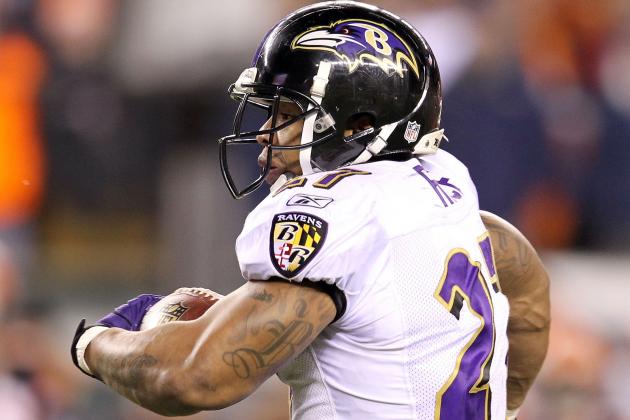 Andy Lyons/Getty Images

Now that the Ravens season is over, fans can begin to examine their needs, their potential draft picks, and their potential free-agent signings.
At the beginning of all these topics, though, is who the Ravens re-sign and who they let go.
The Ravens have a bumper crop of players to re-sign, including their leading rusher, their best cornerback and perhaps their best offensive lineman as well.
To exacerbate the problem, the Ravens will be intent on working out a long-term contract with quarterback Joe Flacco.
The Ravens don't have unlimited money. Some very good players will have to be let go, while others will be made a priority.
Here is who should be retained and who should be let go.
Begin Slideshow

»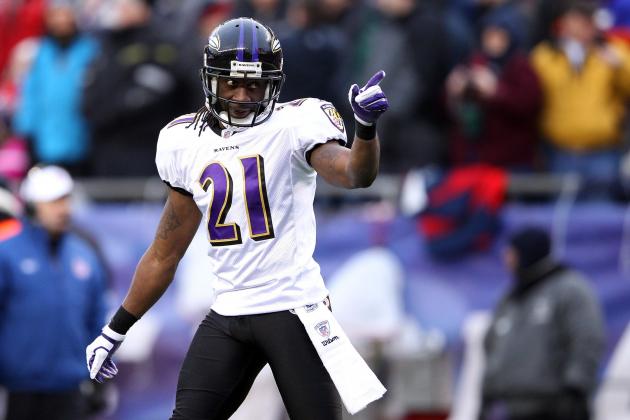 Elsa/Getty Images

With respects to Ray Rice, Lardarius Webb should be the Ravens number one priority to re-sign.
Webb was outstanding in 2012, and even better in the playoffs. He allowed a completion percentage of only 54 percent against him.
Making this more impressive is that he was generally tasked with covering the opponents best receivers.
Perhaps the most impressive stat of all is that Webb did not surrender a touchdown all year. He did a remarkable job of keeping plays in front of him and not getting beat deep.
The Ravens have a tendency to let players like Webb go, but they need to make an exception in this case.
Webb is the best corner they've had since Chris McAlister, and a corner of his caliber is hard to find. If they let him go, they will not be able to find a replacement to even compare to Webb's talent.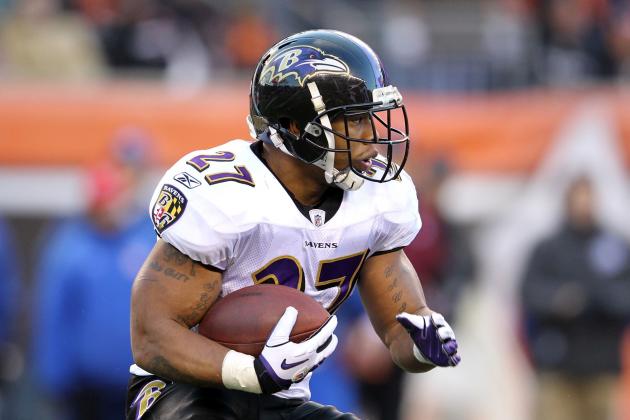 Andy Lyons/Getty Images

Offering running backs long-term deals doesn't often work out, but Ray Rice accounts for so much of the Ravens' offensive production, they need to do anything they can to keep Rice in Baltimore.
Everybody knows how good Rice is. He was second in the NFL in rushing, and he went over 2,000 combined yards on the season. He constantly bailed out the offense when they needed a spark.
Still, Ray Rice can be neutralized, as the Texans and the Patriots showed in the playoffs.
The Ravens need to find another weapon to take pressure off Rice. Will they be able to afford it if they give Rice big money?
Regardless, Rice needs to stay in Baltimore; the Ravens will be happy to oblige.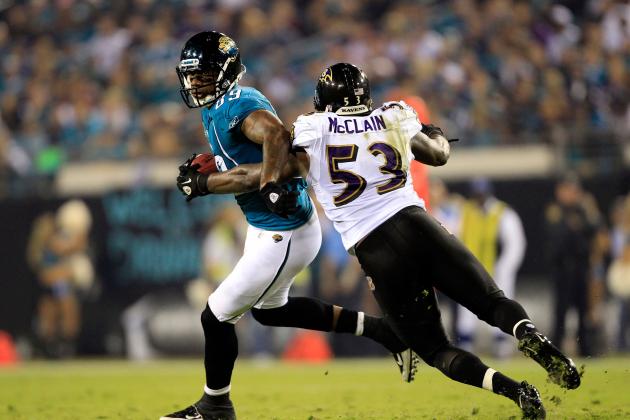 Sam Greenwood/Getty Images

Jameel McClain has been good for the Ravens, but the main reason to re-sign him is to simply avoid creating another major need.
The Ravens have very little at linebacker behind McClain and Lewis, as Dannell Ellerbe is a free agent as well, and the Ravens will probably not re-sign both McClain and Ellerbe.
McClain is a perfect complement to Lewis, willing to take on blockers to give Lewis space. He also has a knack for the big hit, which the Ravens always appreciate.
McClain is an underrated middle linebacker who wouldn't be helped by signing with another team. He fits in perfectly with the Ravens, and they should give him the chance to stay in Baltimore.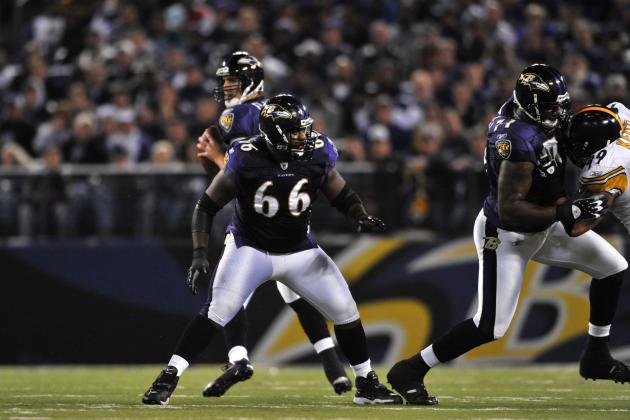 Larry French/Getty Images

Ben Grubbs: Grubbs has been a solid guard for the Ravens, but he might ask for more money than he's worth. The Ravens should try to re-sign him, but they won't want to allocate too much money for a guard, especially after giving Marshall Yanda a big contract.
Cory Redding: Redding has done good things in Baltimore, and he should be able to be retained at a reasonably low cost. If he fits in the budget, Redding provides a solid veteran presence along the D-line.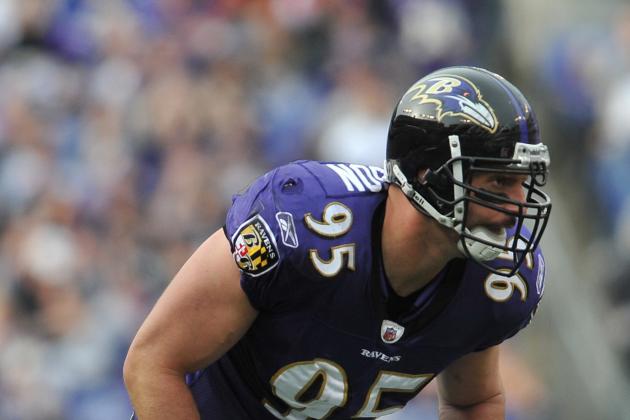 Larry French/Getty Images

At some point in his career, Jarret Johnson became known as the most underrated player on the Ravens defense.
That might have been true at some point, but his skills are declining.
Johnson provides minimal pass rush, and he was eventually replaced in passing situations by Paul Kruger. The Ravens would like to get more of a rush from their linebackers.
What Johnson is best known for is his run defense, and he has generally been solid at setting the edge. Against the Texans in the playoffs, though, Johnson was consistently overmatched, failing to contain Arian Foster as they ran at him repeatedly.
Johnson will make good money this offseason, but his play simply hasn't dictated that he deserves a big contract. Let someone else overpay for a one-dimensional player.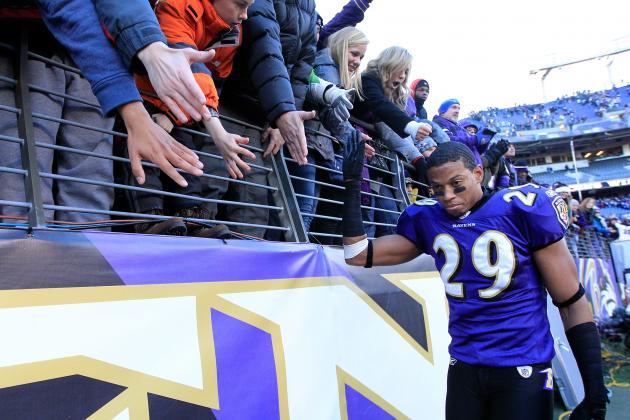 Chris Trotman/Getty Images

Cary Williams hasn't been bad, but he's shown that he cannot handle the best receivers in the NFL.
Williams was a starter on one of the best pass defenses in the NFL. Regardless of his individual talents, that will command a hefty contract.
The Ravens, though, are set at cornerback behind Williams, with Jimmy Smith and Chris Carr both being solid options.
The Ravens secondary will be strong whether Williams stays or goes. With that in mind, he probably won't be worth the money.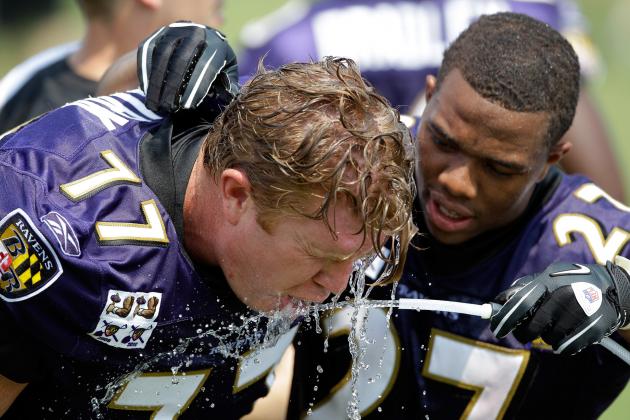 Rob Carr/Getty Images

Matt Birk has done a lot of great things for the Ravens, but he probably won't be back in a Ravens uniform. In fact, it would be a surprise if he played again at all next year.
Birk is 36, and he has lost the ability to handle the best interior players in the NFL. The Ravens play Phil Taylor, Casey Hampton and Geno Atkins twice a year. They need a center who is at his physical peak.
If Birk wants to come back for a reasonable price, he would be worth it merely for the veteran leadership he provides, but he cannot be counted on as a starter going into 2012.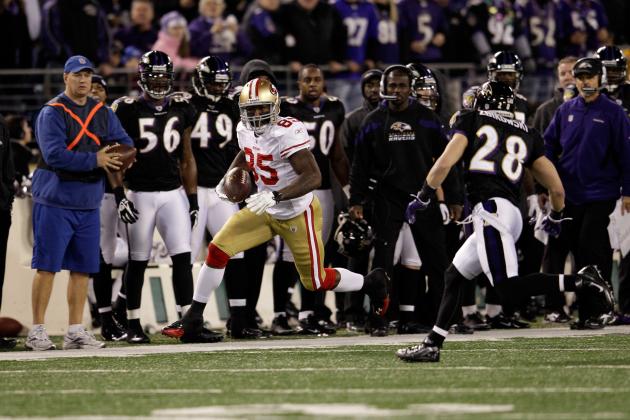 Rob Carr/Getty Images

Tom Zbikowski: Zibby is a competent safety, but he will not get his chance in Baltimore with Bernard Pollard around. This hinges on Ed Reed, though. If Reed retires, signing Zibby becomes a priority. If not, then Zibby will want to sign somewhere he can start.
Dannell Ellerbe: Ellerbe has had his moments, but he makes to many boneheaded mistakes to be considered a reliable linebacker. The Ravens would be better off letting him walk and finding someone more disciplined to replace him.
Haruki Nakamura: Like Zibby, Nakamura will not get a chance to start with the Ravens. He should go somewhere that he will get that chance.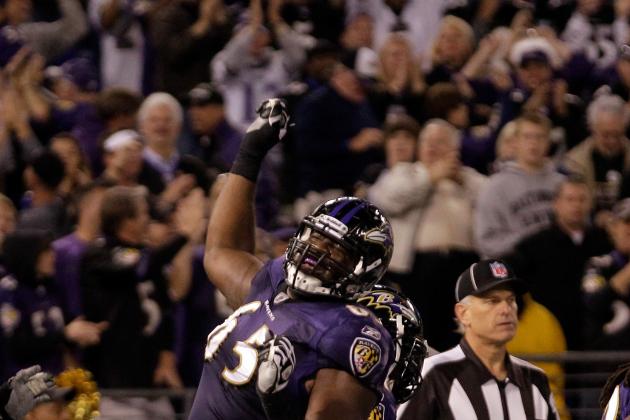 Rob Carr/Getty Images

Andre Gurode: Gurode was a solid back up this year, but he is aging fast.
Brandon McKinnie: McKinnie is a big, big man, but he was inactive occasionally this year and he doesn't look like a piece of the puzzle going forward.
Brendon Ayanbadejo: It's easy to call Ayanbadejo an elite special teamer, but the Ravens had some of the worst special teams in the league.
Kris Wilson: He caught a touchdown against the Texans, but his contributions were generally on special teams.
Edgar Jones: The Ravens like Jones for his ability to play multiple positions, but he hasn't found one that he can really call his own yet. He's another special teamer.