UFC on Fox: A Day in the Life of Superstar Fighter Rashad Evans
January 27, 2012

Burt Watson is pacing the lobby of the Hard Rock Hotel in downtown Chicago. Waiting. It's not something he likes to do. Watson runs UFC events like a taskmaster, making sure more than a dozen fighters and their entourages are where they need to be, when they need to be there. And right now, Rashad Evans is not where he needs to be.
Finally, the man of the hour arrives. Evans may have taken some extra time, but it was worth the effort. Resplendent in a designer suit and shades, Rashad looks like a star as he walks off the elevator.
"Rashad baby, you're late," Watson bellows, literally taking him by the arm to get the show on the road. "You got me waiting here."
On the Bus
Fighters do a lot of interviews before the show, especially a main eventer like Evans. But this one is the most important, will be broadcast around the world and taken live on every MMA site that matters. Rashad relaxes en route, listening to Kenny Loggins and looking to get his mind right for a showdown with his opponent, the war of words before things get physical a couple of days later.
Coach Mike Van Arsdale lightens the mood, holding court for his team with an impression of Dr. Harold Nichols, his coach in the 1980s at Iowa State. It's funny enough to get even Rashad engaged, looking up from his phone to hear Van Arsdale's story.
"There's the anticipation built up through talking. That's just a part of the game. You need to get people to watch this. If you just go out there and say 'Uh, we're going to give it a good try, it's going to be a good contest,'" Van Arsdale says, shifting into his "nerd" voice. "They're not going to tune in. This is why people watch."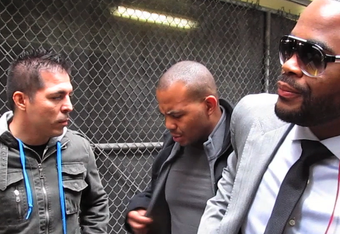 "This is like Spinal Tap."
Before you know it, a freight elevator ride later, we're walking through the bowels of the W Hotel in search of the press conference. "This feels like Spinal Tap," Rashad's videographer Ryan Loco says. Eventually, we know we are in the right place as UFC President Dana White's loud voice, complete with trademark obscenities, comes echoing down the hallway. It's showtime.
Evans didn't plan on getting into it with opponent Phil Davis at the press conference. He knew it was going to be the Chael Sonnen show and he was prepared to sit back and enjoy it with everyone else. "Chael, I love him," Evans says. "He must sit around all day thinking of stuff to say."
But Rashad can't keep his growing frustration with Davis in check. All week people have asked him about Davis's superior wrestling pedigree and he's tired of hearing about it. The two men go back and forth about their respective wrestling careers. Davis won a national championship at Penn State. Evans had a so-so career years earlier at Michigan State. None of that, Coach Van Arsdale believes, has anything to do with the fight.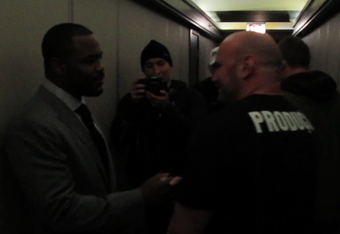 "It's really silly because you're talking about two different sports," Van Arsdale, himself a former national champion wrestler says. "That's just like a guy saying 'I was a national champion in karate, I can go and win the UFC. I was a golden gloves boxer, I can win the UFC.' Come on. This is not the same sport. Yes, wrestling is a big part of the sport. But there's a certain wrestling that works in MMA and a certain kind of wrestling that doesn't. The stuff he did in college, it doesn't necessarily transfer over. Look at his last fight."
The Great Wrestling Debate
Rashad is adamant, minutes later as he waits to do a series of one-on-one interviews that seem to be a never-ending slog of the same questions, that he is a better wrestler than Davis. He defends his contention that Davis' wrestling technique is "garbage."
"I've trained with real, world-class wrestlers," Evans says. "(Former Olympian) Daniel Cormier. Mo (Lawal). He's not on that level."
Besides, college feels like it was a lifetime ago. Why is Davis, he wonders, bringing up ancient stuff like that?
"Next year it will be 10 years since I graduated from college," Evans says. "Everyone's talking about Phil Davis and what he did in college. It's an accomplishment to win an NCAA title. I don't want to discredit that. But I believe if I would have wrestled him in college, I would have beat him. He can say 'Oh your record was this, your record was that.' There's a lot of reasons I didn't perform the way I could have in college. Going to college, I was a new parent, I lived in another state. I just wasn't mentally into it when I was in college."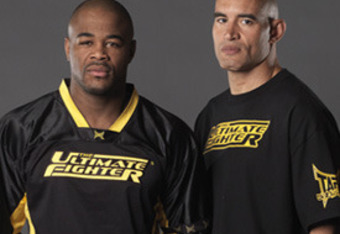 Van Arsdale is less concerned with what Davis had to say, about wrestling or anything else. He wasn't focused on his mouth and the trash talk that spilled from it. He was watching his eyes. And he liked what he saw.
"When I looked at his face, it looked like he was really starting to become torn up. Phil Davis is probably all wrapped up in it because he's never had all this before. He might be really concerned or worried about it...it looked like it," Van Arsdale says.
Some fighters work themselves up before a fight, especially a fighter in their first big main event like Davis. But Evans is a veteran of plenty of huge fights and reality television. It's a day at the office for him, Van Arsdale says. As easy as walking down the street.
"This guy, man, just like you and I could sit down and go to a movie, that's how easy it is for him to fight. People who don't train for this, a fight is huge for them. Because they don't understand it.  For Rashad, this is just what he does. Like, if I were to watch a guy get on a bull, I'd be like 'What is he crazy?' But he gets on that bull every day. It's nothing to him. Same thing. He's a fighter, it's a fight. That's what fighters do."
Rashad Stories As Only Family Can Tell Them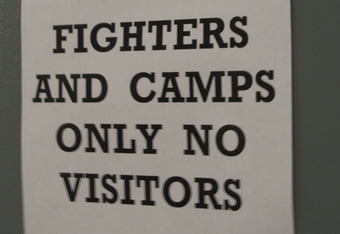 Minutes stretch into hours as Rashad does interview after interview, sitting in front of bright lights and a UFC on Fox banner. He flirts mildly with one anchor as she tells him the interview is almost ready to start because she can see him in the monitor. "I wish I could see you," Evans says with a sly smile.
His brother, Nate Bryant, fills the time telling me Rashad stories. Evans, it seems, was a born fighter.
"When we were growing up, there was this sixth-grade kid that wanted to fight me," Bryant recalls. "I wasn't a fighter. But Rashad was ready. He was only in the second grade, but Rashad don't care. 'I'll fight him. ' No matter the adversary, he's always been like that. Scrappy."
Evans didn't contain himself to fighting other kids in the school yard. When his parents divorced, any man that came to the house to see Rashad's mother or sister had to contend with him just to make it down the hallway.
"If they were there to see my mom or my sister, they had to see Rashad," Bryant says. "He always wanted to spar with them, wrestle with them. Just to see what they were made of. Even as a little kid. You know how you play with a little kid a little and think you were done with them? No. You had to wrestle Rashad to get in the house."
"I was just so rambunctious as a little kid," Rashad remembers. "It started because I hung out with my older brothers and their friends. I always had to fight to prove I was tough. So when people came over to the house, it just continued. I thought that's how guys hung out. That we just wrestled and fought each other all day. That's all I wanted to do, fight and wrestle all day. It's all I would think about, and I wanted to watch everything I could on TV that had to do with fighting and wrestling."
The Grind
Finally, the interviews are done. The crew is hungry, snacking on mints while Rashad drinks distilled water to prepare for his weight cut. Now it's time for grub. But even when the media is over, it's never really over. Rashad's head of Public Relations Jen Wenk has one more interview for him. He's reluctant, but the writer had helped Rashad get in Source Magazine and was an important contact.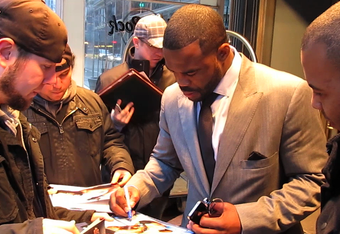 The former head of the UFC's PR department, Wenk knows the MMA space better than anyone. Now working with Glenn Robinson's Authentic Sports Management, Wenk is part of a tight knit group that guides a fighter's career, not just in the cage but beyond it. Wenk pushes Rashad until he acquiesces. For the van ride back to the hotel, we hear Rashad do one last interview. Same as it ever was.
"You get tired of answering the same questions over and over again," Evans admits. "It gets to the point where you're just like 'let's fight.' You don't want to answer no more questions. You don't want to hear the questions. You've got the questions memorized. You've got your answers memorized. It just becomes so monotonous. You could do the whole interview by yourself, both parts.
"But it shows the magnitude of what we are doing. That there's so much interest.  We have such a fan-friendly, media-friendly sport. And we want it that way. So they can have the access, have what they need,  to come and write about our sport."
As Rashad stops outside the hotel to sign what felt like endless autographs, his brother takes in the scene.
"It's a surreal experience. It's cool to be a part of it and see what his life is like," Bryant says. "I didn't know his day was filled with all these different activities. From the time he gets up, his time is monopolized. Just leading up to the fight. It was exhausting for me. I told him 'I don't know how you do it. I'm going to bed, I'm tired.' He said 'Oh, you can't hang?' I told him I had true appreciation for what you do."
The Whole Crew is Lounging
Finally the whole crew is back at the hotel for a little relaxation. We're in a suite at the Hard Rock, so high the view is obscured by clouds. But this could be any group of friends, anywhere in the world, watching Avatar on TV and talking about girls.
Rodney Brewer, Rashad's event manager who runs the show during fight week, is the good-natured butt of joke after joke. Brewer, Rashad says, gets uncomfortable the more black people that are around. When they went to a club earlier this month, Brewer called it "ghetto."
Rashad contends it was because the patrons were mostly African-American. When Brewer responds by showing a picture of an old girlfriend, a beautiful Cuban girl with striking eyes, Rashad laughs out loud.
"Everybody has a black friend," he says. "I guess this is no different... Wait, isn't that a picture from a magazine? All of these are from photo shoots. You probably don't even know this girl. Show me a real picture."
There's an easy vibe in the room. Rashad is among friends.
"It feels good, because these are the people I'm with on a daily basis. I see everybody here almost every day," Evans says. "It makes me feel like it's a normal day. And when you're doing something like a fight, there's a tendency to make it a bigger deal than what it really is. You are fighting in front of millions and want to perform well, but at the same time, this is something I do every day, on a smaller scale. Having these people around me? It's just another day. It makes me more comfortable."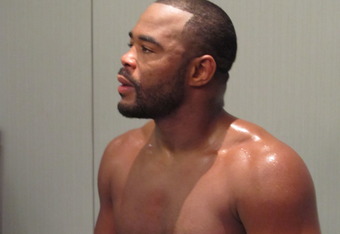 As Rashad's mental performance coach, Al Fuentes shows me how he can control the energy in his body, making goosebumps appear at will in a 72-degree room, conversation shifts to Rashad's brother, Lance. An Army infantry scout, Lance is on his way to Afghanistan for a tour of duty.
Bryant, a Navy reservist and rescue swimmer who saved lives in the aftermath of Hurricane Katrina, thinks their brother will come back a different man. Rashad agrees things will never be the same for Lance.
"I just hope I can do well and that will inspire him a little bit. He loves it. He's been texting and calling. He's so into the fights. He never misses a fight," Evans says. "We turned professional on the same day. Had our first pro fight. He loves to be here and he's missing it, and that's kind of hard. But at the same time, I know if I go out there and have a good fight, he'll be happy."
Time to Get Serious
At nine in the evening, Rashad hits the gym for one final workout. As former kickboxing star Ray Sefo holds pads across the room, Evans rolls with jiu jitsu coach Flavius Silva and hits the mitts with Dutch kickboxer Brian Douwes, his striking coach who sounds eerily similar to Rocky Balboa's nemesis Ivan Drago.
The mood has shifted noticeably. The time for media appearances is over. Wenk has cut off all interviews so Rashad can focus on the bout. Now Van Arsdale is in control, watching calmly from the mat. The time for talking is over. The fight approaches.
"This," the coach tells me. "This is why we are here."